"By showing me injustice, he taught me to love justice." -Roy Black.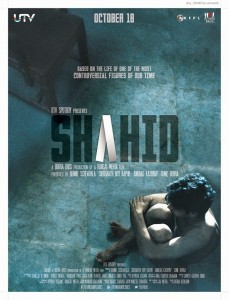 This phrase, highlighted couple times in the movie, for me, is the pinnacle of Hansal Mehta's latest offering 'Shahid' which traces the life of slain human rights activist and defense lawyer Shahid Azmi.
At a young age, Shahid (Rajkumar Yadav), from a humble means family living with three brothers and mother in the decrepit slums of Mumbai is jailed under the suspicion of supporting terrorist activities. His time in prison and encounter with mentors (Yusuf Husain and Kay Kay Menon) encourages him to study law and help those who wound up in fateful circumstances as him. Once out of jail he joins a lawyer's (Tigmanshu Dhulia) firm, but corrupt practices there perturb him. Instead he starts his own practice where he fights cases for those falsely implicated on the wrong side of the law.
Every individual in the extended cast from the family to those that make up Shahid's professional life are spectacular and give the correct dimensions to the main character. Undoubtedly, Rajkumar Yadav is the film's solid draw. Consistent, controlled; agony in some scenes, delight in some others, enacted with the flair of a veteran, he performs the role of the main subject with thorough conviction as if he'd have lived that life himself or have known the character for years.
As is given of biopics, writer Sameer Gautam and director Hansal Mehta (also co-writer) along with additional writer Apurva Asrani spend considerable amount of time detailing the many supporting characters that build the protagonists life. Amidst the tense drama, there are real life moments of familial tiffs, sibling camaraderie, peer banter etc. Compacting 32 years of a man's life into 120 minutes for celluloid is a daunting task. This shows in the uneven shortcuts Hansal Mehta takes in his story telling, making the first half seem choppy and disconnected, but thankfully the courtroom bits make up for it.
The beauty of this movie is it does not depend on dramatics or loud theatrics to emphasize its point. The filmmaker relies on subtlety; dialogues are smart, simple and effective to connect with the audience. What I also found incredible was that despite its take on sensitive topics like communal, religion, judiciary or law enforcement agencies, the treatment or tone of the movie is never condescending or vindictive. The film maintains a stand that yes there are bad forces in the society, but if you choose not to be influenced by it, sooner or later you will overcome these situations.
Life is the best teacher. What you make of it depends on whether you choose to learn from it or be victimized by it. Shahid could well have surrendered himself to circumstances created by the society around him. Instead he chose to fight, to be optimistic and not let himself or anyone else be caught in a web of someone else's misdoings. The film does not limit itself to being a simple biopic. It is an exemplary study of human values like perseverance, compassion, integrity, empathy among others. 'It'll come a little late, but it will ultimately come' says a character referring to the justice served in the country. It took close to a year to get this movie to a commercial release. You can choose to watch it and give it its deserving place, in an industry buried under commercial money minting cacophony. Highly recommended.