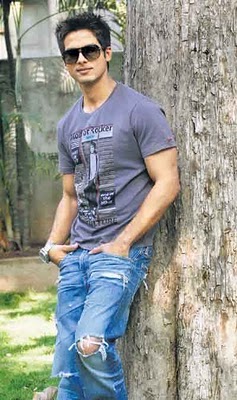 Shahid Kapoor is about to be a very busy actor. After a little break and a delay, the actor is getting ready to start a new film, with two more waiting in the wings. First up, is Maneesh Sharma's Yash Raj film, which goes to the floor in August and will finish by November. Though not much is known, we do know that starring opposite him is one of the IT girls Parineeti Chopra. About his character and preparation for the role, in what we hear is a romantic drama, he told the Deccan Chronicle, "I am playing a regular guy, a local Jaipuri. So I can't have any muscles and all of that sort, I have to look normal. I have not worked out for two months and this is something I have never done in my life. It was required for the role hence I am doing it."
After he finishes that then it is back to the gym. Why? Well, we have seen the actor romance and dance but we never have seen Shahid Kapoor in a full on action role! Now that is about to change because he has signed not one but two new projects and both are action films! Both to begin filming in 2013, one will be a full on action entertainer directed by Prabhu Deva and the other directed by Bejoy Nambiar of Shaitan fame.
About the Prabhu Deva film, Shahid told TOI, "I am super excited about it. I worked with him during an award function when he choreographed my performance. While I have done many dance forms, the typical South Indian film dance is very different and difficult. However, he made it easy for me. Working with him in his film will be a great learning experience for me." However, the film, tentatively titled Namak, will not start shooting until next year after Prabhu Deva finishes his current project.
Also in the pipeline is the film with Bejoy Nambiar, also apparently an action film because Shahid says, "For that, I will have to get into shape."
Shahid told the Hindustan Times he is excited to take on the action avatar, "Earlier stars like Mithunda, Amitji used to come out with these kinds of films. But, when we were in our teens, we did not see such films. Now again, we have movies like Wanted, Rowdy Rathore, Dabangg, Bodyguard. When I see these films I find them entertaining. I started enjoying them a lot."
"I also wanted to do those films, come out in high speed, look like a hero and all of that. So, when I am enjoying it as audience, why not do it?", he added.
Shahid also has several other projects that he is considering including one with Rajkumar Santoshi, but as of now has not signed on the dotted line.
About his films past and still to come he says, "Honestly, I do films from my heart. I have been doing this and I would like it to continue that way. I will do films regardless of whether they do well or not, because eventually, nobody knows what is going to happen. One just needs to believe, be passionate about the film and work."
Stay tuned we will be bringing you all the Shahid news!