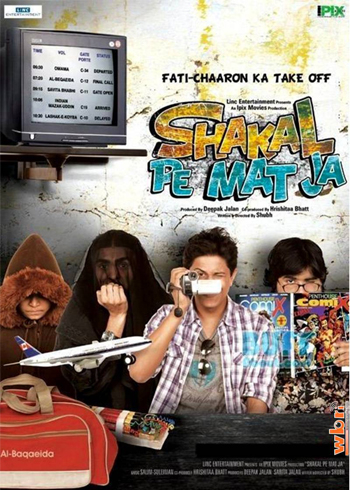 Shakal Pe Mat Ja. Or quite literally "Don't judge a book by its cover". Little did I know that it was more of an indirect warning to the audience. So if looking at the posters and trailers you were under the impression that Shakal Pe Mat Ja (SPMJ) was one of those small-budget-great-concept movies, then please – iski Shakal pe mat ja.
Trying to be on the lines of movies like Tere Bin Laden, Delhi Belly and Udaan, SPMJ is the story of four friends who get together to make a documentary in order to "prove themselves" to their parents, and in the process get mistaken for terrorists. Ankit Sharma (Shubh Mukherjee), his brother Dhruv (Prateek Katare), Rohan (Chitrak Bandhopadhyay) and Bulai (Harsh Parekh), after being frustrated by their lives in general, decide to make a short film on terrorism, especially the 9/11 event. In order to make their film perfect they need that just one shot of the airplane which leads them to the Delhi International airport. Some confusion with the security officials leads the security lead (Raghubir Yadav) and ATS officer (Saurabh Shukla) to believe that these four aimless youngsters are in fact hard-core terrorists. Amidst this, Mr Omama (yeah, he is supposed to be inspired by Osama) and his Al-Bakaida group have actually planned to blow up a plane which adds more to the confusion.
The weakest point of this movie is its poor script and an even poorer execution. What sounds like a promising premise definitely didn't materialize into a good script by Shubh. Though peppered with some witty dialogues, the situations are very 90s style and might have worked then but they definitely don't now – sample a scene where the hero has to select between a green, blue and a red wire to diffuse a bomb! Like the audience cooped up in the theatre with no escape, the four youngsters spend a major time in a so-called airport office with stale jokes on Savita Bhabhi and troubled stomachs. Since SPMT basically aims at being a comedy, the lack of genuine jokes is glaring. There's a reason they say you should not travel in more than one boat at a time. Dabbing in acting and writing for this movie, Shubh takes up direction as well, which sadly leaves a lot to be desired for. Add to that Sahir Raza's cinematography and the end product in fact comes out as a college project. Salim-Sulaiman and Nitin Kumar Gupta have given the music which one must say is pretty good and compliments the mood of the movie pretty well.
Moving on to the second negative point which stands out in this film: the performances. Of the four it's definitely Shubh who manages to do some justice to his character. After Aasma and Nakshatra, one sees the improvement but there's still a lot more he can learn. Chitrak tries to do a Kunal Roy Kapoor from Delhi Belly with his farting-accent spewing-porn obsessed character but doesn't come across as funny. Prateek showed a spark in Paa but I believe a faulty script leaves his performance wanting too. Newcomer Harsh who took a shift from sound engineering to acting, definitely has a lot to learn – the amateurishness very clearly shows on the screen. Umang is wasted as Shubh's girlfriend with nothing much to do as is Aamna Sharif – wonder what is she doing in this movie. Pro actors Raghubir and Saurabh who seem to have mastered these kinds of characters deliver their roles of a Haryanvi yelling security officer and an even higher yelling ATS officer respectively.
The end product leaves a lot to be desired. If you plan to skip this one, don't worry, you aren't missing out on anything.