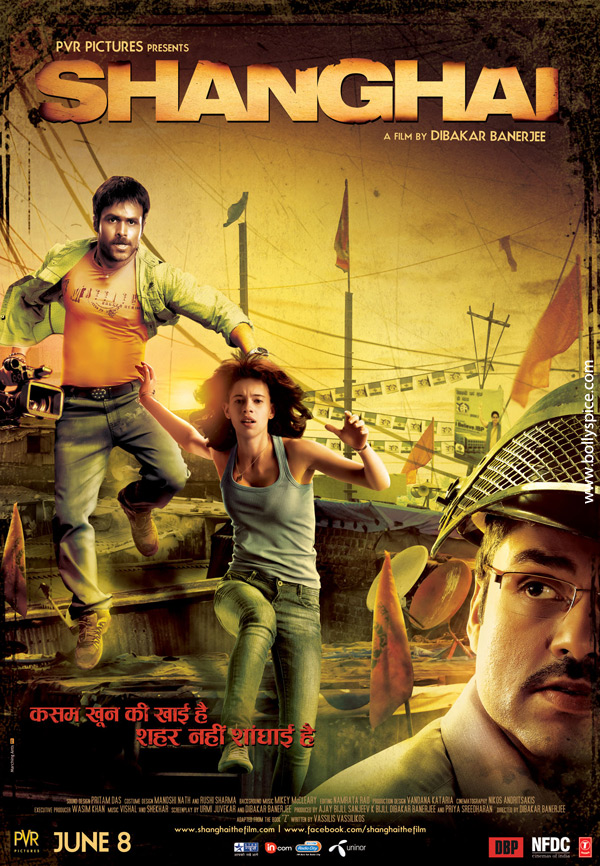 Portrayal of politics in Bollywood has always been sketchy. Barring a Rajneeti or a Gulal, movies have rarely jumped deep into the intricacies preferring instead the 'Most politicians are corrupt except a few who are too honest for their own good' depiction. Not Dibakar Banerjee though. Since his Khosla Ka Ghosla, Dibakar has always managed to give us characters which are believable – not black or white but a mix of both. In Shanghai, he once again gives us a no-holds-barred look at 'Bharatnagar' where there's a price for every development, a price to be paid by the common man. Adapted from the political thriller 'Z', a novel by Vassilis Vassilikos, Shanghai is the story of a how a development project by the ruling political party manages to cause chaos directly and indirectly in the lives of the protagonists. Dibakar has a unique way of unfolding the story and I would rather not spoil it by divulging the storyline.
Dibakar and Urmi Juvekar weave a very taunt tale which is gripping and engaging but minus the frills one usually notices in our cinema. We all know about a certain 'India is shining' campaign and Dibakar very deftly transforms the Communism based story on the political greed and corruption that riddles India. What helps him further are the wonderfully sketched characters and some great performances. Every other thing, be it the background score or the dialogues, are kept to the minimal, used only when necessary. The few songs, brilliant compositions by Vishal-Shekhar, used in the movie are weaved seamlessly and even the item song doesn't seem out of place. Dibakar has banked heavily on visuals and the actors to depict in a glance what would usually have needed lines after lines of dialogue. Prosenjit Chatterjee as the foreign returned leader Dr. Ahemadi who talks passionately against the IBP (the development plan International Business Park) but at the same time has a colorful love life is amazing in his cameo. Yes, even the good guys with good intentions have flaws and Dibarkar very aptly puts forth that point through the characterization of Dr. Ahemadi. Kalki Koechlin as Shalini, an activist, once again plays a troubled character with ease and the one scene at the end where she meets the murderer is enough to tell you why she was the obvious choice. The kind of passion yet silence portrayed by her takes her performance several notches higher. Abhay Deol plays a Tamilian IAS officer, Krishnan who is in charge of the commission investigating the murder case. He is practical and smart; he knows he is being played around but waits for the right opportunity to strike back. Like he says, he would never take a risk without a 100% backup plan. Abhay gives a winning performance which is subtle, never over-the-top. Though the Tamil accent fails him, we are grateful that it never bordered on the silliness which is often shown in Bollywood (Ra.One anybody?). No guesses that the person who steals the show is Emraan Hashmi who has had quite a good run at the box-office. Easily his best performance till date, Emraan portrays a very layered and complex character of Jogi. A press reporter who also shoots porn for that extra buck, Jogi is not an activist and would rather stay safe than die a hero. Proud to be a Rajput and preferring to back out rather than fight, he finally decides to help his 'dreemgirl' in the hope that his past would finally stop haunting him. In a movie that does get too serious, Hashmi's character provides the requisite genuine laughs.
Farooq Sheikh, Pitobash and Anant Jog give wonderful performances in their respective characters although we would love to see the talented Pitobash play some more different roles.
To be honest, Shanghai is not everyone's cup of tea. It provides a different type of entertainment which not many might warm up to. For a political thriller, there is actually not much of a suspense and for the audience used to the likes of Kahaani, Shanghai may seem to be too out in the open. Also, the politics played out by the scheming people in power is used only as a backdrop and not much explored which makes you feel that the movie had nothing new to offer. Even then, there are some really gem of a scenes which make you sit straight and take notice. Whether it's the scene where a football strays into a commission discussion or the passionate scene between Shalini and Dr. Ahmedi, you realize why Dibakar is such a brilliant director. My pick? The last scene of the movie- the most brilliant scene I have seen in a very long time.
It may be a long time until another Shanghai comes out. Don't miss it.