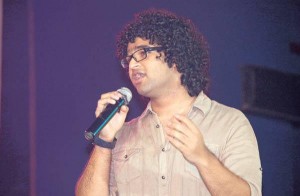 Bhaag Milkha Bhaag is one of the most awaited films of 2013. Since the teaser trailer was launched last year, the film has garnered tremendous traction. With the film only couple of weeks away from release when the makers are at the brink of launching the first song, 'Zinda'.
The song will mark the debut of Shakar Mahadevan's son, Siddharth as a singer. Previously Siddharth has composed background music for two films. However, this time around he has taken a leap and done Vocals for the song.
Sidharth, the 19-year-old loved the lyrics the song. The song infuses energy and directs one towards living life to the fullest.
Zinda has been envisaged more like a youth anthem. It shows the zeal of moving ahead and doing something. More in spirit of Milkha Singh,the national hero himself.
Siddharth Mahadevan who himself is young guy felt that he agreed with the ethos of the song.
Final song was shot two weeks back in Mumbai.
Farhan Akhtar was present for the recording too.
Shankar Mahadavan confirms the news. "We had recorded temporary track at the beginning of the shoot last year. We wanted someone who would be high on emotional quotient. Siddharth had done the temporary track that's usually the case; someone in the studio sings the temporary track. We lived with the song for almost a year and finally thought Siddharth was perfect for the song. Rakyesh and Prasoon both thought that Siddharth was perfect."
Here's a sneak peek, the full song they promise is coming soon!