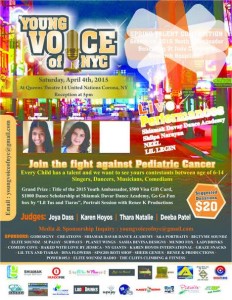 Educating and entertaining people across USA, the SHIAMAK Dance movement is going one step further, empowering people by joining hands with Young Voice of NYC. Young Voice of NYC for St. Jude Children's Research Hospital will help raise funds for kids battling cancer. A Spring Talent Competition will raise funds for St. Jude Children's Research Hospital® through the Special Events for St. Jude fundraising program. The event will be held at the Queens Theater in New York on Saturday April 4th at 5pm.
St. Jude is one of the world's premier centers for the research and treatment of pediatric cancer and other catastrophic childhood diseases. The 3rd Annual "Young Voice of NYC" Search for St Jude Ambassador Fundraiser where contestants, live performances and amazing guests will make this the best show with the best purpose. Senior instructor and Manager at Shiamak Davar International, Ms. Deeba Patel will be on the panel of celebrity judges alongside Ms. Joya Dass, News Anchor at NY1 and CNN, Ms. Karen Hoyos, Celebrity Speaker and Life Coach, Ms Thara Natalie, Manager at Jay Sean and Certified Yoga Instructor.
The SHIAMAK Dance Team – USA will perform at the event extending their support for the cause. Participants will be invited on stage as part of the Shiamak brand Dance for Good endeavor.  "Dance for Good is an initiative where we dance to support a cause that we believe in. During my dancing days in India, I have taught at various non profit institutes and truly understood the power of dance to heal. This is where Shiamak's philosophy really steps in; to educate, entertain and empower through the performing arts. The team is very excited to be a part of this event and I'm looking forward to viewing all the talent." says Deeba Patel.
The winner of the talent competition will be the next Youth Ambassador for St Jude and will receive additional prizes including a dance scholarship for $1000 offered by SHIAMAK USA to learn at the dance academy.
To learn more about Young Voice of NYC please visit: http://bit.ly/1MJphG7. To learn more about Shiamak Dance Academy, please visit: http://www.shiamak.com/.
Shiamak Daver on Dance For Good: