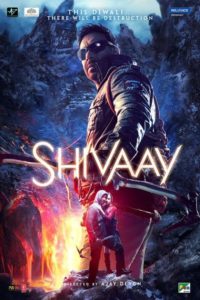 Sometimes the worst thing you do to a good thing is have too much of it. Like having too much of mama's paneer pakore till you puke. Ajay Devgn has directed, acted and produced Shivaay. The tremendous effort that would have been demanded in pulling that off is not often seen in today's Hindi cinema. But let's get straight to the film at hand.
Shivaay has a basic premise that we have seen before, but with a few modernised twists. A father that goes to all lengths, leaps and latitudes to get his daughter back from child traffickers. Now before you think this is an Indian Liam Neeson's Taken, Shivaay opens with Ajay Devgn collapsing on the ground, three bodies scattered several feet away next to a little doll. Then it moves on to a four-minute block of Ajay freefall mountaineering down the cliff to get payment for helping soldiers. Now that might not seem like much. But try staring at the wall for that time and your eyes will become cross-eyed. And this is how the film is throughout. No matter which scene, emotion or direction the film has in front of you, you go from being in awe to being bored and pulling your hair out from its sheer length.
Ajay is known to always push boundaries and all the making videos show just how far he has gone for the film. As an actor he underplays and does it well as the fearless but devoted mountaineer for about 10 minutes. Then as the father, he throws all the effort to the wind as he hams through the emotional scenes and become Hulk's unstoppable cousin/brother on a rampage. As a director, he has matured in his writing a little. But there is still room for improvement. Then there are the cliff love scenes that just make you laugh.
Erika Kaar as Olga and Abigail Eames as Gaura play their parts well. To be honest Sayesha's role as Anushka could have been played by anyone and had very little impact, even though she plays an important role. Vir Das is supposed to be funny and Girish Karnad is supposed to be a character artist, which neither turn out as that. How one wishes the criminal bad guys, the baron Ustinov and his right hand man, the unseen Changez would have made you feel the terror or at least the ruthlessness that the real life trafficker instil on screen.
It's not to say this isn't a workable bordering on good script. Who doesn't like a good hero dad story? But for the good guy to stay the good guy, you need to back him up with emotional engagement with the audience and a bad guy that has equal capacity. This is something that is diluted severely due to the development. Sandeep Srivastava and Robin Bhatt brought in the reality of child trafficking and how far it can go, but they failed on retaining that reality throughout the film. Editing by Dharmendra Sharma is possibly one of the bigger flaws since it would have alleviated most of the painstaking brain numbness. Perhaps the major advantage is the cinematography by Aseem Bajaj. It is simply spectacular. Production values had the right intention to say the least. Mithoon's music takes a more background setting with Shivaay but you do take notice. 'Raatein' by Jasleen Royal is the one you walk away with as well as Mithoon's 'Bolo Har Har Har'.
So the final verdict? Shivaay wants to be the bhakt that imitates the Lord himself but is more like the big budget remake that crushed your beloved favourite film.