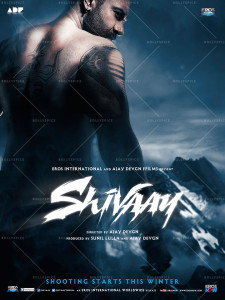 At a recent screening of a film, Bollywood actress Kajol spoke about her husband's, Ajay Devgn, forthcoming filmShivaay.
Speaking about the film, which is directed and co-produced by Ajay Devgn, Kajol said: "I think it's really amazing to see the kind of response we received for the trailer. Thankfully, we have a very nice product (Shivaay) in front of us. I think the film will speak for itself and is going to be better than the trailer."
The film also features actress Saira Banu's grandniece, Sayyeshaa Saigal, Polish actress, Erika Kaar and British child actor Abigail Eames and will be in cinemas on 28th October for Diwali.
Directed and produced by Ajay Devgn, Shivaay releases in cinemas around Diwali on 28th October 2016, distributed by Reliance Entertainment.