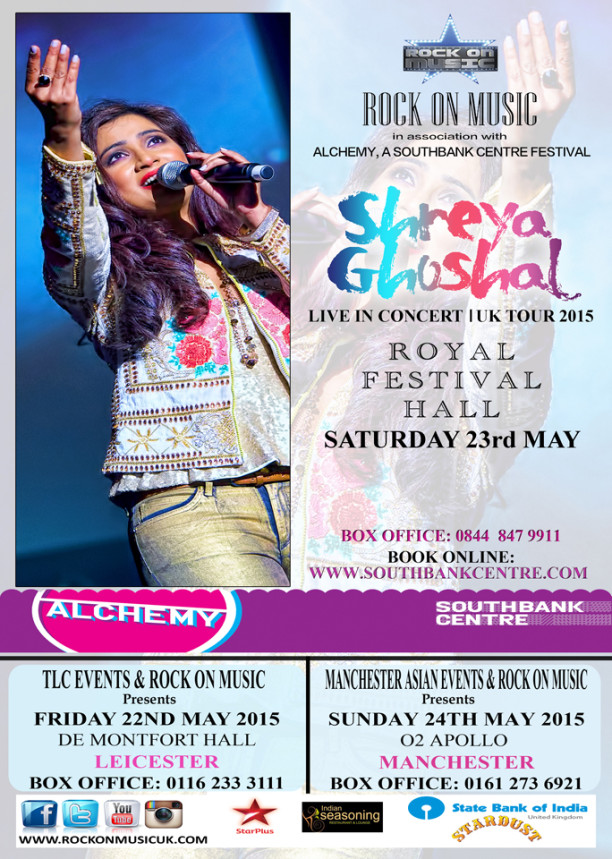 UK FANS – brace yourselves for a very special Bollywood treat! The nightingale of 21st century India, Shreya Ghoshal, will be returning to the UK with her third tour after having had two previous successful sell out shows. Having performed at the prestigious Royal Albert Hall in 2013 and 2014; this time Shreya will commence her tour at the De Montfort Hall, Leicester on 22 May 2015, and then proceed to the prestigious Royal Festival Hall in London on Saturday 23 May as part of the Alchemy Festival. She will then bring the tour to a close on Sunday 24 May at the O2 Apollo in Manchester.
Produced by Rock On Music, Shreya Ghoshal's concerts are known for attracting large crowds that have made her shows complete sell outs. Reportedly in the past, many of her fans bought standing tickets at the top balconies just to see the playback singer live in action. This is a testament to the power talent that is Shreya Ghoshal and the phenomenal impact she has had across the globe.
You can catch Shreya Ghoshal live in the UK from 22-24 May 2015. Tickets can be booked via the following links! Grab them while you can as this is a tour not to be missed!
Leicester (Friday 22 May) – http://bit.ly/1OmrBUi
London (Saturday 23 May) – http://bit.ly/1aAie4m
Manchester (Sunday 24 May) – http://bit.ly/1ICHV2Q
Also check out the cool tour poster and video teaser below!