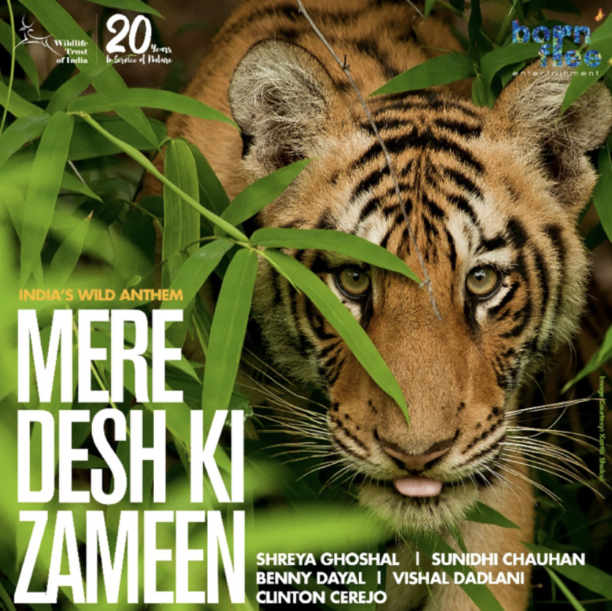 Dia Mirza and Sahil Sangha's Born Free Entertainment in partnership with the Wildlife Trust of India (WTI) has brought together some of India's finest voices for a project titled 'Mere Desh Ki Zameen'- India's first WILD ANTHEM with the mission to conserve wildlife and its habitat in India.
The song is composed by Clinton Cerejo, lyrics by Prasoon Joshi and sung by Shreya Ghoshal, Sunidhi Chauhan, Benny Dayal, Vishal Dadlani and Clinton Cerejo. The concept has been designed and produced by Born Free Entertainment.
The track celebrates India's biodiversity by showcasing its very best; with the hope to instil an infallible sense of pride and true love for our natural bounty, one that we are blessed to have.
Check it out!

Speaking on the release, an elated Dia Mirza said, "This was my dream. To give India a Wild Anthem, a song that would be a celebration of all that is most incredible about our home, our land. I am so grateful to everyone who is a part of the anthem for coming forward and giving it nothing but love."
Lyricist Prasoon Joshi says, "At times, we take the most important things in our life for granted and they almost merge in the everyday backdrop. We forget to count our blessings and feel the sense of gratitude for them. The same is true about our Wildlife and this anthem tries to strike that chord with all of us reminding us about how mother nature has bestowed her love upon us. Dia Mirza with her sensitivity and tenacity has taken a remarkable initiative towards the cause of Wild Life in India. My thoughts and words would have been incomplete without Clinton's simple yet intricate composition. Working with this team and Born Free Entertainment has been a wonderful experience and I hope the cause resonates with many."
Says Shreya Ghosal, "We are so blessed to be born in a country which has the most beautiful and magical wildlife in the entire world. The variety is simply incredible. They truly are wonders of nature and we must do everything in our capacity to protect them from any harm. For the first time ever, an anthem has been created to celebrate the amazing wildlife of India and watching the visuals in this video gives you goose bumps. I was so thrilled to work on "Mere Desh Ki Zameen". The passion that has gone in creating this song and the video is truly inspiring. Dia Mirza and Sahil Sangha have worked tirelessly to put it all together and bring the most amazing music makers Clinton Cerejo and Prasoon Joshi together to create this beautiful song. I am so happy to sing it along with the best in the music industry Sunidhi, Vishal, Benny and Clinton!! Thank you WTI and Born Free for making me a part of this initiative."
Vishal Dadlani says, "Sometimes it feels like humankind is losing out on the glory and splendour of the world around us, simply by being too self-involved. I'm really glad to be part of this project, that draws us in to the beauty of the natural bounty that India is blessed with. Here's hoping that the message carries, and that people stop to listen, and grow to love, value and treasure nature and India's rich and diverse wildlife."
Sundhi Chauhan adds, "It gives me so much pride and joy to lend my voice to such a wonderful and important cause! As a new mother myself, I hope my child grows to witness the beauty and splendour of Wild India and an Incredible Planet. Working with Dia and Sahil, singing this song, which is so beautifully written by Prasoon Joshi along with Vishal, Shreya, Benny and Clinton will remain cherished memories forever."
Benny Dayal says, "This is the most important initiative of today. To live harmoniously alongside the wildlife of our country is a necessity. This is not our space. It's their space we are living in. Hence, we must respect their existence to the utmost."
Says song composer Clinton Cerejo, "I'm so thrilled to have had the opportunity to work with the Wildlife Trust of India and use my talent for a cause such as this. I often feel that as media professionals, our circle of influence is wide and far reaching and we don't do enough, cause we're always too wrapped up moving from one project to the next. I've had a long working relationship with Sahil and Dia for many years. And when they approached me to work on this I said yes without a moment's hesitation as I've always loved being a part of their projects. When I met Vivek Menon at my studio I was genuinely blown with the man's humility given the monumental impact he has had on wildlife in our country. He educated me so much in just one afternoon, that it completely changed my outlook towards our national heritage and made me so much more aware. I'm extremely happy to be a part of this great movement even in a small measure."
Sahil Sangha of Born Free Entertainment says, "India's natural beauty is rich and diverse. It must be celebrated preserved and nurtured by each one of us! I feel privileged to collaborate with such fine talents, and more importantly, wonderful individuals to give India her first Wild Anthem. Hopefully people will appreciate this effort and join our tribe to help keep India Forever Wild!!!".
Devraj Sanyal, MD & CEO, Universal Music Group India and South Asia said, "At Universal Music Group, we take `giving back' seriously whether it is to the community or nature and I strongly believe that music can play a huge role in this. We are proud to partner the Wildlife Trust of India (WTI) and my dear friend Dia Mirza to take this beautiful song to the world. Sung by my closest buds Vishal, Shreya, Sunidhi & Benny, this Wild Anthem was sorely needed, especially for the next generation who will lead the charge for conservation of our country's natural beauty. My teams and I are committed to this cause and we will ensure that the beautiful message of this project travels far and wide across our country through the song "Mere Desh Ki Zameen".
Our country India, is home to the most beautiful diversity of flora and fauna. The largest number of Asiatic Lions, Tigers and Asian Elephants that are found in the world reside here, and from our mountains and rivers to our forests and plains, we boast of an ecological diversity that is rare and distinct. Our plants, animals and landscapes all have a rich history and cultural relevance that have influenced our way of life since early. It is imperative that we continue to cherish the beauty of our wild and fight to preserve it for the generations to come." 
"Mere Desh Ki Zameen" is out now across all digital services exclusively on UMG
We also have some amazing shots from the recording of this important song