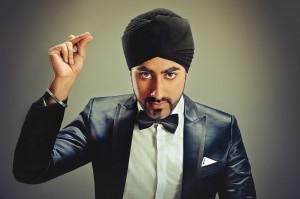 Photographers Amit and Naroop recently hosted a private view of the much lauded Singh Project exhibition. Guests from stage and screen mingled with the photography subjects who took centre stage at the event.
Guests included Bend it Like Beckham director Gurinder Chadha, RnB singer Jay Sean, music producer Talvin Singh, actors, Martin Delaney, Rez Kempton, Goldy Notay, Ameet Channa, Valmike Rampersad, presenters, Seema Pathan, Hardeep Singh Kohli and Sunny and Shay.
Since opening a week ago, the Singh Project has received much attention from photography enthusiasts and media alike, drawing a huge amount of attention for its bold and highly original images.
"Great collection",
"Amazing exhibition",
"Keep up the good work"
"Love the images, and can't wait to see more of their work,
"Brilliantly done"
These were just some of the comments made by guests. The exhibition, which is on at the Framers Gallery W1 until 15 November 2014, features Sikh men of all ages and from all walks of life. From doctors to boxers, temple volunteers to magicians and I.T professionals to fashion stylists, the subjects all carry the name Singh (Sanskrit for lion), which is given to all baptised male Sikhs. The Singh Project showcases brilliantly symbolic images of where fashion meets faith and style in modern multicultural Britain.
Shot in Amit and Naroop's instantly recognisable, high impact style, the collection boasts a sleek and stylish quality. The end result is a stunning collection of stylish, high impact photos, which explore the image of the modern Sikh man.
Amit and Naroop commented: "We were honoured to have so many guests support the exhibition last week at the Private View event which was a huge success. A great crowd of family, friends, clients and most importantly the Singhs themselves. We are thankful to everyone that attended and their kind words about the project. It was amazing to witness guest's reactions to the photographs and we are truly grateful for all the support we have received from everyone. Thanks also to Benares for the delicious food, Pernod Ricard and Jacobs Creek for the wine and Barfia for the Couture Indian sweets which were enjoyed by all."