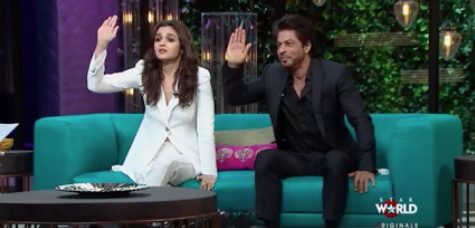 There is exactly a week to go for the brand new season of Koffee with Karan to hit your television screen. Yes, just seven more days till Karan Johar and his wit take centre stage as Bollywood stars try their best to answer the barrage of questions meted out on the Koffee couch!
Karan confirmed yesterday that his long time buddy and Bollywood Baadshah, Shah Rukh Khan and the rising star, Alia Bhatt would be the first guests in Season 5 of Koffee with Karan in a sneak peek of the first episode that saw Karan and Shah Rukh ganging up against Alia.
While it's not hard to guess that there will be rib tickling fun on the show with the trio around, a second sneak preview of the first episode sees Shah Rukh and Alia fiercely battling it out for the Koffee hamper in the Rapid Fire Round. The promo also reveals Shah Rukh's fatherly over protectiveness towards his daughter as he half jokingly declares that he will rip the lips off anyone who tries to kiss his daughter.
Apparently tired of the never ending questions about their long standing friendship, Shah Rukh nonchalantly tells Karan to simply release the photograph of them kissing – all in jest of course!
Well, Koffee with Karan only seems to get bigger and better with every season and this season promises to be a crackling affair as Karan gets up close and personal with his guests.
Catch all the fun, all the hilarity and of course, all the secrets in Season 5 of Koffee with Karan only on Star World and Star World HD beginning 6 November onwards every Sunday at 9 PM.
Check out this second sneak peek of Episode 1