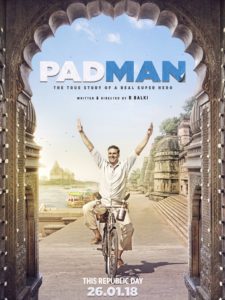 One of the films on our radar to most definitely see is Akshay Kumar's PadMan directed by R. Balki. The social issue film, which also stars Sonam Kapoor and Radhika Apte, will release in India and worldwide on Jan 26th, 2018.
Billed as the most progressive family entertainer yet, Akshay Kumar plays the title role and once again showcases his commitment to social entertainers, in line with his latest super hit, Toilet: Ek Prem Katha (Toilet: A Love Story).
PadMan is Inspired by the life of Indian entrepreneur and inventor Arunachalam Muruganantham, who invented the low cost sanitary pad-making machine and revolutionized the movement of cost effective female hygiene in India.
Akshay recently tweeted pictures with his co-stars
The STRENGTH behind #PADMAN…find out on 26th January, 2018. @sonamakapoor @PadManTheFilm @radhika_apte @mrsfunnybones @SonyPicsIndia @kriarj #RBalki pic.twitter.com/iE8jaS6LRQ

— Akshay Kumar (@akshaykumar) November 15, 2017
The REASON he became #PADMAN…find out on 26th January, 2018. @radhika_apte @PadManTheFilm @sonamakapoor @mrsfunnybones @SonyPicsIndia @kriarj #RBalki pic.twitter.com/a1TB69KE6m

— Akshay Kumar (@akshaykumar) November 15, 2017
In an exciting development, top Hollywood film studio, Sony Pictures Entertainment has partnered with KriArj Entertainment to distribute the film to audiences worldwide.
Talking about his partnership with Sony Pictures Entertainment India, Akshay says, "PadMan is a very special film for many reasons. It is my wife's first production from Mrs Funnybones Movies. She introduced me to Arunachalam Muruganatham and his wonderful story. It is a story that has universal resonance and Balki has brought it to life beautifully. Sanford and the Sony Pictures team are ideally placed to take the film to audiences worldwide and we look forward to sharing this journey with them."
Talking about the studio's continued move in local production in India and SPE's partnership with Akshay Kumar, Sanford Panitch, President, Columbia Pictures, adds, "Akshay is the rarest of artists, not only is he the definition of movie star and producer, but what makes him and Twinkle so special is that they have a found a way with this film to make a wonderfully affecting and heartwarming movie that also can impact social change. Not only are the kinds of movies he makes the same kinds of movies that the big mass audience enjoys, but he is uniquely successful because he has been courageous about his instincts. We are looking forward to working with Akshay and Twinkle on many projects."
Laine Kline, EVP Business Affairs, Operations and Head of Local Film Production, Sony Pictures Entertainment, added, "India is an important and growing market with rich content and dynamic stories that translate worldwide. Akshay, one of the most critically and commercially lauded stars in the country, has a distinct sensibility that we are lucky to work with. We look forward to sharing PadMan's incredible story with audiences around the world."
Vivek Krishnani, Managing Director, Sony Pictures Entertainment, India said, "We are indeed excited to partner with Akshay, Mrs. Funnybones Movies and KriArj Entertainment on PadMan-it's a film that's bound to make every Indian proud because it celebrates a true indigenous inventor and innovator who brought a massive social change. With Balki's PadMan, which leads our 2018 India film slate, we have a family entertainer that is going to warm your hearts, entertain you and make you think at the same time!"
Arjun N Kapoor, Producer, KriArj Entertainment, says "PadMan will be path breaking in more ways than one and we believe that if there are stories that deserved to be told, this one tops the list. We couldn't have had better creative forces combined than Mr. Akshay Kumar, Mr. Balki and Mrs. Twinkle Khanna to portray this extraordinary tale of an ordinary man. The new year will have a dream beginning for us and we can't hold back our excitement to showcase PadMan to the world audiences".
Virender Arora, Producer, KriArj Entertainment adds, "Our association with Mr. Akshay Kumar goes back to Rustom and most recently Toilet: Ek Prem Katha. We are fortunate to have partnered with him, as he creates inspiring films to entertain audiences across the globe. We are glad to partner with a leading Hollywood studio like Sony Pictures Entertainment and together we are looking forward to bringing the most awaited family film of 2018- PadMan."
Watch this space for more!