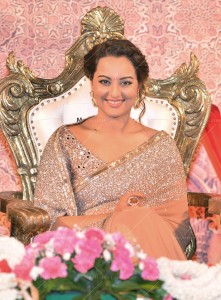 Though we saw Rajinikanth in the motion capture epic, Kochadaiiyaan, fans have not seen the Superstar since the super hit Robot in 2010 but now the wait is over because the highly anticipated Lingaa has released. Directed by KS Ravikumar, with music by the great AR Rahman, Lingaa is a full on epic entertainer as only Thalaivar can bring to the big screen.
The Tamil and Telegu versions of Lingaa released in over 4000 screens worldwide on Friday, December 12th, to rave reviews and packed houses with the Hindi version set to hit on December 26th.
Starring opposite Rajinikanth is Sonakshi Sinha, who is making her debut in the South film industry.
Ashanti Omkar from BBC Asian Network who hosts a weekly program on Sundays highlighting and showcasing the latest music, arts and entertainment from South Indian and Sri Lankan communities, talked with Sonakshi about the film, working with Rajinikanth, the AR Rahman soundtrack and so much more and we are lucky enough to have highlights!
Talking about being a Rajinikanth heroine in 2014's biggest pan Indian release, Lingaa, in Tamil, Telugu and Hindi, Sonakshi said, "It was a wonderful experience, as it's a phenomenal film. What a complete pleasure it was, working with Rajini sir and I don't think I could have asked for a better debut in the South, in the Tamil film industry."
Apparently the filming schedule for Lingaa was quite taxing. "It was very intensive, as the part I was doing was based in the 1940s. To get the era to look right, the costumes, the sets, the locations – they all had to be really authentic. I shot the film over a period of 60 days. Quite a demanding task, a tough but fulfilling journey," Sonakshi revealed.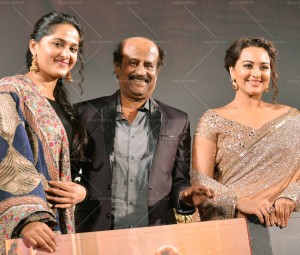 The Lingaa director, KS Ravikumar is a legend in South India, and has worked on huge hit films with Kamal Haasan (Dasavathaaram), Rajinikanth (Muthu, Padayappa) and Ajith Kumar (Varalaru aka Godfather), so how was her experience working with him? "He is a legend," she said, "I don't speak or understand Tamil, and he is a wonderful director, as he was a really big help to me. He made sure I was comfortable in whatever way I needed to work, to get the lip synch right, and he would allow me to read off placards, or he would prompt me so I could repeat what he was saying immediately afterwards. He would even explain the meaning of each and every word, so I would get the expressions right."
About Chinmayi the famous singing voice behind 'Tere Bina' from Guru and 'Titli' from Chennai Express, who did the Tamil dubbing for Sonakshi, she said, "I've heard her sing and she has a beautiful voice, and I'm glad that she's dubbed for me, as I wouldn't be able to pull off the diction and accent in Tamil. I guess if I had time to practice, I would be able to do it myself, but it would have taken too long to get the lines right, to fit with the schedule."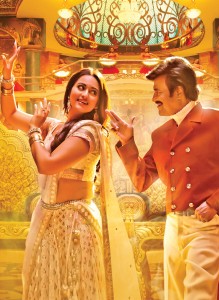 The maestro AR Rahman composed the songs and the music of Lingaa. This is actually the first film Sonakshi dances to his tune and she was thrilled, "I've been waiting to work with AR Rahman – and I'm so happy to have been able to work with him in my first Tamil film. My favourite song is 'En Mannava', which was so well choreographed by Rekha Chinni Prakash."
She also talked about the incredible audio launch in Chennai, "Oh God, it was tremendous, the kind of craze and hysteria that surrounds Rajini sir and the opportunity to see something like that was a once in a lifetime experience."
So will we see her in more South films? "Why not – if I get the right script – they're so rich in content in the South, which is why so many of their films get re-made into Hindi. With the right script, I'd love to do it, as now the language barrier has been crossed and I feel I can pull off a Tamil film."
You can hear Ashanti on BBC Asian Network every Sunday, from 2-4pm UK time, live on BBC iPlayer and DAB in the UK, and online, worldwide, with the listen back feature for 4 weeks per episode on http://www.bbc.co.uk/programmes/b04mv017