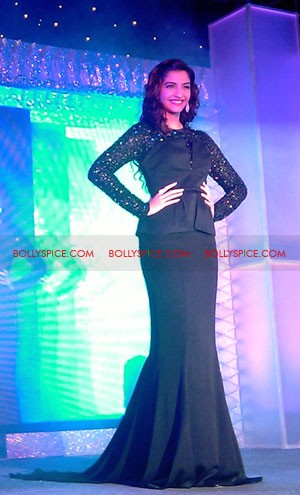 The Gem & Jewellery Export Promotion Council (GJEPC) launched the 2nd edition of India International Jewellery Week (IIJW) at the Grand Hyatt, Mumbai on 6th June. Sonam Kapoor, Bollywood style Diva and fashion icon was announced as the brand ambassador of this Asia's first Jewellery Week aimed at establishing India as the Global Design Destination in Jewellery. IIJW 2011 is scheduled from 31st July to August 4, 2011 at this same venue.
Mr. Rajiv Jain, Chairman, GJEPC said, "IIJW positions India as one of the finest creators of high quality jewellery and is a showcase of India's prowess in jewellery, be it design, innovation, craftsmanship or quality. We are pleased to announce Sonam Kapoor as our brand ambassador who exudes the values of glamour, luxury yet rooted in Indian culture and offers perfect brand fit." Sonam, looking stunning in a black gown and huge teardrop earrings courtesy GJEPC, added, "I am honored to be a part of Asia's first ever jewellery fashion showcasing – IIJW an event that provides a perfect platform for not only established designers and brands in the jewellery business but also encourages young budding talent. To be associated with IIJW is an honor. I am glad that GJEPC has taken this step to place India in the global arena of designer jewellery. I look forward to seeing some exemplary work at the IIJW this July." Dishing out Fashion advice with ease, Sonam gave prompt replies to questions regarding fashion in different seasons, daily wear, party wear etc. "I prefer something casual and comfortable during the day but if it's a party evening then I do go out all dresses up!" Stating that diamonds are indeed a girl's best friend, she said that those are one type of precious stones which each girl should definitely have "although according to me no precious stone goes out of fashion." Sonam said that actresses like Karishma were style icons according to her and she was indeed happy to be called one too. "My father has never gifted me any jewellery although he has bought my mom some. For him it is just a means of investment," she added having celebrated her birthday recently.
The Gem & Jewellery Export Promotion Council (GJEPC) over several decades has continuously worked towards molding the scattered efforts of jewellery players in India & promoted them in the international market. In 2010, the Council introduced the India International Jewellery Week (IIJW) , a unique initiative to place India on the global map in terms of jewellery design, innovation and craftsmanship. As this global event enters into its second year, IIJW decided to appoint Sonam Kapoor as its brand ambassador for the 2nd Edition. Key participants of the 2011 edition will include names like Queenie for Gitanjali Gems, Anmol Jewellers, Amrapali Jewels Pvt. Ltd, Tanishq (Titan Industries Ltd), Rosily Paul Creations, Sawansukha Jewellers Pvt. Ltd, Laxmi Jewellery Exports Pvt Ltd Golecha's Jewels, Surana Gems & Jewellery, Intergem Exports, Kashi Jewellers, C. Krishiah Chetty & Sons Pvt Ltd, Dwarkadas Chandumal Jewellers, Divya Ahuja, Dynamic International, HK, Dipti Amisha and budding talent to be presented by Gemmological Institute of America and IGI among others who will showcase their exquisite jewellery collections at this show.