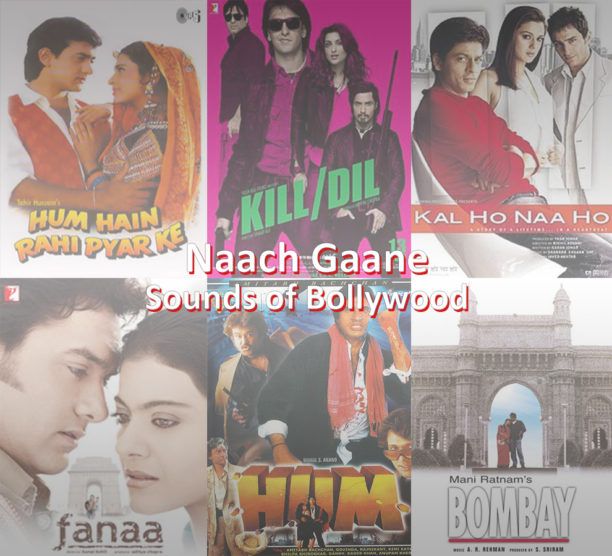 We now dive into Part 2 of the songs of Bollywood. 90s Bollywood had a hefty past of classic films and songs to surpass. From Dilip Kumar walking along a cliff, Dev Anand comically falling down, Raj Kapoor thinking about death and legacy, to Rajesh Khanna staring out at the sea (on another cliff), Sunny Deol stomping his feet as his gang mates went up the hill and Rishi Kapoor righting the wrongs of his past life through a song. How do you top that and still be the lovable, funky, fun and completely absurd Bollywood we knew and love… Easy! From the soft, easy listening music and some jazz combinations of the earlier films, the music and dance sequences transposed to low budget big band music taking on the blasting of the base club beats KO-ing the western world with a bigger dose of desi swag. As well as dancing queens and dhak dhak, whether it was from sexy Sridevis or shirtless Salmans. From Anu Malik to A.R Rahman, we bring on the next gen.
'Tama Tama' – Thanedaar (1990)
Singers: Bappi Lahiri, Anuradha Paudwal – Composer: Bappi Lahiri – Lyricist: Indivar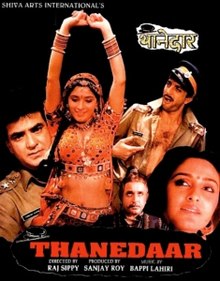 In 1990, Bappi Lahiri was changing the face of music again with a song of revolution featuring Madhuri Dixit Nene and Sanjay Dutt. The moves are robotic but not quite the robot dance with the lights that are strobing wildly. Then we add in Bappi Lahiri and Anuradha Paudwal who are magical vocalists. This song was for the young lovers only, "Tu premi, mein premi, phir kya daddy, kya amma". With the words "Ek bas tu hi pyar ke kaabil" this song clearly demarcated itself, but found such appeal that the film has long since been forgotten, but the music remains.
'Jhumma Chumma' – Hum (1991)
Singers: Sudesh Bhonsle, Kavita Krishnamurthy – Composer: Laxmikant-Pyarelal – Lyricist: Anand Bakshi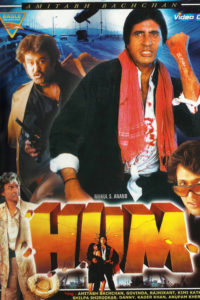 This was a film with a super cast: Amitabh Bachchan, Govinda and Superstar Rajnikant just to name a few. The best song of this film and possibly this decade goes to Amitabh Bachchan. Nothing but an item song, its sweet calypso beat and very loud trumpets made it both irresistibly cool and made audiences scream the house down. That's before you get to the racy lyrics where the eponymous Jhumma has apparently promised a kiss on the next Friday ("Jhumme ke din") and guess what day it is!!!
'Khal Nayak' – Khal Nayak (1993)
Singers: Vinod Rathod, Kavita Krishnamurthy – Composer: Laxmikant-Pyarelal – Lyricist: Anand Bakshi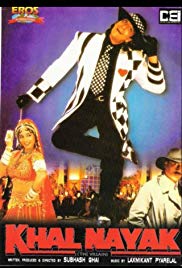 "Nayak nahin, khalnayak hu mein, zulmi bada, dukh dayak hu mein" proclaims Sanjay Dutt as he dances with Ramya Krishnan in this, the original villain's song. The beat is easy to dance to and there's a chorus keeping it sounding mysterious and suspicious. Kavita singing for Ramya says "Is pyar ka tujko kya kadar, is pyar ke kaha layak he tu" … but it won't stop her loving him. This is the song that made 'Sanju Bhai', a superstar anti-hero, who does all the action but for all the seemingly wrong reasons. This would lead to great successes like Kaante and Daag: The Fire. Without it, maybe a completely different hero would be known to audiences today.
'Ghungat Ki Aad Se' – Hum Hai Rahi Pyar Ke (1993)
Singers: Kumar Sanu, Alka Yagnik – Composer: Nadeem-Shravan – Lyricist: Sameer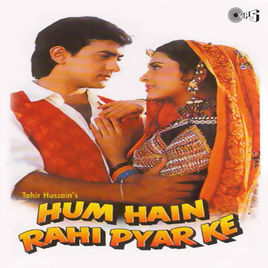 By 1993, Juhi Chawla and Aamir Khan were already well-established stars in Bollywood both having come to fame with great roles in major films. Of course, many great hits came from the albums for these films too. Yet this song stands above all as it features all the dancing talents of Juhi to a soundtrack of the 90s ultimate singing duo Kumar Sanu and Alka Yagnik. The song is ultimate romance with equal parts love "Dil mera dhadkane lagi ab to yeh deewanagi", to gentle chiding "Bina kisi yaar ke jaane jaan, yeh pyar adhura rehta hai" and finally the acknowledgement of their joining. Find someone to sing it to…
'Ole Ole' – Yeh Dillagi (1994)
Singer:Abhijeet – Composer: Dilip-Sameer – Lyricist: Sameer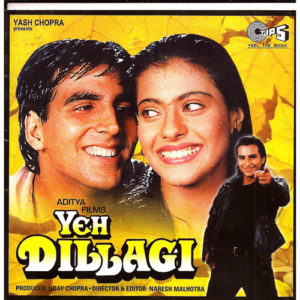 Abhijeet made his living as the peppy male singer in the 90s and this is certainly one of his finest. More importantly though this song launched Saif Ali Khan as a serious flirt who parties with all the girls on the dance floor. "Husn ka jalwa mere in aakhon ka karza bole, ole ole ole" as he stares at one after another incredibly beautiful women. The leather jacket and long floppy hair separated him from his fellow actors and the calypso beat allowed him to show off some of his best dance moves. Look out for a small cameo from Saeed Jaffrey, Rema Lagoo and an also young Kajol in one of her pre-SRK roles.
'Urvashi' – Hum Se Hai Muqabla (1994)
Singers: Mano, Peter – Composer: A.R. Rahman – Lyricist: Mehboob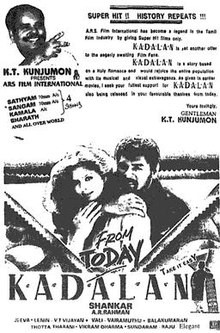 It's important to keep in mind that the poster is not a mistake… this is a Tamil film that was dubbed into Hindi. Also, yes that's the same A.R. Rahman in subtitle that Bollywood has been mesmerised by ever since this film. But what would you say to a couple of college boys wearing burkhas who get on the ladies' bus as a prank and after getting thrown out break into hip-hop dancing that has never been seen in Bollywood? Audiences in 1994 said more please of the "take it easy policy" and newer audiences have kept saying the same till today with Yo Yo Honey Singh releasing a new version with Shahid Kapoor just last year. Nevertheless, the original is the best!!! Prabhu Deva is unmatchable even by his students.
'Kehna Hi Kya' – Bombay (1995)
Singer: K.S. Chitra – Composer: A.R. Rahman – Lyricist: Mehboob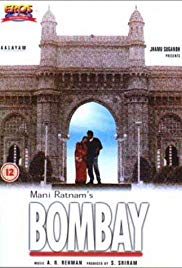 With the need for dance to take over, it also meant dubbing more regional movies to bring the real dance talent that had always been out there but not exposed to Bollywood. While this film is always to be better known for 'Humma Humma', 'Kehna Hi Kya' was about the beauty of a sound. It doesn't matter if you hear this in Tamil or Hindi, K.S. Chitra is magnificent in what is a perfect rendition of a heart awakening for the first time. Also listen out for A.R. Rahman slowly venturing into the singer mode.
'Payalay Chunmun' – Virasat (1997)
Singers: Kumar Sanu, K.S. Chitra – Composers: Illyaraja, Anu Malik – Lyricist: Vaali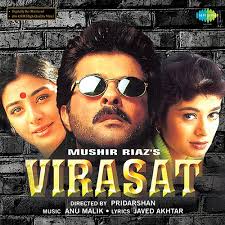 By 1996, the concept of dubbing had brought several actors and singers into the Bollywood consciousness, but it worked better if the films themselves were remade with Bollywood stars. Here Anil Kapoor works with Tabu on the remake of Thevar Magan, which starred Kamal Hassan and Revathi. This song is the iconic love song performed by Kumar Sanu and K.S. Chitra each bringing well-honed voices and endless talents to a cheeky but loving song… "Kitna Madhur hai yeh milan".
'Pyar Ko Ho Jaane Do' – Dushman (1998)
Singers: Kumar Sanu, Lata Mangeshkar – Composers: Aadesh Shrivastav, Uttam Singh – Lyricist: Anand Bakshi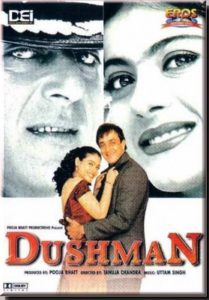 Nevertheless, even in this decade, not every song needed to be a major dance hit. Tanuja Chandra's first film Dushman featured a blind Sanjay Dutt falling for a now matured Kajol playing a double role. This is Kumar Sanu and Lata Mangheshkar singing love songs the way audiences expect them to be done today. Piano, a gentle drum and the odd flute solo mixes with some beautiful scenery and Kajol in some beautiful dresses and jewellery.
'O O Jaane Jaana' – Pyar Kiya to Darna Kya (1998)
Singers: Kamaal Khan (KK) – Composers: Sajid-Wajid – Lyricist: Sameer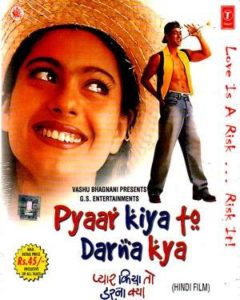 It is undoubtable to many that some of the best songs are simply on stage with shirts off. Please welcome Salman Khan on a bike, which he neatly parks behind the stage before letting rip into some super dance moves with a freshly trainer-toned body and of course no shirt. Kamaal Khan or now KK is as cool as Salman's looks, as smooth as the sweat on those abs and as bright as the moves seemingly only Salman could pull off.
'Qayamat Qayamat' – Deewane (2000)
Singers: Sukhwinder Singh, Alka Yagnik – Composer: Darshan-Sanjeev – Lyricist: Sameer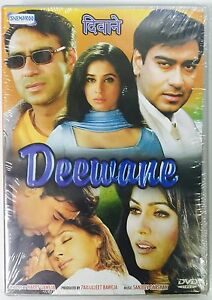 Ajay Devgn on the other hand will never be known for great dance moves but put him next to Urmila Mantodkar and he is the essence of flamenco (well, robotic flamenco). This is also a calypso beat like so many other dance tunes but the Spanish guitar takes it to a new level and the synth rhythm allows the song to go places that Bollywood didn't travel to even by then. "Aashiq hai kaun woh, tum aashiqui ho jiski" may be old words but in this song, they are revitalised as part of a raunchy number.
'O Piya' – Jish Desh Mein Ganga Rehta Hai – (2000)
Singers: Sukhwinder Singh, Sadhana Sargam – Composer: Anand Raj Anand – Lyricists: Dev Kohli, Pravin Bhardwaj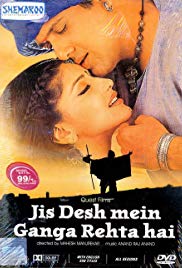 If you wanted a dance number you really only had Madhuri Dixit, Karishma Kapoor and Sonali Bendre to choose from. There were occasional incursions from regional dancing actresses but these were the major ones. And for Sonali, it doesn't come much better then this song with Govinda: the chemistry, the flow, the gentle Arabic motifs, it looks like the song wrote itself and the dance was just what came naturally between these two masters of movement. A flute plays with low notes, the violins are sharp and loud, bongo drums keep the timing and your body just starts moving in time with theirs.
'Kal Ho Naa Ho' – Kal Ho Naa Ho (2003)
Singer: Sonu Nigam – Composers: Shankar, Ehsaan, Loy – Lyricist: Javed Akhtar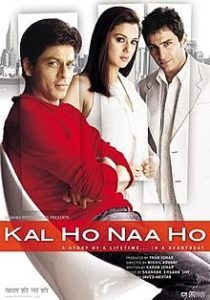 It may be late on in the piece but there can be no doubt whenever someone does Shah Rukh Khan's best of list, whether music, film or clothing choices this song will be high in the mix. Shot at the Brooklyn bridge in that photographic white outfit, arms open wide as if giving his heart to the audience, this is everything that is SRK's brand. Sonu Nigam as the singer gives a light but emotional performance singing "Chahe jo tumhe pure dil se, milta hai who muskil se". 'Kal Ho Naa Ho' definitely counts among his best songs ever in his Bollywood career. "Us haat ko, tum thaam lo" make the audience reach out to grab SRK's hand, that is the endless power of this song.
'Chand Sifarish' – Fanaa (2006)
Singer: Shaan – Composers: Jatin-Lalit – Lyricist: Prasoon Joshi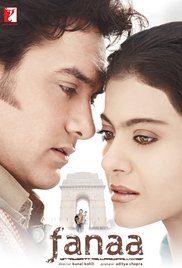 "Khuda ka ek lota naam aur nishaan dekho, bas aakh utaho aur Rehan dekho" says Rehan Khan to the tour group of girls he's about to show the sights to. This charismatic tour guide is Aamir Khan to a tee: the long hair, the shirt with only one button done up, a shaiyar at heart, a flirt by face and an actor who can do absolutely anything. And of course, the flirt within has picked out a blind girl played by Kajol to absolutely fall for: "sharm aur haya ki parde gira ke, karni hai humko khata" sings Shaan with his romantic voice. The biggest asset to a song or person trying to impress you is charm. For Aamir, it's those intensely flirtatious eyes. For Shaan, it's his smooth voice. Both go hand-in-hand. A little bit of masti, not a lot of dance and yet intentions are laid bare in this cheeky song.
'Bol Beliya' – Kill/Dil (2014)
Singers: Siddharth Mahadevan, Sunidhi Chauhan – Composers: Shankar, Ehsaan, Loy – Lyricist: Gulzar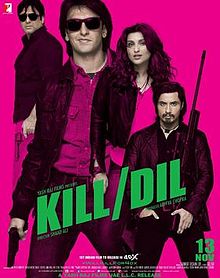 He may be hiding in the back of the poster, but the figure that draws your attention is Govinda. In the same way is our last song 'Bol Beliya'. A remake of Raj Kapoor's classic 'Mud Mud Ke Na Dekh' from Shree 420, but with a darkness not often seen from Govinda. This song is all the best parts of David Dhawan, as well as his works in the 80s with Neelam and Shilpa Shirodkar. Waiting at home for their hero to come, Siddharth Mahadevan launches into a song, to which Govinda does a Neo Raja Babu with a grizzled face, dark setting and gun in hand to boot… Slowly Sunidhi and Parineeti take over stealing the song and hero away as Govinda slowly descends into Shola and Shabnam. The battle that ensues is a pleasure to the eyes in a beauty vs the beast-esque tragedy. Just as in beauty and the beast we are left with only pity for the beast.
We hoped you enjoyed this two part discussion of the thirty songs that pay homage to the birth of sound in Bollywood and all that came in between and will continue to come for so many years going forward. It's not possible to know what Wazir Mohammed Khan thought of the wonder of being able to have his voice heard as he sang the first song in Bollywood, but the audiences back then and all through the years prove that a good song is key for all things Bollywood to flourish. Even though this list misses out undoubtedly many of your favourite songs, whether recent or yesteryear, these are the songs that defined generations of people, that made stars out of so many Bollywood celebrities and in some cases it's in the memory of these songs that make them relevant in our minds even today.