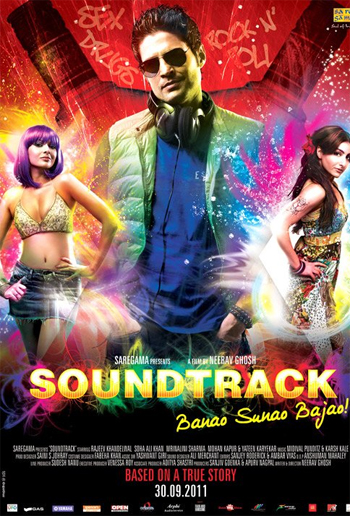 Beethoven said, "I am not satisfied with the work I have done so far. From now on I intend to take a new way." If only Bollywood followed this mantra, then we would surely have more amazing and different movies and better performances. Inspired by the life of Beethoven to an extent, first timer Neerav Ghosh's Soundtrack does successfully implement this thought with the end product leaving you highly satisfied. And while it's no secret that this movie is a remake of award–winning Canadian independent movie It's Long Gone Pete Tong, its Indian adaption manages to keep you engaged till the end.
Ronak Kaul (Rajeev Khandelwaal) lives, eats and breathes music. Music is his life. Having inherited the talent and passion for music from his deceased father, he wants to make sure that he doesn't inherit one thing from his father – failure. So when he arrives in the City of Dreams, Mumbai, to make it big in the music field he pushes himself to his maximum limit – and more – to make his dream come true. Starting as a DJ in his uncle's (Yatin Karyekar) night club Tango Charlie, owned by Charlie (Mohan Kapoor), he soon finds himself expanding his avenues to establishing his own studio, making his own music and finally composing the same for a movie by Anurag Kashyap. But along with virtues come vices, so Ronak finds himself falling deeper into the world of alcohol, smoking and drugs as he gets into a relationship with Shonali (Mrinalini Sharma). Trouble starts when Ronak wakes up one day to realise that there's a constant ringing sound in his ears which makes normal hearing difficult. Initially dismissing it as a temporary problem, his work schedule goes for a toss when the problem persists. Visits to doctor reveal that he has tinnitus, inherited from his father and aggravated by his bad lifestyle. Eventually a freak accident renders him totally deaf which pushes him into a deep state of depression. When he finally decides to come out of his self-exile, he meets the free spirited Gauri (Soha Ali Khan), deaf from birth, who teaches him lip reading as well as the way of life. But still, the fact that he will never compose music again keeps on pricking him until finally he discovers a way of doing so and bringing music in his life back again.
Rajeev, who debuted with Aamir and proved his mettle again with Shaitan, is definitely the star of this movie. Whether it's his high on music avatar, his interaction with his inner self, his times during mental depression or his final self-rejuvenation, Rajeev keeps you totally hooked on to his performance. Watch out for the scenes during the time he shuts himself up in a room for two months. Mohan as Charlie is another amazing actor who fits his character to the T. Mrinalini and Soha do justice to their roles as well as Yatin as Ronak's chachu.
The best performer of the movie however is the director himself, who definitely doesn't give you the feel of a debutant. From the moment you see the picturization of how the daily mundane sounds seem music to Ronak you know that Neerav has got something different to offer. Crisp storytelling without a moment of boredom, Neerav makes sure that the viewer remains glued to the screen. Incorporating some unique and creative filming techniques – whether the sound waves to depict the fast changes or the direct interaction of the artists with the audience, Ghosh makes sure that the movie doesn't deviate to unnecessary side stories focusing totally on Ronak. Kudos to Neerav, Rajiv Gopalakrishnan and Chintan Gandhi for coming up with a beautiful screenplay.
In addition to the great direction, crisp editing by Sanjey Roderick and Ambar Vyas keeps the movie well-paced. Anshuman Mahaley's cinematography is worth mentioning and definitely one of the bigger plus points of the movie. Music is different and as an independent album good to hear but somehow you feel that it lacks the magic when incorporated in the movie. This especially stands out since the movie is wholly and solely based on music.
Apart from the slow initial second half, there isn't really much you can complain about in this movie. A breather of fresh air in the have-seen-befores been churned out recently. Definitely worth a watch.