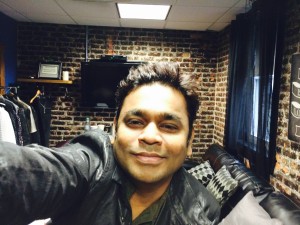 Over 30 Million followers on social media, and a name synonymous with music that has topped charts consistently since 1992, in India, and subsequently, the world over, AR Rahman has captured the hearts of Billions. Before he reaches half a century in age, he has made his life is his message, and his following often call themselves "Rahmaniacs" or "Rahmantics".
ARR, as he's known fondly to many, wields double Grammy awards, double Academy awards, a BAFTA, a Golden Globe, on top of the numerous Indian equivalents of these prestigious awards, as well multiple honorary doctorates from top music colleges like Trinity and Berklee, all a part of his rather overwhelming legacy.
Married for 20 years, with 3 talented kids, he is a family man, while also being a father of sorts, to musicians across the globe, as well as to his own KM Music Conservatory student body, which produces many working musicians today. His philanthropic initiatives are aplenty, from "The Sunshine Orchestra" in Chennai, to many other projects that he keeps to himself, but donates to. Humility is his middle name, and those who know him will testify that he has hardly changed, over the course of his success.
Traversing a life between his home in Tamil Nadu, metropolitan Mumbai, and Los Angeles, the heart of Hollywood, and sometimes, London, he works while jet-setting, in fact, he works all the time! A man of deep spirituality, his message is one of love, one where boundaries are broken, the way only his music can conjure. He attributes his many accolades to this phrase, described neatly, in his mother-tongue, Tamil: "Ella Pughazhum Iraivanukke", which means "All glory goes to God alone."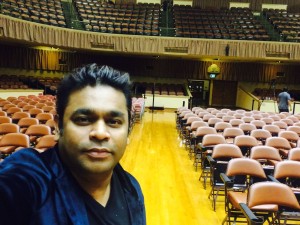 This softly spoken man of few words, who began working as a child artiste, shared his insights with Ashanti Omkar (AO), exclusively for The O2. This interview by the amazing Ashanti Omkar was published in full, in the AR RAHMAN GREATIST HITS SHOW BROCHURE, by THE O2, London, in Summer 2015 and Ashanti has given us have some exclusive highlights.
AO: As a child, music was always around you, due to the influence of your stalwart father, RK Shekhar, and you began tinkering with the harmonium, the Indian equivalent of a piano, in many ways, aged just 3… Did you imagine, when you were a young child, facing hardships, and working for a living, being in bands, and being a session musician, that you would play the greatest stages of the world, as a touring artist?
ARR: Did I imagine? No (chuckles). I was mostly in cover bands in Madras, but this was not something I even though of, until my spiritual teacher told my mother that both of us will be going all over the world. He predicted this, around 1987. I was actually in a mind zone of not being normal – my mind was going through a phase of detachment, after knowing that being too attached could bring disappointment. I couldn't handle disappointments and adulation back then.
AO: What would you consider as some of your great hits, given that this one off London date, at the prestigious O2 Arena is focused on this aspect of your illustrious career, with your music traversing numerous languages.
ARR:There are so many songs we could do, but then we focused on some songs from the intimate tour, which we did successfully in America. It's very difficult to pin down songs, but we picked things that would be very playable on stage, working with nostalgia, and a some surprise elements. Musically having fun, rather than having too much (laughs) planned stuff. Last time, we had a contortionist, stages being built, but this is more towards the music. That's what people want to see. The artist's flesh and blood, him performing the songs, the musicality and the love. When they buy tickets, it's about interacting with them. Each phase of my life, I go through something in my mind, and right now, this is what I feel I should be doing (smiles).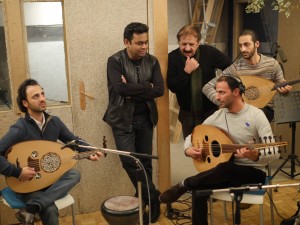 AO: Your music started off with a Pan-Indian bang, with the multiple award winning, TIME magazine's 10 best soundtrack listed Roja by Mani Ratnam, when you were in your early 20s. You are now a global brand. What would you say is the secret to your compositions truly crossing borders, in a way only music can?

ARR: I think it's got to do with what's going on in my mind, and in a way, my vision of humanity. I feel like we're all connected. Right now, there are so many borders being created. Lots of things, racism surfacing slowly. When I started music, it was about giving something which unites people. It could be art, music, an orchestra, poetry. These are the things that surpass boundaries. In a way, I think this was subliminally there, inherently, when I was making music. I didn't care or bother about languages, Tamil, Telugu, Hindi, I just thought about it as a product. We were fans of many many Western artistes those days, even African artistes like Osibisa (British Afro Pop of the late 60s). It gave us immense joy listening into another culture, so why not vice versa, is what I thought.
AO: Music for you, is a spiritual thing, spreading your philanthropic Sufi message of love over hate, as you uttered on the Oscar awards podium, while winning. Tell us about how you have seen your music transforming lives.
ARR: We have to become that. I have to become that. Not only in music, but in personal life. Which is so difficult. Even handling your family, your kids, your staff, everything. At the same time, having a challenging role of producing something passionately, delivering things, working creatively, and meeting expectations, which can be a different thing, totally.
AO: London, as a place, holds many memories for you, indubitably, from residing in Covent Garden and working on the uber-successful West End show, Bombay Dreams, with Andrew Lloyd Webber, to working with Danny Boyle for the multiple award winning Slumdog Millionaire in Camden Town. Share some of the moments that will stay with you for life.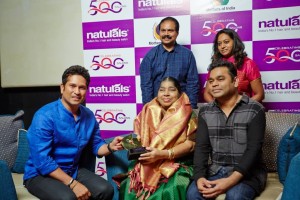 ARR: Yes. Working in the Palace Theatre (Shaftesbury Ave), on the 3rd floor, where Andrew (Lloyd Webber) gave me a room, where I composed "Journey Home" and "How many stars" and all these songs. Walking back to his Really Useful Group flat, via Charing Cross Road, which he kindly gave me to stay in, that is definitely going to be in my mind forever. It is a place of history and it opened up a lot of things in my. My appreciation for art, came in more strongly. I was telling someone the other day, about when I was working with MF Husain on "Meenaxi: A Tale of Three Cities", such a great painter. I knew him as a famous painter and he gave me a painting. Back then, I was wondering why this man was giving me a painting instead of money (laughs). Now I have it hanging in my house, on the front wall, and it's so beautiful. We discover many things, all of us, at every stage. Things open up, and we see the value.

AO: Royal Greenwich, where The O2 is based, is a place close to your heart, as you got your Trinity certification as a child, across the miles from Chennai, Tamil Nadu, India, and the circle reopened, when you were made an honorary fellow in 2009, one of 6 such accolades at universities across the world, including Berkelee. Tell us about your visit to Trinity College London, and your memories of this musical place.
ARR: Trinity College gave that great honour, it was really really beautiful, and The O2 is another iconic place, I would say. I've watched concerts there, and if (Michael) Jackson would have been alive, I would have definitely watched him there. I'm very very excited to be back.
AO: How does it feel to be back at The O2, especially as you have a friendship with the late, great Michael Jackson, who was to perform at this arena with his 'This is it' tour – you had met with him during that period, and planned on collaborating?


ARR: Correct. At the time, he was getting ready for rehearsals when I met him, and he told me about going for rehearsals. I wanted to meet him if I won the Oscar, and after winning, that night, I sent my agent an email, and said I'd love to meet. Michael opened the door, it was surreal, there was an aria playing in the background. We were supposed to talk for an hour, but we ended up chatting for two hours. My wife and family was waiting, so I had to go back. He spoke about my chords on Jai Ho. I was working on Endhiran (Robot) shortly after, and the director, Shankar, asked me to do a song with him, I called, and he said yes. I was naturally stunned. We met again, we went back to his little studio next to the pool, all these sweet things happened. Unfortunately, in 2 to 3 weeks after, was his untimely demise. It was one of the most beautiful meetings.
AO: Your repertoire has always included multiple layers of real instruments, as well as your leveraging cutting edge sound libraries, and technology, to give it a magical quality, that many will say gives them a new experience upon every hearing of certain songs. What do you attribute as your inspiration, for creating this soundscape, that changed the face of Indian cinema music?
ARR: Coming from Chennai, I was so used to seeing composers finishing a song in 7 hours, with a whole orchestra. I used to hear about Western records, and people taking 2 years to do an album, and I'd wonder what was taking them so long. Then I explored what was in that, and not in this. It's 2 ways of working. One is to sculpt something inch by inch, and make it so much yours, it would be inimitable. Put things in till you're satisfied, and it becomes something wholesome.
AO: AR Rahman, the singer – you have mesmerized the world with haunting vocals in songs like "Dil Se Re" from Dil Se, and "Naan en" on MTV's Coke Studio. Film directors and producers often ask you to sing on scores too. How do you embrace this facet of your music making, and how do you hone your voice to make the songs you sing, so soulful?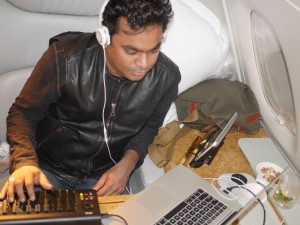 ARR: Singing happened accidentally. I was teaching a singer, and one day, I was listening to one of the rough recordings, and I was surprised that it was me singing (smiles). Then Mani Ratnam was one of those who really pushed me to do vocals, then Shankar then Bharat Bala, when he wanted to do the album Vande Mataram. I actually had to sing all the songs myself, in that. I actually wish that I'd given a little more practice time for singing (laughs).
AO: You have a plethora upcoming of work, from Hollywood to Bollywood, as well as South Indian cinema. Tell us what we will be expecting from you in the future.
ARR: Aamir Khan's production, actor Suriya's production, "24", the "Virgin produced India" movie from Anil Kapoor and Rhea Kapoor's film company. My own movie in India, "99 songs", which is so challenging. All simultaneously, it's full time work (smiles). Pelé is going to release in 2016, timed for the Olympics, it's one movie which I really love, especially Pelé, the character, and how it's being done. And Majid Majidi's Iranian movie, Muhammad.
Most recently, the music director's incredible work on Imtiaz Ali's Tamasha has released.
Thank you to Ashanti Omkar and Mr. Rahman.
Ashanti Omkar spoke to AR Rahman, exclusively, in January 2015, for the BBC – you can listen-back to this in-depth chat here:
http://www.bbc.co.uk/programmes/p02g8x73
Listen to the Ashanti Omkar Show every Sunday on DAB digital radio, nationwide in the UK, on BBC Asian Network, from 2-4pm, on the BBC iPlayer, and online, worldwide.
Episodes & Interview Clips: http://www.bbc.co.uk/programmes/b04mv017
You can also listen to Ashanti Omkar on BBC London 94.9FM & BBC West Midlands 95.6FM, talking Bollywood and Indian cinema