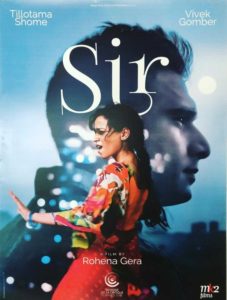 "You're back," asks the doorman at the entrance to an apartment building, as Ratna enters. "I was called," she replies. Ratna (Tillotama Shome) has been at home in her village, and leaves suddenly because of this "call". She tells her sister to make sure she studies, and heads off on a journey that takes her back to the home of Ashwin (Vivek Gomber). Ashwin's sudden return – on the day he was supposed to be getting married – causes the staff (his driver, the apartment doorman) to wonder if the wedding has been called off. This, in fact, turns out to be the case, and sets up a situation in which Ashwin – the Sir of the film's title – finds himself living alone with his live-in maid, Ratna (who had been hired to look after the married couple).
Ratna is a quiet, efficient presence in Ashwin's home, clearing up after him, covering him with a blanket when he falls asleep on the sofa after drinking, clearing away his bottle and glass, making his breakfast, closing the door before he even starts to ask her to do it. If Ratna's days are busy (including struggling to make mutton curry – she's a vegetarian, but doesn't dare tell Ashwin's mother that, because she needs the job), Ashwin seems to be at loose ends.
The irony in all of this comes in the form of the contrast between the worlds of Ratna and Ashwin – they may live in the same apartment building, their rooms separated by just a wall, but their worlds are miles apart. Ashwin and his family are well off – and because of that he has money, and the means to do whatever he wants – except, there doesn't really seem to be much he wants to do, apart from continuing to work in the family construction company. Contrast this with Ratna – her days busy looking after Ashwin and his home, a job she very much needs if she wants to help her sister stay in school and avoid her fate (married and widowed far too young).
Both Ashwin and Ratna have dreams that are far removed from the situations they find themselves in. Ashwin wanted to be a writer, but seems to be completely lost when it comes to fulfilling his dream, even though he clearly has the means to pursue it if he wanted to. Ratna, on the other hand, has no shortage of dreams – she wants to be a tailor, start her own business, and have her sister manage it after she's finished school. To that end, she asks permission to go learn from a master tailor who is willing to teach her.
And it's Ratna that tries to draw Ashwin out of his funk – she tells him how she was married when she would have preferred to study, how her husband was sick, and died two months after the wedding. And how, in her village, that should have been the end of everything for her – but it wasn't, because she didn't allow it to be, because, as she tells Ashwin – life doesn't end. It goes on, and we need to have dreams to carry us through – like Ratna's dreams of becoming a tailor and educating her sister. Working as a servant for Ashwin affords Ratna at least the luxury of dreaming, and of, perhaps, finding a way to achieve her dreams, which life in the village, had she remained, clearly would not have.
Tillotama Shome is pitch-perfect as Ratna – her happiness at the thought of learning tailoring is palpable, as is her distress, just simmering underneath a façade she tries to put on but fails to, after she walks away from the tailor master who was supposed to teach her, but who mostly just uses her to clean up.
It is fascinating, too, to watch the relationship develop between Ratna and Ashwin. We sense that Ashwin, for all his privilege, is somewhat different from his family and friends. We know he's trying to bring a green component to the family construction projects; he defends Ratna against the rude and entitled behavior of his friends, who treat her badly simply because she's the maid. We sense Ratna's discomfort in these moments, as well as when she feels that perhaps she has overstepped her bounds, as when she goes to use the full-length mirror in Ashwin's room because she does not have one big enough – though she notes that other servants might watch TV or turn on the AC, but all she wants is to use a big mirror to check the fit on the clothing she's making.
The shift in Ratna's and Ashwin's relationship happens almost imperceptibly, simply by virtue of living in the same apartment, having their paths cross several times a day, and by them simply learning about each other through small and simple conversations. But even as the attraction between them grows, Ratna realizes that she must draw a line quickly, once the relationship turns physical – Ashwin might assure her that he doesn't care what others think or say, but Ratna is all too well aware that this is a case where she very much cares what others think – for many reasons, including the fact that it will jeopardize the small freedom she's gained by leaving her village and going to work in Mumbai, a freedom that she will lose once the relationship with Ashwin comes out.
The way Rohena Gera chooses to structure her film is intriguing – normally, given the place of servants and staff, stories would be told from the perspective of the employers, with the servants only in the background. Here that is reversed: the focus is constantly on Ratna, and we see glimpses of Ashwin's life in the background as she goes about her tasks. We watch Ratna cleaning or cooking as Ashwin talks to his mother or his sister about the relationship that went wrong. This allows us to fully engage with Ratna as a character, and places more importance on her story than on Ashwin's. We understand how much Ratna has at stake, and yet, just when we think we're headed for an unhappy ending for Ratna, Rohena Gera saves a small twist for the end, giving us, and Ratna, just a little more reason to have hope.
Directed by Rohena Gera and starring Tillotama Shome and Vivek Gomber, Sir is the opening gala film on May 7th for the prestigious New York Indian Film Festival. NYIFF runs through May 12th and you can see the full line up of the brilliant films and a full list of the screening times here.