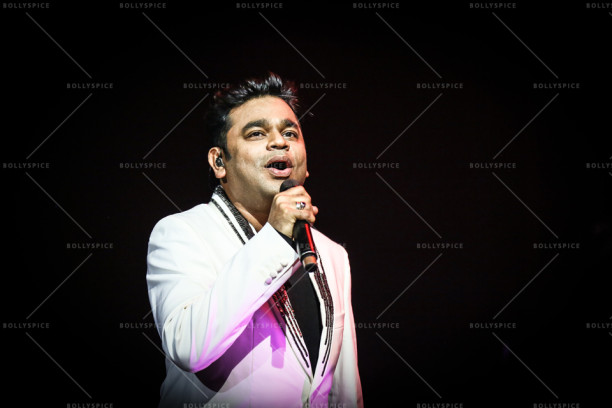 On August 15th, Mr. A.R. Rahman along with a host of special musical guests and singers returned to The O2 in London after five years in a very special show to perform his greatest hits. Check out our special report.
The Warm Up
A. R. Rahman. Live in concert. To say my expectations were high before the show would be a little bit of an understatement. I had heard rumours that hearing Rahman live should be on every music lovers bucket list, and it had been on mine for a while.
Having missed his performance at various arenas and having this opportunity land was a dream come true. A one night only concert and I wasn't about to give it up….
I packed myself off to enjoy my first night out in 8 months, and what better way to spent it than in the company of a music maestro. Mr. A.R. Rahman at The O2 Arena celebrating his greatest hits.
The Main Event
Fifteenth August 2015 – India's Independence Day and India's beloved songwriter, composer, singer, music director was treating his fans in the UK. Supported by guest singers Neeti Mohan, Javed Ali, Karthik, Haricharan, Jonita Gandhi, Shashaa Tirupati and Hriday Gattani, AR Rahman performed a selection of around forty hit songs over three hours, for an audience of 14,000, largely made up of South Asians with an age range that went from a few months to the late eighties.
Having provided the soundtrack for well over a hundred films in numerous languages, and winning two Academy Awards, 1 BAFTA, a Golden Globe, two Grammy's, the list of the songs I hoped would be performed was endless.
Opening with 'Maula Mere Maula' (Delhi 6), Rahman's programme included the Hindi/Tamil version of several songs including 'Chinna Chinna Aasai/Chothi Si Asha' from Roja, which was ably performed by Jonita, Shaasha and Neeti in three different languages, 'Uyire'- Dil Se, which saw the stage turn red, and recent hit songs from Mani Ratnam's O Kadhal Kanmani/OK Kanmani. There also was a fusion of Hindi and French, for the theme to the Spielberg production of The 100 Foot Journey.
A vivacious Jonita Gandhi and indomitable Neeti Mohan took to the stage with soulful Javed Ali, melodious Haricharan and spunky Karthik, to work their way through a catalogue of songs which covered Rahman's earlier work with Bombay's 'Tu Hi Re', the title track from Rangeela and the colours song from Saathiya/Alaypayudhey in 2 languages, as well as 'Jashn–e-Bahaar' (Jodhaa Akbhar), which received a cheer as soon as Ali hit the opening notes.
Ballads included 'If I Rise' from 127 Hours with a saree clad Annette Philip from Berklee College of Music, joining Rahman for the Jazz number 'Jaane Tu Yah Jaane Na' with a pitch perfect scat session. The celebration of Independence was honoured with an emotional rendition of 'Yeh Jo Desh Hai' from Swades to the delight of the many Indians in the audience with the stage being turned the colours of the Trianga, ending in the Tamil words of the emotional song.
His selection of Sufi spiritual songs – 'Khwaja mere Khwaja' (Jodhaa Akbhar) and 'Kun Faya Kun' (Rockstar), reflected his undying fascination with the Qawwali. With shouts of 'I love you' responded to with an 'I love you too', there were continuous calls from the audience for personal favourites to be performed, which due to sheer luck(?) some were performed due to a technical glitch with Rahman's 'new gadget' experiment. 'A musician being liberated from instruments' was how Rahman introduced the first attempt to transport the audience to an Indian village via Intel's RealSense technology via Apple MacBook laptops and just hand gestures. The wait for a solution to the IT issue meant that the listeners were treated to a song selection that wasn't programmed – Rahman took to his piano to perform 'Rehna Tu' from Delhi 6 and Highway's 'Mahi Ve', which was accompanied with a request from Rahman to have 'phone lights on please' making the arena look starlit.
Technical glitches sorted we were taken to a village in the Indian interiors where a few shakes of the wrist produced drum beats and animal sounds – cock a doodle do… To the voice of Isshrath Quadhre, singing an Indian National award winning Tamil song. Rahman described her as his shy sister, taking to stage, and it was met with many claps of approval from the audience who were nostalgic for this song.
'Pataka Guddi' (Highway) in Punjabi, leading into the rock influenced 'Nadaan Parinde' (Rockstar) led to a fake finish to get people to their feet. Rahman performed a final set of the most awaited songs of the night – 'Chaiya Chaiya' (Dil Se), 'Mental Manadhil' from OK Kanmani, which got the audience in frenzy, 'Jai Ho' (Slumdog Millionaire) and not enough of 'Vande Matram'(Maa Tujhe Salaam).

The Grand Finale
A good concert transports you back in time to when you first heard each song to relive certain moments and emotions. I was expecting the musical equivalent of fireworks. I was expecting musical fusion, Hindi cinematic hits, South Indian cinematic hits, instruments played live by Rahman, Rahman's tenor voice, and experimentation.
Did he deliver this? Yes He did. Rahman can be counted on for an evening of fun, he showed his flair for fusion doing what he does best, mixing Indian rhythms with reggae, jazz, blues, rap and rock. All the musicians and singers performed solos as well as having the opportunity to perform jugalbaandi's, with a resounding cheer whenever there was a language switch.
A solo dancer made an occasional appearance for some of the songs, a far cry from the normal Bollywood spectacle that one is used to at these events, though Rahman managed to fit in at least one costume change and numerous changes of his jackets.
Any disappointments? Just the one – his finale didn't give enough time to the three songs people wanted to hear the most – 'Chaiya Chaiya', 'Jai Ho' and 'Vande Matram'. They were the most energy packed and with the audience on their feet the opportunity to maximise the moment was lost
Nonetheless the ruse worked and this was the only flaw in an otherwise flawless night.
Mr AR Rahman – Thank you for a wonderful night out, it was unforgettable, and in your words – Jai Ho!
We also have these amazing pictures check them out!
(Photo credit: Nicki Kelvin)