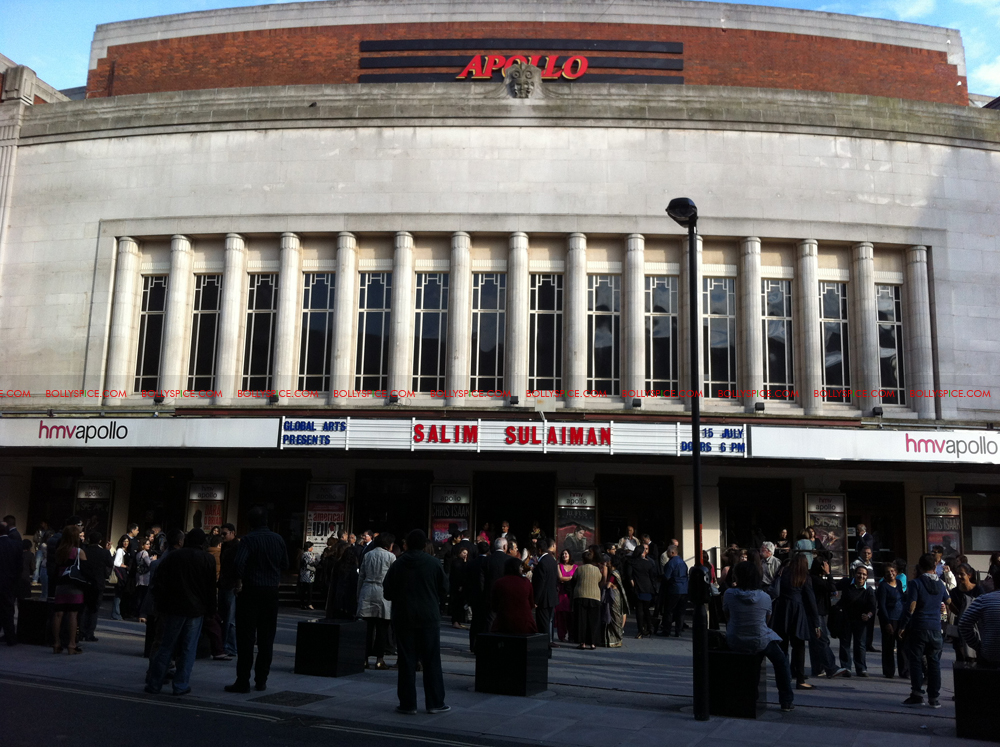 Sunday 15th of July saw Salim-Sulaiman take to the stage to entertain a packed audience at London's Hammersmith Apollo, the beautiful art deco theatre which has hosted many legends such as The Beatles and Bob Marley. Bollyspice was there to catch it all and to share the highlights of the evening for those of you who were unfortunate enough to miss it…
Salim-Sulaiman are a pair of extremely talented musician brothers, who started off composing background movie scores for Bollywood films. They are now successful music-directors, who have worked extensively with Yash Raj films (Rab Ne Bana Di Jodi, Band Baaja Baaraat), amongst many others. They have also worked with acclaimed international stars like Lady Gaga.
Salim opened the evening sharing with the audience how they have been recording in the studios for the last fifteen years and only now felt that they could bring their music to the stage in London. Was it worth the wait? Did Salim-Sulaiman live up to the expectations – the answer is a completely unanimous: YES!
A fine selection and presentation of their songs displayed the amazing range of styles that this composing duo have. Audiences were witness to songs which ranged from Sufi to Rock, from R&B to Soul and from Eastern to Western. For those of us who have been to numerous shows before, what was obvious here was the detailing that gone into presenting their songs in a different light, making use of various instruments from strings, to the Indian flute. This was accompanied by the perfectly selected range of talented singers Salim-Sulaiman bought with them, who between them took the show to greater heights.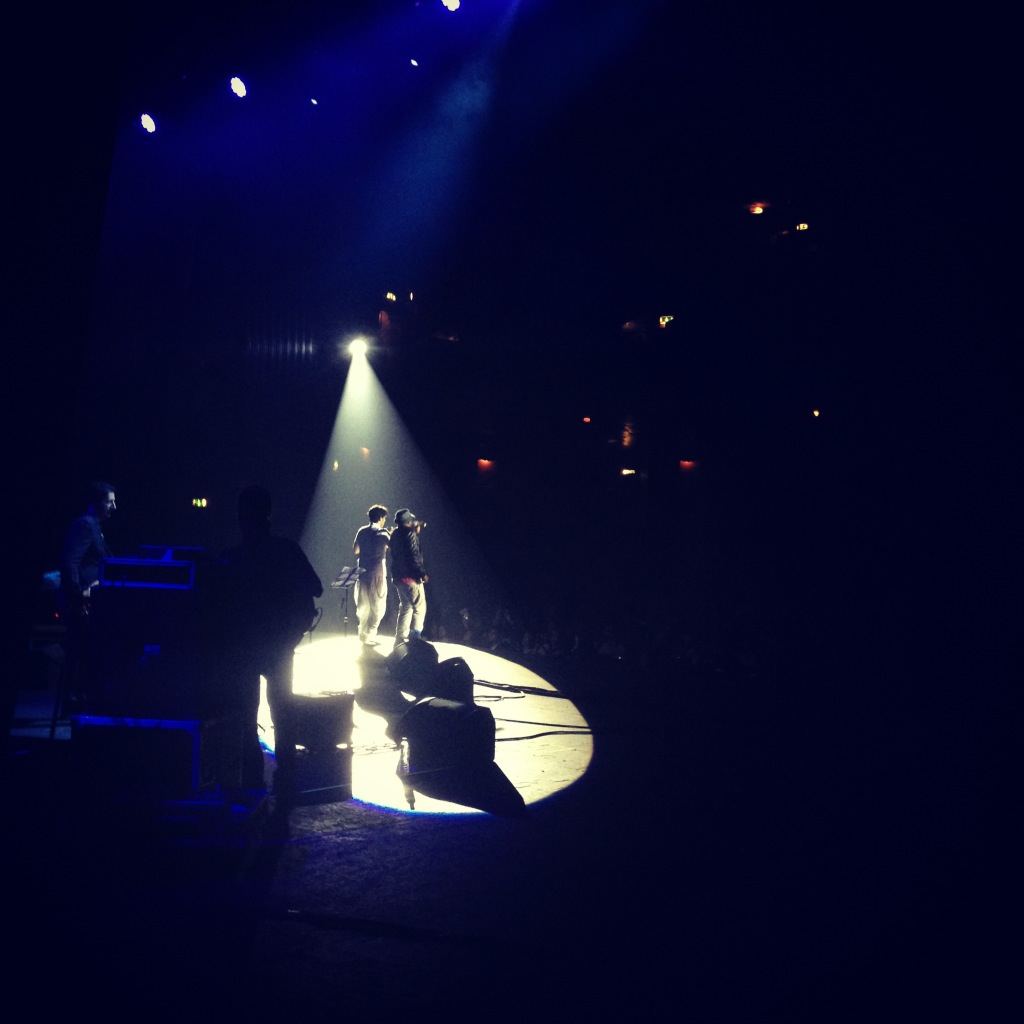 Benny Dayal is as Salim claimed, one of the most diverse and amazing singers in India today. The singer's range was phenomenal, his attitude, style and confidence akin to that of African-American R&B, Soul and Jazz singers. Although not a Salim-Sulaiman composed track, Benny gave a rendition of his debut song 'Tu Hi Toh Meri Dost', where in he broke into a complete jazz version halfway through the track – amazing. Benny also wowed audiences with his Arabic singing, which if you didn't know who he was, could easily have passed off for a native Arab singer. To conclude his amazing performances, he gave a mind-blowing cover of Michael Jackson's 'Don't Stop Till You Get Enough', Moonwalk included! Has to be seen to be believed!
Shraddha Pandit has been a regular feature of Salim-Sulaiman soundtracks for a while, having sung for Band Baaja Baaraat, Ladies vs Ricky Bhal and Jodi Breakers. Shraddha showed herself to be a master in both classical and western songs, belting out classic chartbusters like 'Dance Pe Chance' and 'Ainvayi Ainvayi', but at the same time being equally soulful when it came to songs like 'Marjawan' and 'Tujhe Mein Rab Dikhta Hai'. However, this came as no surprise to the many of us who still remember her from singing 'Rang Deeni' back in 2004.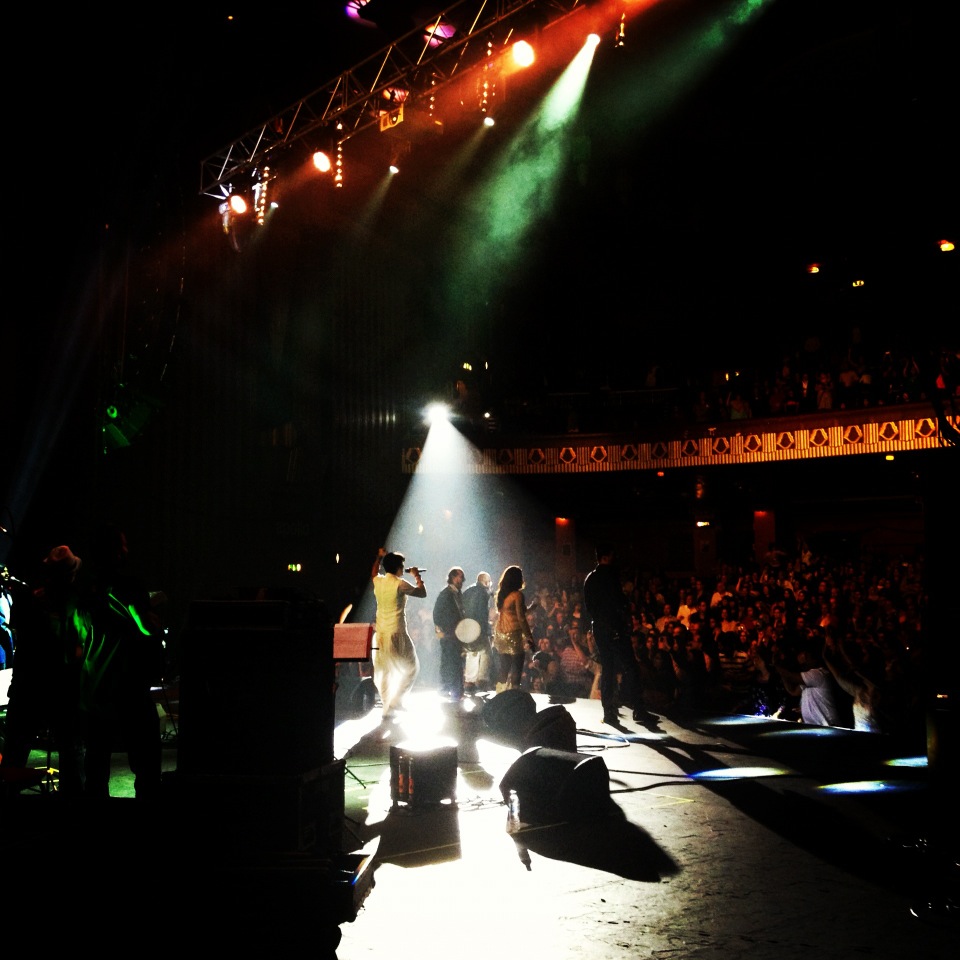 Music reality show star Shadab Faridi was handed the responsibility of singing many of Salim-Sulaiman's popular tracks, such as 'Fashion Ka jalwa' 'Haule Halue', 'Tujh Mein Rab Dikhta Hai' and 'Oh Re Piya' and he certainly delivered. It is not an easy task singing songs sung by legendary singers such as Rahat Fateh Ali Khan or RoopKumar Rathod, but Shadab pulled it off with maturity and a powerful voice, controlling the most difficult notes and expressions. At times it felt like we were listening to a younger Sukhwinder Singh.
A special mention must go out to the Urban Soul Orchestra of UK who have worked with numerous international talents, such as Kylie Minogue, Madonna and Take That. For those of you who will have seen the Birmingham Symphony Orchestra play with Sonu Nigam and Rahat Fateh Ali Khan, you will appreciate just how soulful and uplifting it is when an orchestra accompanies Hindi songs.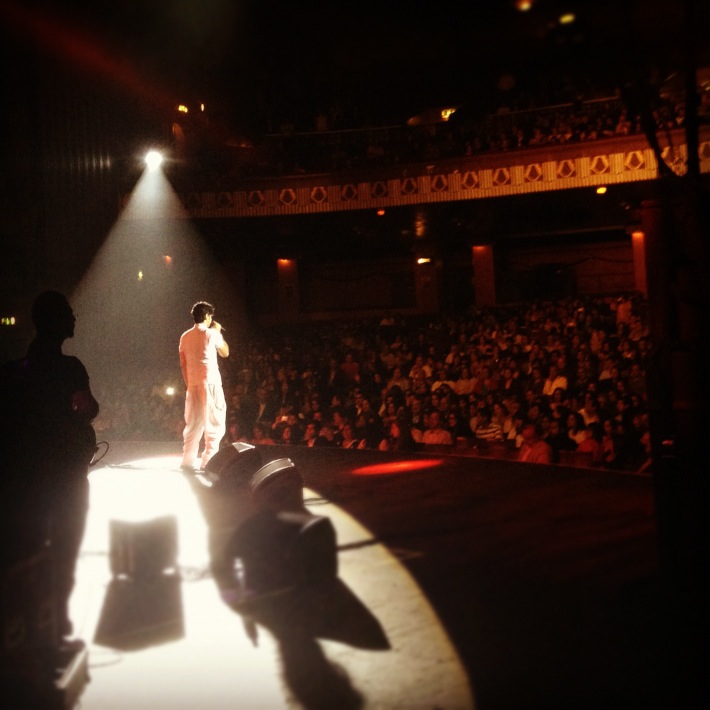 As mentioned the key ingredient to the show's success was Salim-Sulaiman's selection of a diverse bunch of talented singers, but amongst those was none other than Salim himself. With the growing trend of music-directors singing themselves, Salim has also very successfully been doing this. However when you see and hear him on stage, you come to realise just how multi-talented this guy is. He kick started the evening with an unplugged version of 'Aye Khuda' followed by an upbeat version of 'Aashayein' and ending on a powerful rendition of 'Kurbaan Hua' and all of that was still only fifteen minutes into the show!
The show ended with a thoughtful dedication to legendary singers and actors who had passed away recently: Mehdi Hasan, Jagjit Singh, Madan Mohan, Dev Anand and Shammi Kapoor, with each of the singers contributing to the tributes. Not to leave things on a sad note, Salim-Sulaiman played out the show to what has become the modern Indian national anthem – Chak de! India.
A show is not just made on belting out all your chartbuster songs, but also on a careful re-arrangement of your songs, the singers you choose to deliver those songs and the order you play your songs in, which should offer a little something to everyone. This was the success of the show, songs which reached out to the younger masses, classy songs for the more sophisticated listener and a fusion of international sounds which catered for a non-Asian audience. If you ever get the chance to watch Salim-Sulaiman live – make sure you go for it!
If you are looking for an itunes playlist for the week, here is the entire set list for you:
1. 'Aye Khuda' – Paathshaala
2. 'Aashayein'
3. 'Kurbaan Hua' – Kurbaan
4. 'Fashion Ka Jalwa' – Fashion
5. 'Yeh Hosla' – Dor
6. 'Haule Haule' – Rab ne bana di Jodi
7. 'Aadat Se Majboor' – Ladies vs Ricky Bahl
8. 'Tarkeebein' – Band Baaja Baaraat
9. 'Tu Hi Meri Dost' – Yuvvraaj
10. 'Aazma Luck' – Luck
11. 'Aaja Nachle'
12. 'Dance Pe Chance' – Rab ne bana di Jodi
13. 'Tauba Tauba' – Kaal
Second half
14. 'Shukran Allah' – Kurbaan
15.  'Marjawan' – Fashion
16. 'Thug Le' – Ladies vs Ricky Bahl
17. 'Afareen' (Benny Dayal)
18. 'Kawara Hoon' – Jodi breakers
19. 'Tujhe Mein Rab Dikhta Hai' – Rab ne bana di jodi
20. 'Ainvayi Ainvayi' – Band Baaja Baaraat
21. 'Dum Mast Hai – Ladies vs Ricky Bahl
22. 'Oh Re Piya' – Aaja Nachle
23. 'Maula Mere' – Chak De! India
24. 'Ishq Hua' – Aaja Nachle
25. 'Aadha Ishq' – Band Baaja Baaraat
26. 'Niyat Kharab' – Teen Patti
27. 'Ali Maula' – Kurbaan
28. Chak De! India
Check out these other cool videos courtesy of Syed S Haider (pchero), who told us "When I say they were electrifyingly entertaining. I Mean It!!! The crowd were brought into the performance from the first beat. An absolutely colourful and entertaining performance by everyone involved."
http://www.youtube.com/watch?v=MJHrgroyCDM
http://www.youtube.com/watch?v=MJHrgroyCDM
http://www.youtube.com/watch?v=PqJzlHh0xbE
http://www.youtube.com/watch?v=U_B8b4Y8tSc
Also be sure to check out our official BollySpice YouTube Channel for some more sneak peaks!