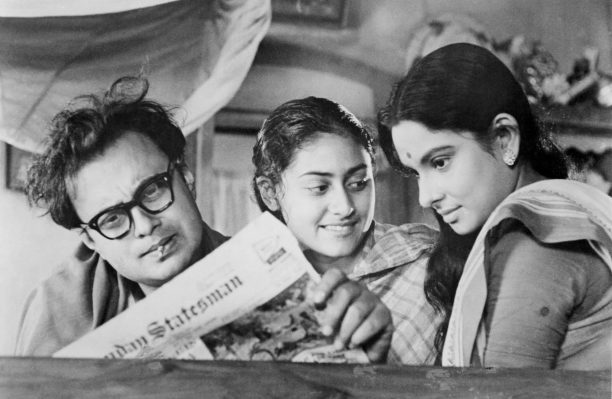 The Big City (Mahanagar), dir. Satyajit Ray, 1963)
"There's a saying in English," Bhombol (Anil Chatterjee) says to his wife, Arati (Madhabi Mukherjee): " 'a woman's place is in the home'." When Arati asks if he really believes that, Bhombol tells her that he does, that he's like his father, very conservative.
But for Arati, this is an important issue. Her household – consisting of herself, her husband, their son, Pintu, and Bhombol's parents and sister Binu (Jaya Bhaduri) is struggling on just Bhombol's salary. There is barely enough money to keep the household running, and when Arati hears that a friend's wife has taken a job, Arati decides that she, too, must find employment. Her reasoning is that it's not right for her husband to have to be responsible for this whole household.
Bhombol may be conservative, but he is not so traditional that he doesn't recognize that something must be done, and he goes through the want ads with his wife, looking for something that will be suitable. But even if they come to the agreement to try this solution, it's still one steeped in patriarchy. Bhombol is the one who goes through the want ads; he's the one that finds the job that seems suitable and respectable; he's the one who writes a letter for her to sign – she even balks at signing it herself. He also firmly believes that this is only a temporary solution — it will only be until he finds another part-time job to bring more money in. And Bhombol does find a job that might work, a respectable firm that is searching for smart and attractive women to do door-to-door canvassing, requiring her her to visit homes of people who are more economically stable, who have the type of money to buy what she is selling: an automatic knitting machine.
Bhombol claims he's conservative, but he's actually a bridge between two worlds, one more traditional and the new world that changes in Calcutta are bringing in. He must act as a buffer between Arati and his parents, who are angry that she is going out to work, so much so that Baba refuses to talk to his son for a long while. But even Bhombol has his limits: he truly does see the job as a stopgap until his situation improves, and he chafes at Arati's success in a job that gives her confidence and, equally important, the money needed to both help support the household and provide some small luxuries for the family. Bhombol is the one who breaks the news of Arati's job to his father, noting that times have changed, and people have to change to adapt to this new, more modern world. "I had no idea Calcutta had changed so much," says Baba when Arati encourages him to go out to the park. And this is, in part, what the film is exploring: how Calcutta is changing and modernizing, and how some people (especially older, traditional, conservative people) feel very out of step and disoriented by changes that shake up their worldview.
Contrast Arati with Edith (Vicky Redwood), the Anglo-Indian girl who is hired at the same time. They are so different – Edith represents the stereotypical Anglo-Indian, viewed as modern, wearing Western clothing and hairstyles, listening to Western music. Despite the fact that Arati can only follow a little English, and Edith can only follow a little Bengali, the two of them find common ground in their job. Edith, precisely because she's Anglo-Indian, is the one chosen by the other four saleswomen to talk to their boss (Haradhan Bannerjee) about earning a commission, something he doesn't appreciate – he tells Arati that next time she should come, because she is properly deferential and polite. Arati must later defend Edith, who is fired after being off sick, precisely because their boss uses the Anglo-Indian stereotypes against her, believing her to be lazy and ill-mannered.
Bhombol's willingness to adapt and change to the new world also has its limits. He tells Arati that his father, his mother, and their son are unhappy, and he wonders if Arati wants to go on making those around her unhappy, even if she has to sacrifice her own happiness and autonomy to do so. When the time finally comes to resign the job, Arati agrees to, but grudgingly. She knows she's good at her job, so much so that she earns extra commissions and is considered for a position managing the other salesgirls. But even Bhombol must set his concerns aside when he loses his job, making Arati the sole breadwinner in the family. And when Arati finally decides to leave her job, it's not because those around her are unhappy; it's because of the injustice she perceives with Edith is fired. She hopes her husband will be understanding, especially as they needed her income. In the end, Bhombol is proud of Arati – even if he wanted her to quit, he at least is supportive enough to understand that what she has done – stand up to injustice — is more than he could do. Ray leaves us with a bit of optimism, though: as Arati notes, Calcutta is a big city, and surely one of them can find a job. In the end, Arati is happy because she and her husband seem to be united again, believing they both will be able to make sure their family is fine.
THE BIG CITY is screening in selected cinemas from 22 July. A retrospective season, Satyajit Ray: The Language of Film runs at BFI Southbank from 1 July until 31 August. You can find more information, timings and get tickets here.