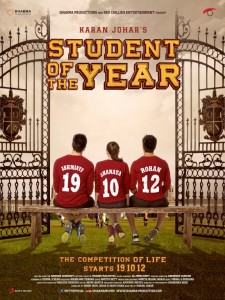 When I entered the cinema hall to sit down and watch Karan Johar's latest directorial venture Student of the Year, I was completely taken aback by the fact that the room was almost full! This is especially since the film has three new and unheard of actor, Siddharth Malhotra, Varun Dhawan and Alia Bhatt playing the leading roles. It led me to assume that it was most likely that everyone was here to witness what one of Bollywood's most premier filmmakers has now constructed for us following the successful My Name is Khan (2010). It also reaffirmed for me that the audiences' approach to Indian cinema had now transformed. They are now interested in the people behind the camera in addition to the people who are in front of it. Student of the Year does entertain you during its two and a half hour run, but there are certain things about it which can restrict you from classifying it as an 'outstanding' film.
The film is based on two competitive students Abhimanyu Singh (Siddharth Malhotra) and Rohan Nanda (Varun Dhawan), who battle it out to try and win the prestigious Student of the Year trophy at St. Teresa's High School, Dehradun. Abhimanyu's (or Abhi for short) personal ambition is to acquire success on an unprecedented level, whereas Rohan wants to acquire success so he can please his arrogant businessman father. Both feel that winning the Student of the Year trophy will enable them to achieve this and before you know it, they clash with each other in order to secure the prize which will win them respect and honour. Surprisingly, these clashes eventually lead to friendship between the two youngsters. However, this does not last for long as Abhi begins to take a liking in Rohan's girlfriend Shanaya (Alia Bhatt), who is the most popular girl in the school. Rohan is even more infuriated by the fact that Shanaya has reciprocated, which significantly damages his friendship with Abhi. Hence, a one-on-one battle transpires between Abhi and Rohan, with both of them aiming to reach for the same goal: winning the Student of the Year trophy.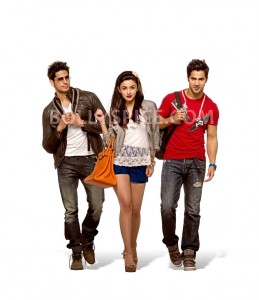 Although Student of the Year is not Karan's Johar's finest work, it is an entertaining and well-structured film nonetheless. All three actors; Siddharth, Varun and Alia have made steady debuts and perform well throughout. Since this is the first film they have ever starred in, it is only fair that their performances are not heavily scrutinized. In fact, all three actors do their job right and play their characters with conviction. I especially loved the scenes where Varun and Siddharth's characters collide and engage in rigorous brawls and intense arguments. I felt that this took the concept of masculinity within cinema to a whole new height, especially in today's contemporary Indian society. Therefore, this provides us with a kind of realism. Due to their admirable performances, there is a strong possibility that all three actors could go onto win the Best Debut trophies during the various film award ceremonies which will be held next year. Rishi Kapoor is also in this film and has taken on the role of Dean Yoginder Vasisht. He depicts a completely alternative identity in this film compared to what we saw him as in Agneepath (2012). He plays a gay character and manages to do this in a comedic manner and without any kind of obscenity attached to it. A special mention should also go to Sana Saeed, who played the young Anjali in Karan's debut film Kuch Kuch Hota Hai (1998). Sana has made a respectable adult entrance in this film as Shanaya's rival Tanya. Although she is in a supporting role, she ensures that her character is persuasive and you will enjoy her performance throughout. Farida Jalal makes a surprise guest appearance and you will appreciate her brief portrayal as Abhi's grandmother.
As for the film itself, Johar has filled it with as much energy and youth as possible. The script itself is simplistic, but it grabs the audiences' attention. Johar deserves immense praise for being brave enough to direct new actors rather than superstars in this film. As someone who is used to directing the crème-de-la-crème of Bollywood, he opted instead to direct three new faces with little acting experience. I am sure this was a challenge for him, but the best directors are indeed those who are not afraid of taking on a challenge and experimenting with new things. This is what turns someone from a good to a remarkable director. The film has been crafted in a way which will appeal to people from different backgrounds. The younger audiences will enjoy it as they can connect with the leading characters to some extent. The older audiences will also appreciate it as they will get a better understanding about the psyche and behaviour of many of today's Indian youth.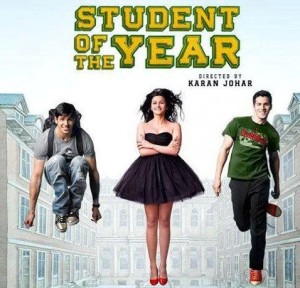 In addition, some great music also accompanies this film. You will definitely enjoy songs such as 'Vele Vele,' 'Radha,' 'Ishq Wala Love' and 'The Disco Song' (the latter song being the one where Kajol makes a graceful appearance). I think the soundtrack to Student of the Year is actually one of Vishal-Shekhar's best works as music directors. These songs perfectly complement the style and tone of the film, as well as its youthful concept. Hats off to Vishal-Shekhar for creating some memorable music!
Despite the positive elements regarding Student of the Year, there are also some weaknesses which should be mentioned. Some parts of this film remind you of Abbas Tyrewala's Jaane Tu Ya Jaane Na (2008). These are the scenes where friends of the leading protagonists are sitting in a room reflecting on their memories of them ten years later. I felt that these parts were somewhat unoriginal, but I have also seen much worse in Bollywood films over the past few years. Also the emotion which was conveyed in this film was not as potent compared to some of Karan's other films like Kuch Kuch Hota Hai (1998) and Kabhi Khushi Kabhie Gham (2001). Thus, the film is unable to pull on your heartstrings in the same way that films such as these two were able to do so.
Student of the Year is a film which has a little bit of everything. It contains drama, comedy and of course romance. It is not a ground-breaking film but it does not leave you feeling that you have made a bad investment. If anything you are left concluding that although it is not one of the greatest films to have ever been made, it was still a film that was worth the watch!