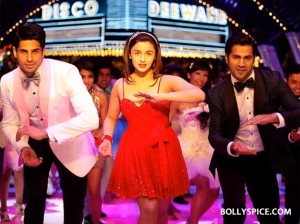 Karan Johar's Student Of The Year has got the disco era back with 'The Disco Song'. The song has become a rage as fans can't get enough of the popular tune and the catchy dancing moves. Keeping in mind the popularity of this song, Student Of The Year has held a contest called 'Disco dance Contest' on their digital platforms.
The participants of the contest need to record the three signature dance moves from the song and send them across. The entries are features on Dharma Productions' official Youtube channel. The best entry will get a chance to meet the cast of the film including Sidharth Malhotra, Varun Dhawan and Alia Bhatt.
The response to the contest has been spectacular as fans are enthusiastically sending their dance clips. Seems like the disco fever is getting to the nation! Directed by Karan Johar himself, Student Of The Year is all set for its big release on the 19th of October.
Follow the simple procedure given below to submit your Disco Step on Youtube:
– Dance and do the steps given in the video
– Record your dance
– Upload your video on YouTube
– Give response to the video with your video (you will get an option at the comment section)
Or you can mail the link of your video on their official email add i.e. – sotyofficial@gmail.com
If your Dance gets selected by the star, you could win EXCLUSIVE Student Of The Year Merchandise.
What are you waiting for? Watch, record, submit your step and win!
For more details Like: https://www.facebook.com/SOTYOfficial or Follow: https://www.twitter.com/SOTYOfficial