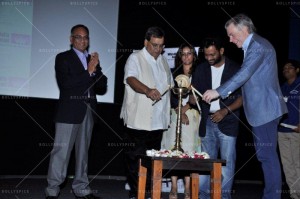 The Showman of Bollywood Subhash Ghai is known for incorporating new technology in his films. He understands the changing trends and how the audience consumes and listens to content has changed over time. Subhash Ghai has delivered several hits since 1970, and he along with Mukta Arts have kept up with the trends to create better experience for their viewers.
The leading filmmaker has once again introduced a revolutionary sound technology – Auro 3D 11.1. His upcoming film Kaanchi will be the first Bollywood film to use this technology. Other films that have used this technology are The Amazing Spiderman and Rise of the Guardians. With sound reproduction closest to natural hearing, Auro 3D 11.1 aims at giving the audience immersive experience. The technology produces maximum immersive sound through minimum speakers and amplifiers.
"I am just blown away with the new sound technology of Auro 3D 11.1, which has sound waves coming from all directions. I can't think of releasing Kaanchi without this magnum sound technology in theatres," Ghai said.
Subhash Ghai was also present at the launch of the technology at Whistling Woods International, along with Wilfried Van Baelen, CEO of Auro Technologies.