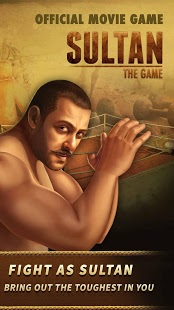 Sultan: The Game has rocketed to the #1 position of Top Free Games on the Google Play Store. Developed by 99Games in collaboration with Yash Raj Films (YRF), Sultan: The Game has received rave reviews from consumers with a 4.6 star rating while racing past all other popular global games on Google Play.
Manan Mehta, Vice-President of Marketing and Merchandise at Yash Raj Films, said "We were very confident about our product Sultan: The Game right from the inception as we understand what makes such games exciting for our audience and mobile gamers at large. This is unarguably the best game from Indian movies as of now and we are extremely glad that it's received this response. Our investment and partnership with 99Games and Rohith will only grow strength to strength from here on."
"The success of Sultan: The Game proves that there is a huge demand for high quality games that appeals to the Indian consumer. The influence of Cinema and Celebrity fan following is notable in India . Despite this, we were more than overwhelmed with how quickly the game rose to #1 on Google Play! The support we've received from YRF on the game trailer & launch post on Facebook and Twitter together with their continuous assistance in promoting the game along with us has been incredible" said Rohith Bhat, CEO, 99Games. "We got around 20,000 pre-registrations for the game prior to launch, over 200,000 installs within 24 hours of game release and have seen a tremendous response to the Phela Daav Contest, the first in-game contest within Sultan: The Game", he added.
For a chance to meet Salman Khan and Download the game on Google Play click here:
https://play.google.com/store/apps/details?id=com.NNGames.sultan
About SULTAN:
"Wrestling is not a sport, it's about fighting what lies within." – Sultan
Sultan is a sports drama which is all about getting up and fighting life inside and outside the ring. It's a journey of a wrestler and his love story.
Produced by Aditya Chopra and written-directed by Ali Abbas Zafar, SULTAN releases this Eid 2016.