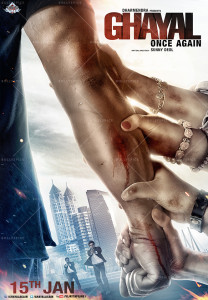 For anyone who wants to set foot in the film industry, what better than being launched by a superstar like Sunny Deol himself! Sunny, who will be seeing packing a punch in his next venture Ghayal Once Again will also be giving a break to four kids in the movie.
Deol was looking for 17-year old kids since he feels that kids this age have strong opinions and have a lot of enthusiasm in them, hence he decided to cast these four kids. The film will see Shivam Patil essaying the role of Rohan, the leader of the gang. Varun plays the role of Fattu, a simple and traditional guy. Apart from these two guys, two girls too will be seen in the film. Television actress Aanchal Munjha will be seen as Anushka, an aspiring photographer while Diana will be seen as Zoya who is a blogger.
In the sequel, Sunny's character will go through a transformation as he will be seen as an inspiration to the young lads, just like you can see in the poster; four youngsters are clinging on to Sunny Deol's hand as he is their only hope.
Directed by Sunny Deol, the film is slated for to release on 15th January, 2016.