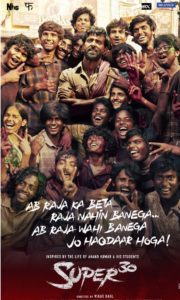 Ajay-Atul have found themselves a powerful niche in Bollywood cinema, following up the love story Dhadak, with the expected Thugs of Hindustan, leading onto the blockbuster story of Zero. Now the music directors are creating the music from the story of a mathematics teacher inspiring all in Super 30. Super 30 is a biopic on Anand Kumar, a teacher who left the heights of IIT to teach disadvantaged kids in Bihar how to pass the IIT JEE exams to help bring forward their chances of a better life. Written by Sanjeev Dutta and directed by Vikas Bahl, the story itself is a promise that whatever the situation, a person can rise to the challenge if they are willing to question; if they are willing to try. No doubt Ajay-Atul will bring their brand of simple down-to-earth tunes to give the message that oomph that audiences demand.
Jugraafiya is the opening song featuring Udit Narayan and Shreya Ghoshal. This is also the all important falling in love song, so while strictly important to the story this is an important moment in the film. The title requires a bit of decoding but the chorus makes everything clear with clever lyrics. Of course, both singers are brilliant so nothing can be taken away from their performances. However, if the opening mandolins were changed back to the violin tune that this song originally came from, it won't take many people too long to identify the inspiration for the tune, feel and overall atmosphere.
Paisa is the next number and it's straight out of the 80s albums by Bappi Lahiri or RD Burman. Clapping and bongo drums for rhythm, trumpets to back up the melody and the occasional flare of the wa-wa pedal and synth is sure to take audiences right back into those heady days. Since the story is supposed to be set in the mid-90s, this may be a little early, but this is not really the problem with this song. Vishal Dadlani is a rock star (literally) and he brings his Pentagram voice to this tune to give it modernity. This immediately undoes the 80s vibe and seems to break up the song completely into its front and back tracks. This makes it hard to concentrate on what is a strong message delivered by the lyrics.
If 'Paisa' brought Vishal to give it the rock treatment, Basanti No Dance proves it can be done without him. Prem Areni, Janardan Dhatrak, Divya Kumar and Chaitally Parmar deliver the angriest, most earthen street sound possible in this Holi song designed for the theme of this film "Ab raja wahi banega jo haqdaar hoga". This has all the emotions and power of a Sukhwinder Singh or Mohit Chauhan singing for Ranbir Kapoor, yet with the disparate voices and the on-screen dramatics, this remains very much of the street. A beat built on "No" and stamping of feet is a powerful thing in the right hands, but again the melody and lyrics seem to be on a separate track.
Hrithik Roshan takes to the mic himself for the next song Question Mark. While he has no individual singing credits, it's easy to forget that he sang along with recent pop star Farhan Akhtar in 'Senorita' (Zindagi Na Milegi Dobara) so he's no pushover as a singer. The lyrics are also beautifully simple, asking why not ask? So often people accept what they see too easily but Hrithik sings about always rethinking things and always putting a "Question Mark" to light up the brain. A fun and easy but very light tune, with more of the 80s jazz from earlier is again at odds with Bihari street lyrics but it doesn't hurt as much here.
Finally there is the theme or title song Niyam Ho. Arohi Mhatre, Aditi Prabhudesai and Pragati Joshi are tasked with delivering a serious but powerful blow to elitism and a turn towards the rewards for those who work for it. "Jaha kha hai yeh niyam ho" say the lyrics, making what is to come very clear.
In discussing this album as a whole, it's important to decide what this album's purpose is. As a backdrop to Hrithik's superb acting performance or as a support for his students who are not well educated, the melodies of these tunes are solid and backed up hard by strong lyrics driving the message home. But since so many of these songs use what seems to be a completely different background rhythm section, it always seems to take away from this message and the melodies presented, thus watering down the power of the sounds. Once Jugarafiya's inspiration is identified and by listening to its lyrics, its meaning, the song itself loses all prowess and quickly dulls in the mind but while doing this also doesn't give the necessary relief from the hard times to come. So then is it an album to show off the skills of Ajay-Atul? If they are trying to prove they are strong at mixing tracks together, then possibly yes but not for delivering a unified message clearly.