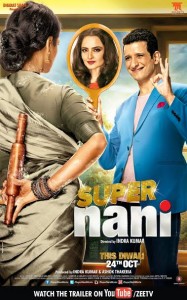 Super Nani is an upcoming comedy/drama which will see the legendary actress Rekha making a comeback to Bollywood. Also starring Sharman Joshi, Shweta Kumar, Anupam Kher and Randhir Kapoor, the film has been directed by Indra Kumar and is scheduled to release on 31 October. The music to the film has been composed by Harshit Saxena and Sanjeev Darshan, with lyrics penned by Sameer and Sanjeev Chaturvedi. So does Super Nani have anything 'super' to offer all us Bollywood lovers? Read on to see what we thought of it!
First up is Prabhu Mere Ghar Ko Pyaar Karo, sung by the wonderful Shreya Ghoshal. As much as I love Shreya's vocals in this song, it just did not strike me in the way I was envisaging. I like the use of the flutes in the song, which gives it that strong Indian vibe to it. Yet it is mediocre to a certain extent and something which we have all been somewhat exposed to before. Perhaps others will appreciate it more than me but overall, it's a song that could have been better!
Next is Maheroo Maheroo, a duet by Shreya Ghoshal and Darshan Rathod. I like the rock themed composition, which gives the song an unconventional feel to it. Instruments such as the electric guitar and bass give the song a lot of intensity, which is much needed for a song of this particular theme. It's not your usual Bollywood tune but I think this is a robust composition which has also benefited from some splendid vocals from Shreya and Darshan. A cool song which is worth checking out!
Following this is Nani Maa, which has been performed by the one and only Sonu Nigam. Taking into consideration the subject of the film, I think the song complements it very well and has been nicely sung by Sonu. It is by no means outstanding, but nevertheless, a good effort has been made here and I think it will be appreciated more once everyone sees the film and the picturization to it.
Finally, to close the album we have Dhaani Chunariya, which has been sung by Shreya Ghoshal and Harshit Saxena. The song has a strong desi feel to it and instruments such as the dhol drums really help to bring the song alive. I especially love Shreya's vocals in this song and she really managed to release a lot of energy, which adds to its upbeat tone. In short, do check it out as it's has been splendidly composed and will make you want to get up and dance! There is also a rock version of this song which is sung by Harshit Saxena alone. I was not as enthralled by this one compared to the original version, yet it is a modest alternative which is worth checking out.
To sum up, Super Nani is a respectable attempt and there are enough songs in the album which will certainly keep you entertained. My favourite song in the album definitely has to be 'Dhaani Chunariya' which contains everything one would expect from a typical Bollywood number. Hopefully the film itself will have more entertainment to offer when it releases on 31 October!