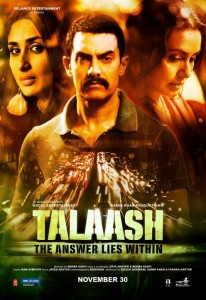 The first official song from the much awaited Aamir Khan starrer Talaash is now out. It is a jazzy number with Kareena Kapoor looking as radiant as ever. However, this is the only information that we can give away! In order to access the music video to this silky song, you will have to find the answer to the questions which the film's website asks you. To do this, just follow the link below:
http://www.theanswerlieswithin.in. Here's a clue: 'The Answer Lies Within.'
The film's distributor, Reliance Entertainment, tweeted the following message for fans: "'FYI guys, theanswerlieswithin.in is laden with clues which lead to your surprise. Search smartly and you should earn it! 🙂
Clearly this song is not being handed to us on a plate like other Bollywood songs. As frustrating as it might be for some fans who are perhaps still trying to solve the clues as you are reading this, this is actually quite an intelligent strategy which the production team have devised. It is a great way to promote the film itself and the main theme it covers, which is mystery.
We advise you guys to keep trying to find the answer to the questions the site asks. Once you see the music video, you will be left feeling that all the hard work was worth it!
Talaash stars Aamir, Kareena and Rani Mukerji in the leading roles. It will be releasing in cinemas worldwide on 30 November 2012.