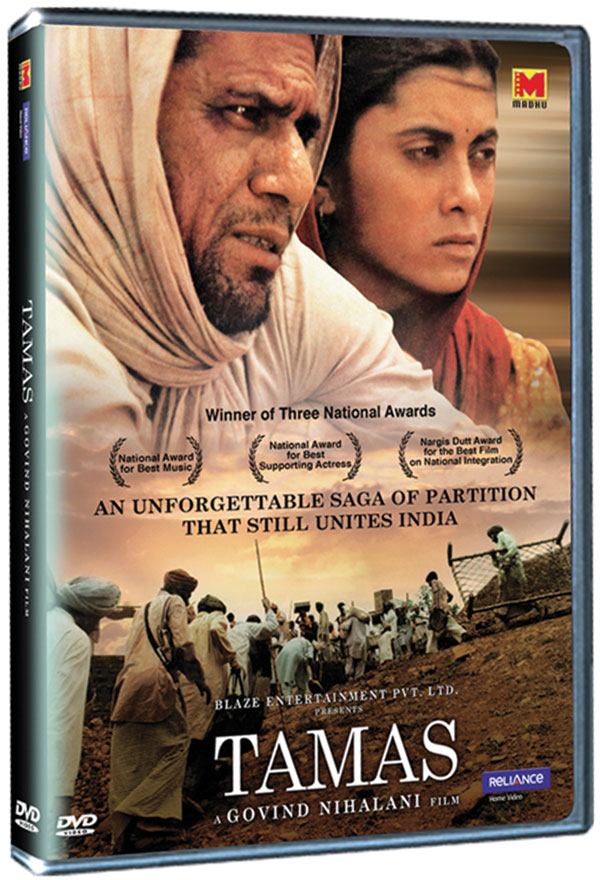 Reliance Home Video launched Govind Nihalani's critically acclaimed film TAMAS on home video today. The launch was done at an exclusive retail event at Planet M, Andheri.
Besides the Director Govind Nihalani, Om Puri, Deepa Sahi, Ila Arun, and producer Lalit Bijlani other key members from the cast & crew were present at Planet M to formally release the DVD of the film.
Tamas is based on the classic Hindi novel of the same name written by Bhisham Sahni. The film was first shown on Doordarshan in 1988 as a mini series.
Tamas is being released as a four DVD (Rs. 799/-) and VCD (Rs.499/-) set. The DVD contains a collectible booklet and an audio-visual interview with Govind Nihalani on Tamas.
Sweta Agnihotri COO of Reliance Home Video said that "This August India will celebrate completion of 64 years of Independence. Tamas is a good reflection of how communal prejudice can scar generations of lives and as a mature nation we need to protect ourselves from repeating such tragic history.  The release of Tamas on Home Video is our small endeavour in service of the nation. "
Om Puri spoke at length about his association with Govind Nihalani, he was all praises about Govindji directorial brilliance and shared anecdotes about the making of the film, particularly interesting was this fact that they had shot in a bungalow in Mumbai where 16 different sets had been created. He also said that a work like Tamas must be showcased to the nation generation after the other and we was glad that the film was now available on DVD. Om Puri was the first customer to buy 30 DVDs of Tamas as gifts to his friends.
Speaking at the release function, Deepa Sahai said that after playing her role in Tamas, people on the road identified her as Deepa "Tamas" Sahai. She shared the fact that she had read the novel earlier and was amazed as to how its writer had captured with great detail the pain of people affected by the event. It was after reading the book she could relate to the stories she had heard from her grandparents. Deepa said over a period of time lot of people have often asked her about if and where the DVD of Tamas is available and she was happy that it has now been launched.
Ila Arun said "I was not born in that era; I understood what the pain of partition was all about only after playing the character of Lalaji's wife in Tamas."
Commenting on the launch of Tamas, Hirachand Dand COO of Madhu Entertainment & Media Ltd.  had this to say " We have digitally restored and re-mastered Tamas for the home viewing audience and are happy to have Reliance Home Video as our business associate in this venture."
Bhisham Sahni, a key figure in the modern, progressive Hindi literature won the Sahitya Akademi Award in 1975 for Tamas.  Sahni himself was a refugee from west Punjab and he wrote Tamas thirty years after the partition. Govind Nihalani found Bhisamji's approach to be very contemplative, humane and non-judgemental. His style was exceptionally simple and touched the reader deeply. The whole affair of India – Pakistan partition was recorded as a terrible and heart – rendering event in human history. The mainstay of Tamas was that every community has extremist elements who cynically manipulate religious sentiments of the communities only to achieve political objectives.
On the occasion of the launch of the DVD Govind Nihalani spoke about his journey about his from idea to release of the film and how Tamas is perhaps the closest to his heart from all the work that he has done so far.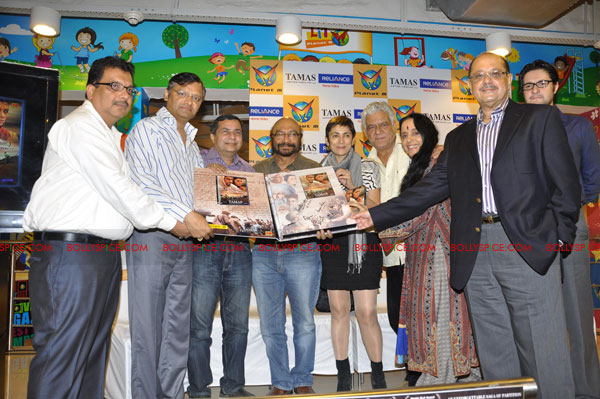 Left to Right: Sunil Menghrajani, Sanjay Karwa, Hirachand Dand, Govind Nihalani, Deepa Sahi, Om Puri, Ila Arun, Lalit Bijlani & Sunny Bijlani
Govind Nihalani bought the book from a bookshop in New Delhi at the time he was the second unit director on Richard Attenborough's Oscar winning film Gandhi. Once he read the book, he considered it to be the best novel ever written on those times and decided to make it into a film. TAMAS was finally produced by Lalit Bijlani & Freni Variava of Blaze Entertainment and Govind Nihalani.
Reflecting upon the film, Govind Nihalani says, "For me, making TAMAS was an act of faith"
Producer Lalit Bijlani, spoke about his faith in the project and Govind Nihalani, he said he was proud to be associated with Tamas.
Sanjay Karwa CEO of Planet M said that a product like Tamas on DVD would continue to be remembered and cherished by consumers for a long time and he was happy to such a product at their retail chain.
Govind Nihalani's Tamas is a film about the mass migration of a Sikh and Hindu family to India, in the backdrop of riot-stricken west Punjab, now in Pakistan, at the time of partition in 1947. It shows a shocking and dreadful side of politics and the compassionate side of humanity that survives any carnage. Tamas drove the point home that ordinary people want to live in peace. Tamas features Om Puri, Deepa Sahi, Amrish Puri, Bhisham Sahni, A.K. Hangal, Manohar Singh,Dina Pathak, Saeed Jaffreyand Surekha Sikri. The Gurubani in the film was sung by the famous Singh Bandhus (Tejpal Singh and Surender Singh)
In 1988, Tamas won three national awards: Surekha Sikri won the National Film Award for Best supporting Actress, Vanraj Bhatia won the National Film Award for Best Music Direction and the film won The  Nargis Dutt Award for the Best Film on National Integration.
Tamas DVDs and VCDs are now available at all leading stores across the country.