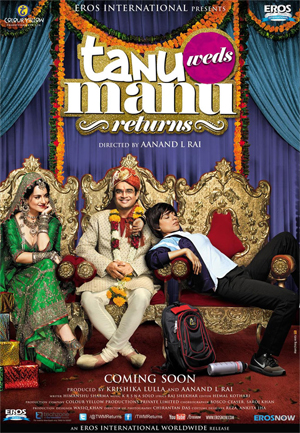 Ever wondered what happens to those characters after the credits roll? We're mostly made to believe it's happily ever after but with Tanu Weds Manu Returns Aanand L Rai questions the very premise of Tanu and Manu's love story.
The movie begins four years after Manu's grand showdown with Raja Awasthi (Jimmy Shergill). It has been four long years for Tanu and Manu and all is not well as they are struggling to cope with their irreconcilable personality differences. After a hilarious clash in front of a counsellor at a mental asylum, Tanu riles up Manu to such an extent that he is detained by the asylum. She of course makes a casual obligatory call to Pappi (Deepak Dobriyal) to make some arrangements for Manu's release and heads off to India, where the rest of the story unfolds.
Tanu Weds Manu Returns explores the post happily ever after sequence. It questions exactly how long can opposites really attract each other and presents the many difficulties that a couple with two strikingly diverse personalities will encounter.
In this self discovery journey of Tanu and Manu are some extremely brilliant characters without whom the journey would not have been as entertaining. There is the newly graduate attorney Chintu (Mohammad Zeeshan Ayyub) who is hoping to have a shot at winning Tanu's heart once he helps her with her pending divorce. There's the ever loveable Pappi (Deepak Dobriyal) who just wants to see his Manu Bhaiyya happy and maybe finally get the girl. Jassi (Ejaz Khan) and Payal (Swara Bhaskar) also return with their own post-happily-ever-after reality. Of course we also have the return of  Raja Awasthi (Jimmy Shergill) who is now a reformed angry-young-man on the path of spiritual realisation but as always is willing to go out of the way for a certain Ms Trivedi.
The other character apart from the couple that you are truly invested into is Datto (also Kangana Ranaut). Datto is a fiery Haryanvi college student. At first irked by a middle-aged man following her around she finally warms up to Manu when he candidly reveals that she merely looks like his soon to be ex-wife which is why he was following her. The duo strike a friendship which in mere weeks turns into a marriage proposal and acceptance. The movie then follows the ultimate climax to this new love story of Manu's.
The movie is all fun, games, fired up egos and clever one liners up until the moment when Tanu means Datto. Gutted by the news that her husband has found a new wife within weeks of leaving her she fires all the insults she can muster towards the small town Haryanvi girl about to marry her husband. What the audience didn't see coming was Datto's outstanding response. Until this moment Rai had made Tanu our hero. She was the outspoken rebel without a cause that we rooted for. But here you and Tanu are shown a very crude mirror into her personality that jolts not only Tanu but also the audience.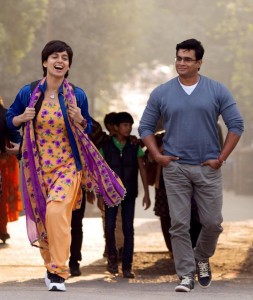 Kangana Ranaut reinvents herself yet again. Not only do you feel like getting up and whistling for Tanu as she steps out to the beats of Move On, you at the same time want to reach out and hug the vulnerably strong Datto. It is not hard to doubt that Rai's vision was to in fact not cast Kangana as Datto but because he failed to find an actress who could successfully play a "lookalike" he ended up having Kangana play both those roles. But the effort put into making Datto and Tanu different is highly commendable. From the spoken language to the body language to the styling, the actress ensures Datto is as different from Tanu as possible whilst at the same time having the "lookalike" feature. TMWR would not have been half the movie it was had this extreme effort not be put in to bringing Datto to life. You genuinly question just how does Kangana pull those scenes off!
An actor of Maddy's calibre can hardly deliver a bad performance so it's no surprise that he hits bullseye again as Manu. The actor is extremely confident in his skin and does not mind being deconstructed onscreen from the loveable dulha to the not-so-loveable 40 year old ex-husband. Deepak Dobriyal continues to be his scene stealer self. Rai even banks on him much more than he did in the prequel and we couldn't be happier about it! Jimmy Shergill's calmer Raja Awasthi is charming and ridiculously attractive! He proves yet again that he is one of the most underrated guys we have around who is still to get his due. Swara Bhaskar and Ejaz Khan are as loveable as their first outing with Tanu and Manu. We really need to see more of these two actors! Mohabbab Zeehan Ayyub is the new addition to this mad crowd and we couldn't be happier about it! From his very first screen he leaves a lasting impression.
Rai's ability to deliver unadulterated reality onscreen devoid of any pretence of delivering reality is the most attractive quality of the director. The material he works with, by Himanshu Sharma, is equally brilliant and devoid of pretence. It maybe a simple scene or dialogue like Zeeshan's "kandha" description or Tanu's outburst when she discovers Zeeshan is hoping to get something of their relationship that makes you realise just how well the makers understand the society the everyday person lives in. At a time in cinema when most makers like to create make-believe reality to kid themselves of how evolved we are, it is extremely refreshing to see someone not shying away from putting onscreen the crude ugly realities of life.
Himanshu Sharma deserves a standing ovation for one of the most phenomenal written pieces in a long time! He pushes the boundaries of convention and delivers a story you want to invest your emotion and time in. His dialogues are the highlight of the film.
Music by Krsna Solo & Tanishk-Vayu is as wacky and brilliant as the rest of the movie. Sunidhi Chauhan's Move On is the highlight of the album which is so brilliantly brought to life onscreen.
You may not have called it that when you saw it coming but fact is, Tanu Weds Manu Returns is a landmark movie. It questions the very foundation of love stories we've been digesting all these years. The movie dares to go beyond the honeymoon period and it is about time someone did! At the same time it does all this in a highly entertaining packaging. If there is one not-to-be-missed movie of 2015, it surely is this.