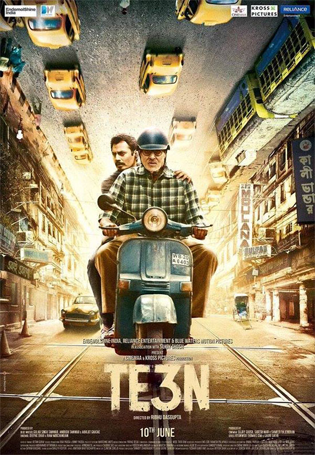 Starring the incredible cast of Amitabh Bachchan, Vidya Balan and Nawazuddin Siddiqui, TE3N is set to hit theaters on June 10th. Directed by Ribhu Dasgupta, TE3N sees Amitabh Bachchan playing John Biswas, a grandfather on the relentless pursuit of justice for eight years. It also tells the tale of Nawazuddin Siddiqui, a former cop turned priest, Father Martin Das, whose life was changed forever by the same crime that claimed the life of John's granddaughter. Also involved is Vidya Balan as Sarita Sarkar, the cop who swings into action when an identical crime is repeated eight years later. TE3N is the emotionally explosive journey of these three people, who find their fates intertwined in their quest for justice and redemption.
The fabulous Clinton Cerejo was brought in to bring the music of the film's story to life. Of course, we know of his many wonderful performances as a singer but he excels as a music producer, director and composer as well. So how did he fare with the music for the noir drama? Read on to see what we thought of the soundtrack to the movie.
Beginning with a very new age vibe, Haq Hai continues in that vein in a wonderful way throughout the entire track. Musically it has a sadness but also notes of hope – I loved the feel, the mode and mood of this song. Vocally, Clinton Cerejo delivers an emotional performance though I would have liked his voice with less of the whispering mix and more pure. The highlight of the song is the arrangement of the music, which is so full of sound. You can get lost in the music. I can see smiling every time this song begins when I am playing random songs from my music library. A song that stands on it's own, without even knowing the story of TE3N, I know it will be even more once it plays within the world of the story of the drama.
Benny Dayal features on Rootha, which after the cool beginning sounded a bit off musically for me. The underlying background music was just a bit too much, it overwhelmed, felt over done and played too much. However, as the song developed into more of a rockish flavor I liked it much better. Benny Dayal was fabulous, of course adding great tone and energy. Divya Kumar and Bianca Gomes add a nice layer. I think I would have liked a less produced sound, but it is not a bad song in any way. I imagine in the context of the movie it will backup and add to the scene and play much better.
A simple acoustic guitar beginning sets the stage for the lovely Kyun Re and I am in music joy from the first notes. I love this song and the pared down but still full of feeling music. Clinton Cerejo brings so much emotion to his delivery. The harmony section adds even more music happiness. Kyun Re is simple and perfect. This one has definitely being added to my favorite song playlists!
We also hear Mr. Amitabh Bachchan and his version is amazing as well. He brings every note to life and makes you feel it. I actually got so moved listening to his delivery of the lyrics in the song it brought tears to my eyes. I can't imagine what will happen when I see it in the movie. Did I say I LOVE this song?! Just go now and add both of these to your playlists. At the end of the year these both will make the Best Songs of 2016 Countdowns I am sure.
With more of a dance groove that transposes into a killer rock jam Grahan has the always incredible Vishal Dadlani at the mike. Loved the gruff and harder rock vocal he brings. He makes the song and is the star of this cool track. I can't imagine what will be happening onscreen when this is playing but I can't wait to find out.
With TE3N, Clinton Cerejo created an intriguing and fabulous mix of songs. One of the best things is that these songs play well on their own and I imagine will get even better once seen within the context of the film. Did I say I loved both versions of Kyun Re? Definitely give this OST a play!