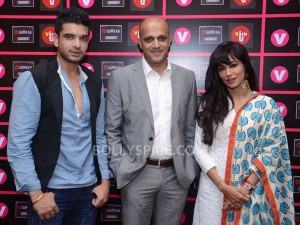 Small screen's popular crime series Gumrah: End of Innocene Season 3 is back in its third year with anchor television actor Karan Kundra. After its popular success in the past two seasons, the series will continue to showcase real life teen crimes and circumstances like peer pressure, need to fit in, materialism and dilution of morals that eventually lead to crimes.
Continuing in the same vein as its last two seasons, Season 3 will focus on creating awareness among the youth to avoid being victimised by the criminal elements; thus highlighting the thought – Be Aware, Be Prepared, Be Safe. Started with an aim to educate the youth on recognising and tackling the situations that lead to crimes, Gumrah has over the years not only been well-acclaimed for its content but more recently won the Best Non-Fiction Youth Show at the prestigious Indian Telly Awards.
In its season 3, anchor Karan Kundra will be accompanied by Chitrangda Singh who will make her TV debut with the series. "Television has such a far reach. Viewership of Gumrah is amazing. I think this is the best platform to convey something to your audience. The show deals with youth crime and unlike other crime stories, the show does not sensationalise crime," Chitrangada said.
A unique mobile application 'VithU', made by the channel as an extension of the show was unveiled by the actress at an event earlier in the month. The application stores five important contact numbers and while in danger, one can press the power button twice and an alert message along with one's location will be sent out to the five contacts.
"This is probably the most important application that your phone should have. In fact, I was surprised by the novelty of this concept. I think it is a simple and a smart idea. One can feel secure at the back of the mind with such technology," Chitrangada said.
Gumrah Season 3 premiered on 7th July '13 and will be on air every Sunday at 7 pm, only on Channel V.