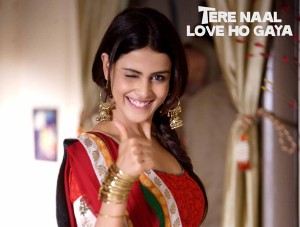 Genelia D'souza has been a delight to watch on screen since her debut movie, Tujhe Meri Kasam. The epitome of cute and bubbly, Genelia has always been the sweet outsider, with consistent hard work and sincerity and a bit low-profile. Having started her career with Riteish Deshmukh, she found a friend, companion and a soul mate in him and we at BollySpice wish her all the happiness for her newly married life. Don't misjudge her by childlike demeanor. This 24 year old actress has worked  in over a dozen  movies in 5 languages (Hindi, Tamil, Telugu, Kannada and Malayalam). Genelia D'souza in a chitchat with BollySpice about her teen years, her upcoming movie Tere Naal Love Ho Gaya and of course Riteish.
Every love story has its USP. Apart from the fact that Riteish and you are coming together, what is the USP  of Tere Naal Love Ho Gaya?
Tere Naal Love Ho Gaya is not pretentious. It's a small film placed in the heart of the interiors. It's very true to the fact that here, there is a boy – simple innocent –  and a girl – brat, mischievous; it is all depicted very clearly in the film and I like the fact that the film was so particular to sticking to the film as it is because generally we do see things happening otherwise. So yes, we shot in the heart of Patiala, Manali…
The promos till now have been very sweet and endearing. It kind of looks like a mix between Jab We Met and Ajab Prem Ki Ghajab Kahani – in fact the promos hint a bit at the latter too. Looks like it's got the madness and the feel of the two…
It does have the flavor of the genre of Jab We Met – I hope it's as big a hit as that film (laughs) –  but I wouldn't say there are similarities between the two. Yes, my character is loud, bubbly and mischievous – Riteish's on the other hand is quiet, innocent. But Geet (Kareena's character in Jab We Met) was very  innocent. Mini on the other hand is an out of town girl, who has seen a bit of life and whose bubbliness comes from the fact that she is very adventurous. Riteish's character Viren is an extremely hardworking guy; the kind of guy who works hard even for Rs.10. So that's the difference. I hope it has the beauty of Jab We Met because it is one of my favorite films.  So Tere Naal is more of a story of Viren and Mini rather than Riteish and Genelia.
How much of Mini is Genelia?
I started working at the age of 15 and honestly I did not get to be the Minis or the Aditis that I play in the movie so I am very glad that I am an actor and I get to experience all this in my movie. At the age of 15 when you start acting you are expected to be a professional so I grew up being very mature, someone with her head on her shoulder but then the child in me didn't die. Which is why I am glad that I get to do films which portray this side of me.
You did your first movie with Riteish seven years ago (Tujhe Meri Kasam) and now you are working with him in Tere Naal Love Ho Gaya. Has Riteish changed in this timespan? What sort of growth have you seen in him as an actor?
We have known each other for a very long time. Two young kids discovering our life when we started off and for us everything was novelty. For Riteish, he had at least been on film sets. I had no experience. I would just listen to the director and pray for him to say that the shot was okay! I wouldn't even ask for a retake or suggest him if it could be done in another way. Like it was all rote learning…it was all learning for me. Like in schools where you just follow the teacher and do whatever she asks you to do…it was like that for me. Now it's different. I have become more responsible and I am hoping that I have grown up as an actor!
Riteish has the gift of the gab, yaar. He comes up with lines on the spot. He changes the scenes in no time. He has really got that talent – the way he gets off with lines. He is one of the actors I have co-starred with who is not a selfish actor. Like, if the girl needs to be there in the scene and be the heart of it, he will just give it to you. You don't then get insecure, you know, so that's really nice about Riteish. Speaking of him as an actor, he really makes learning fun. He likes to revise his work, discuss it and go over it with the director. And even improvise. Like, whenever you see him in award shows, you realize that it is a talent, he can just come up with lines.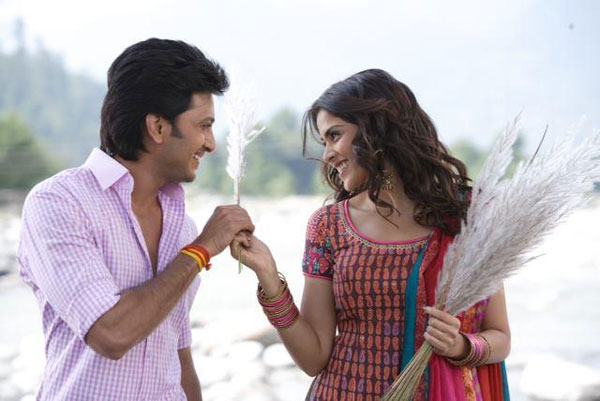 Are you nervous because this is your first love story after you went public with your relation? And also because real couples don't usually fare well in the movies…
I have always believed in chemistry being written. If the pair doesn't work it is usually because the lines written are not right, or the moment is not right…so that chemistry is missing. Of course the physical aspects and compatibility matter too. I don't have any apprehensions because Riteish and I have not known each other since a long time as actors. We have not been to each other's sets and been hanging around and wasting each other's time. We have not intruded into each other's space as actors ever – like I have always done work which I have believed is right for me and he has always done things which he believes is right for him. I honestly never knew that I would discover Riteish as an actor when I met him. I have not worked with him for seven years. The first experience we had was on a totally different level and secondly, when I see him at award shows and all – I don't go to the practice sessions – I thought it was all script generated. But today I know that a part of him evolves on screen live. So I was very confident about the two of us. But the good part is till now, the look of the movie has been well received and people have found a freshness though we have been around for 10 years.
Does it help that the person you are married to is from the same industry and knows about the work?
I am not sure in which way that helps but being an actor and being from a non-filmi background – I didn't know anything about the film industry at all, how films work, how relationships work – in that way, being an actor helps me understand Riteish. Having said that I feel it's a double edged sword. It can work both ways. What is important is that two people don't lose themselves when they are in a relationship.
Many believe that people need to change after marriage…
I don't understand why people have to change (after marriage). I am going to be me. I hope I can stay that way. I enjoy being fun and bubbly!
Thanks for talking to BollySpice
Thanks!
Stay tuned for Riteish coming up soon!