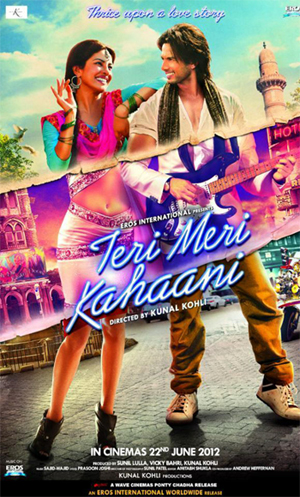 Love stories usually start with the boy meeting the girl. And then? The story can get breezy, or it can get intense or maybe heart-breaking. Kunal Kohli's Teri Meri Kahaani has Shahid Kapoor meeting Priyanka Chopra over three lifetimes, which means going through the whole gamut of emotions thrice.
1960 – Struggling musician Govind meets film star Rukhsar and the attraction is immediate.
2012 – College student Krish bumps into Radha a couple of hours after breaking up with his girlfriend and instantly feels a connection.
1910 – The village Casanova Javed falls for the feisty Anuradha who puts her country before anything else.
The path of true love is never easy, at least it isn't in Hindi films, and misunderstandings/miscommunications lead to separation. Will true love conquer all in the end?
Kunal Kohli's attempt is to steer clear of melodrama and keep things sweet and simple – a bit too simple at times. Telling three stories in 120 odd minutes, he keeps the narrative light and frothy for the most part but the episodic nature of the film robs the three relationships of the depth they deserved. While there is (thankfully) no reincarnation angle here, it is never made clear whether the protagonists are soul-mates meeting over different lifetimes or just three random stories put together.
That is not to say that the film is not engaging. All three stories have their moments. The dialogues, especially the shayaris recited by Shahid in the 1910 part, are a lot of fun. The sparkling chemistry between Shahid and Priyanka somewhat makes up for the screenplay issues. The fashion of each era is captured well and the production designer had done a really good job of creating authentic backdrops of 1910 and 1960 eras. The music by Sajid-Wajid is pleasant and the songs are well choreographed.
Performance-wise the film belongs to Shahid Kapoor. He once again proves his versatility as he effortlessly goes from being a simpleton to a dude to a charming lout, and creates three characters who bear no resemblance to each other. His portrayal of Javed Qadri is superb to say the least. Priyanka, on the other hand, fails to match up to Shahid's histrionics and comes across as the same person in different clothes. Prachi Desai and Neha Sharma are quite good in their special appearances. Vrijesh Hirjee is effective despite having no dialogues at all. The rest of the supporting cast has nothing much to do and is adequate.
There is a high probability that all three stories will not appeal to everybody.  You may connect with one or two of them but it is unlikely that you will connect with all three. This is what holds back the film from being 'highly recommended' and puts it in the category of 'one time watch'. However, it is a not a bad one time watch at all.