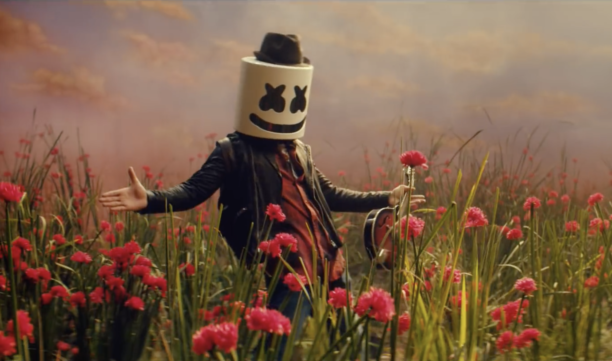 We told you earlier about the cool collaboration with Pritam and the DJ Marshmello! The track with its desi flavor but Marshmello vibe is brilliant. Now we have a look at the video of Biba and it includes a surprise!
The collaboration between Pritam and popular international DJ Marshmello on the song BIBA has become quite the rage amongst fans of the duo. The official music video of the track, directed by Punit Malhortra, features the King of Romance Shah Rukh Khan and it's absolutely hard to miss with the music video filled with Bollywood's iconic scene recreations.
With a whopping 13 million views in just five days and counting, the video gives audiences a new hook step to challenge each other with and we've already seen glimpses of Marshmello doing the step effortlessly.
Pritam, who is no stranger to a Hollywood musical collaboration, sent Marshmello options of pre-composed scratches of songs to choose from, for the final track. BIBA went on to become the song they came together for because Marshmello wanted to work on something that brought out true Indian musical taste and fun in the track.
"BIBA is such a special track to me because Marshmello and I chose to collaborate on it for the sole reason of it being so Indian, fun and a song that will make you tap your feet. Of course, the show stealer of the video is SRK's cameo and the incredible concept directed by Punit Malhotra. I'm so thrilled with the feedback we're getting on the song, it's exciting." said Pritam .
As we reported prior to the launch of the music video, Pritam and Marshmello caught up at Jam8 for Marshmello's first recording studio visit in India where they jammed for the first time in person. Pritam also presented Marshmello with a customized BIBA jacket curated by designer Narendra Kumar.
While catching up, Pritam also played the track to dub a dhol arrangement that intrigued Marshmello into playing the dhol to the beats of the song perfectly. Also part of the celebration of the song in the studio were India's powerhouse talents, Arijit Singh, Armaan Malik, Badshah, Neha Kakkar, and Dev Negi.
Pritam and Marshmello have hit all the right notes with Biba with a brilliant video and fabulous track for music lovers. Add in Shah Rukh Khan and all we can say is go watch it and then again and again!