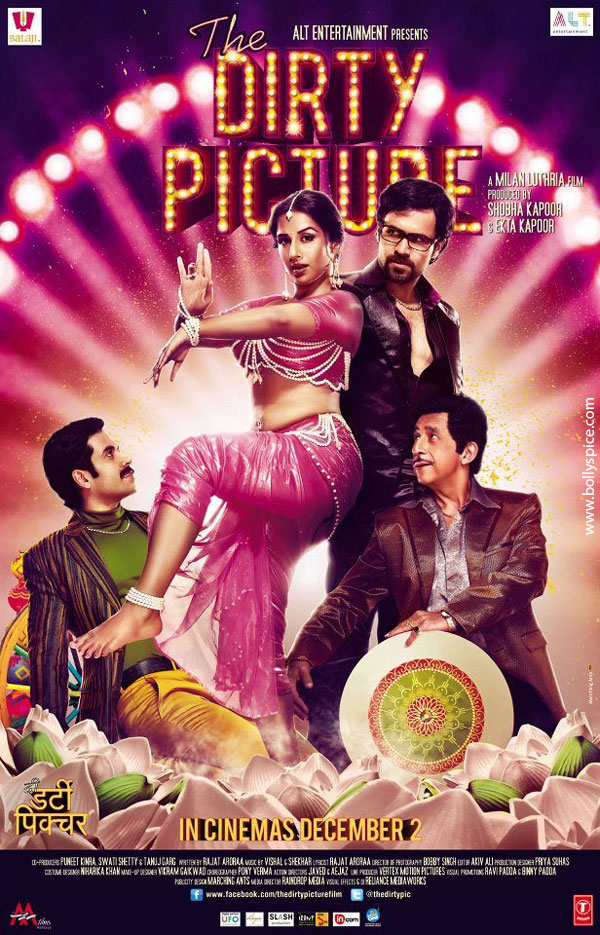 "Only three things work in the film industry," says Balan's character, "Entertainment, Entertainment and Entertainment." While many Bollywood movies have been exploiting this fact to the core with "entertainment" solely replacing content, Ekta Kapoor's and Milan Luthria's The Dirty Picture proves a point that you can serve both entertainment and good content together. And yes, if the promos have made an impression that this movie is all sex, then you couldn't be more wrong. For the makers of this movie have definitely ensured that what you take home from this movie is a complete package.
Though the movie claims to be a fictionalized account, it isn't difficult to see that it definitely is based on the 80's south siren Silk Smitha's life. Having run away from her home the night before her marriage, Reshma (Vidya Balan), has only one dream: to make it big in Kollywood (Tamil film industry). And she is ready to do anything to make it come true. However, what makes her different from other such aspirants is that she is totally unapologetic about it and that's the first thing you love about her – her lack of hypocrisy. So whether it's "tuning for playing the band" with aging South 'Smashing' Superstar Suryakant (Naseeruddin Shah) who is her childhood crush and her current co-star or showcasing her plunging necklines- round girth – skimpy clothes- voluptuous figure to the front benchers, Reshma aka Silk never feels guilty. The adulation, the fame, the crazy fans and the loud cheering and whistles are like adrenalin to her – she lives on it. Never caring what the world has to say about her, she keeps on climbing the ladder of success purely on her attitude and oomph. And while there are men who lust for her, there are others who just hate her for her boldness. Film critics and women groups propagate against her; cerebral director Ebraham (Emraan Hashmi) who indirectly is responsible for the rise of Silk, can never accept "filth" like Silk to be a part of the industry. There are others like Surya, for whom she is a "dirty secret" – a part of the night, never to be revealed in broad daylight. While Silk keeps on mistaking Surya's lust for love, his younger brother Ramakant (Tusshar Kapoor) an aspiring writer loves her dearly, but is too meek to accept her for what she is. Having suffered heartbreaks twice, Silk's downfall starts when she starts caring for what the others have to say about her. Coupled with an arrogant attitude, drinking problem and a penchant for taking 'pangas', her decline is rapid… but the rest is a spoiler so I will stop here.
Having made a successful movie together earlier (Once Upon A Time In Mumbai), Milan Luthria and Rajat Aroraa strike once again with a script that surely keeps you hooked. As far as direction goes Milan does complete justice to the script, however the screenplay does have a few drawbacks. The first half of the movie definitely scores over the latter as far as screenplay and execution go. Silk's rise to fame in the first half is shown in a very peppy and must say in a pretty justified manner. Her downfall though seems a bit hurried and there are a few tracks which you feel Rajat should have elaborated more. The biggest plus point of this movie is that although the film chronicles the life story of a B-grade film actress, the sleaze and skin show never seem unnecessary or in your face – never once do you feel that it's ugly and vulgar. True, that a major part of the first half goes in showing Silk's heaving breasts and grinding hips and you feel that instead of getting a bit repetitive they could have elaborated more on her character and those of the others. Also an out of place romantic song between Vidya and Emraan drags the second half. But then in those 3 hours Rajat does manage to put forth a lot. Dialogues are one of the highlights of this movie. Many may feel that it's very over the top and loud but then remember, it's the 80s! Thirty minutes into the movie and it becomes almost impossible to keep a track of these one-liners. Whether it's Shah openly admitting that "jab sharafat ke kapde utarte hain toh sabse jyaada mazaa shareefon ko hi data hai" or a fan who after a peck on the cheek tells Silk "Aapne toh start karke shod diya!", Rajat has peppered his screenplay with enough wacky dialogues. The setting of the movie keeps in mind the era then and although a bit glossy, those Marti 800s, retro looks, Niharika Khan's costumes for Silk, the portrayal of the industry then (when the directors called the actresses "Baby") all add to the look and feel of the movie. Akiv Ali's editing is good, Bobby Singh's cinematography is apt and Pony Prakash Raj's choreography does justice to the era. Vishal-Shekhar do justice to the movie with songs that complement the feel of the film pretty well. Of course, the song that stands out is 'Oh-La-La' with its Himatwala-style choreography with flowing lemons and wet sarees – it's purely nostalgic.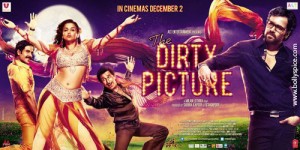 A good screenplay needs to be complemented with great performances. This is where The Dirty Picture scores again. Naseer in his colorful clothes and dyed hair as the aged 'One take" star who still plays the college boy and makes full use of his stardom is amazing to watch. True, his character is a caricature but then you end up laughing at his antics and loathing him for the way he treats Silk. Emraan Hashmi as the "serious" filmmaker who loathes the "commercial" kind of stuff Silk does but ends up doing exactly the same is fun to watch. It's the Hashmi of Footpath, Kalyug and Jannat that you get to see after a long time. You wish he was a bit more cognizant about the kind of movies he does. Tusshar Kapoor is the weakest of the three male leads. Though his character is supposed to be meek, you somehow have the feeling that he walked straight from Love U..Mr Kalakaar to The Dirty Picture. Anju Mahendroo as the film critic who never stops from writing negative about Silk but admires her nonetheless and Rajesh Sharma as the South Indian film producer/director have stereotypical roles but they do justice nevertheless.
The star of the movie without any doubt is Vidya Balan. With a brilliant, power packed performance, she definitely stands out throughout the movie, shadowing even the story sometimes. The most courageous and outrageous character any actress has probably ever played, Vidya reinforces the fact that Ishqiya, Paa and No One Killed Jessica are not flukes. Whether is the dusky plain Jane, the hunter-hitting side artist, the starry eyed struggler, the rising Silk, the fading star or the heart broken woman, Balan plays a vivid spectra of characters throughout the movie and leaves you mesmerized with her performance. So if it's the baggy eyes, sagging cheeks and increasing girth in the second half or the vamp with those shockingly small costumes in the first, it's Silk you see throughout the movie, never Vidya. Watch out for the scenes where she looks at the crowd cheering her first onscreen dance in the theatre with child-like joy or where she dances on top of a car and kisses Tusshar just to spoil Anju's party and take her revenge on Naseer or whether it's the last letter she writes to Emraan, Vidya shines out in every scene – and boy, does she shine out bright.
Once in a while comes a movie which dares to break the conventional decorum and bring something new to the audience especially something which the audience enjoys. In spite of some flaws The Dirty Picture manages to do just that. Take a bow Ms. Balan. You definitely are entertainment!