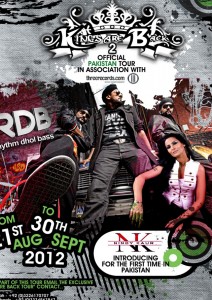 RDB (Rhythm Dhol Bass), the international Kings of Urban-Bhangra cool, will set the stage alight in Pakistan as the most highly anticipated tour of the year starts from August 2012.
Hailed as 'The Kings Are Back Pakistan Tour 2', the concerts will be the first major performances by RDB since the sad death of band member and brother Kuly in May.
Making her long-awaited Pakistan debut will be popular UK Urban music artist Nindy Kaur, who will headline with RDB at the sell-out concerts.
The trailblazing month-long tour, organised by PMR Events and Music Station, will take in several big cities across Pakistan from 27th August to 30th September 2012. The hit pairing of RDB and Nindy Kaur will cement their huge popularity with Pakistan audiences and will showcase their musical talent to the very highest.
Stamping their distinctive style on the international and UK music scenes, RDB have written, sung, played instruments and produced countless hit songs, most notably for many A-List Bollywood films, including the cross-urban music track, Shera Di Kaum, which saw them collaborate with Grammy Award winning American artist Ludacris and Bollywood superstar Akshay Kumar. Other mainstream collaborations have been with Snoop Dogg, Elephant Man and Public Enemy.
Famed for her lead vocals on Bollywood chart-toppers Kambakkht Ishq, Aloo Chaat, Yamla Pagla Deewana and Char Din Ki Chandni, with international music stalwarts RDB, alongside her urban smashhits Akhian, Deewani and 2 Seater, Nindy Kaur has taken the steps to solo stardom and the result is her rising status as the one to watch star of 2012. A talented songwriter and singer, Nindy Kaur has worked on both Asian and mainstream collaborations, with her most recent being a hook-up with top Canadian producers Culture Shock, on the definitive dance track of the summer – Save The World. She has successfully released her first two hit singles from her debut solo album, Nindypendent, which entered straight into the number one spot on the Indian music charts.
In speaking about their performances, Surj (from RDB) says, "We are really looking forward to performing in front of the crowds in Pakistan. We love this audience! They are full of life and really enjoy our music – they will get the party started properly!".
Nindy Kaur says, "I'm excited that by popular demand of my Pakistani fans, I will be on this tour. I don't know what to expect, and so this just makes it even more thrilling. I'll be with the RDB boys, so I'm sure they'll look after me! I can't wait to get out on stage and rock the venue!"
Performing their biggest hits, many of which are famed from the soundtracks of some of Bollywood's most loved films, RDB and Nindy Kaur are set to take Pakistan by storm! For more information and to be a part of this tour, log on to: www.thekingsareback.com