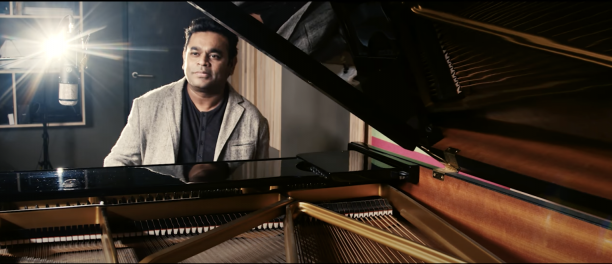 Releasing on April 16th in Hindi, Tamil and Telugu is A.R. Rahman's highly anticipated musical drama 99 Songs. The film introduces Ehan Bhatt and Edilsy Vargas and also features Lisa Ray, Rahul Ram, Tenzin Dalha and Ranjit Barot. Directed by Vishwesh Krishnamoorthy, this marks A.R. Rahman's debut as writer and producer.
99 Songs follows the journey of a young man named Jay whose life centres around his two great loves: music and his girlfriend, Sofia who he affectionately calls Sophie. All is well until Jay's love for music is challenged by Sofia's father. A man who believes that art is an inferior endeavour, Sophie's father is a mirror to Jay's own dad. Jay, whose father always told him that music was nothing but a dangerous waste of time, resolves to show the world that music can and will conquer all. Sometimes, the journey we take is destined to lead us to many revelations and discoveries. It's, after all, in the unknown that we find ourselves to be limitless. 99 Songs is Jay's quest to understand his purpose and passion, to overcome the challenges that stand between him and everything he cares about. It is a journey of heartbreak and redemption, of loss and faith. 99 Songs is an ode to the timeless power of love and music. It's the embodiment of the belief that one song can and will change the world.
Of course, Mr. Rahman has composed an epic soundtrack for the film. It is a masterpiece collection of songs that features magnificnet vocals. The soundtrack of 14 excellent songs has also been released in the three languages – Hindi, Tamil and Telugu, which must have been an incredible challenge. Each version has its own unique elements and the three versions of the music showcases diverse talent of superb singers, musicians and lyricists.
One of the most amazing things is that the soundtracks feature a lot of young, budding talent who are making their playback debut. What is even cooler is that many of them are from A.R Rahman's esteemed KM Music Conservatory including singers Shashwat Singh, Poorvi Koutish, Abhay Jodhpurkar, and Sarthak Kalyani. They have gone from student to performers and they shine.
A.R. Rahman revealed, "The new generation of musicians has boundless talent. We need to nurture these artists. There's a new surge of energy coming in many fields; we're discovering different talents and it's a beautiful blessing." 
 
Along with the newcomers like the brilliant Shashwat Singh, fabulous Poorvi Koutish and more, the music of 99 Songs also features established singers like Armaan Malik, Arijit Singh and Alka Yagnik on the Hindi album, Benny Dayal and Shreya Ghosal on the Telugu and Tamil versions. Vocals are also heard by outstanding singers like Shashaa Tirupati, Bela Shende, Vijay, Sreekanth Hariharan, Haricharan, Sid Sriram, Jonita Gandhi and many other excellent performances that really make this musical sing.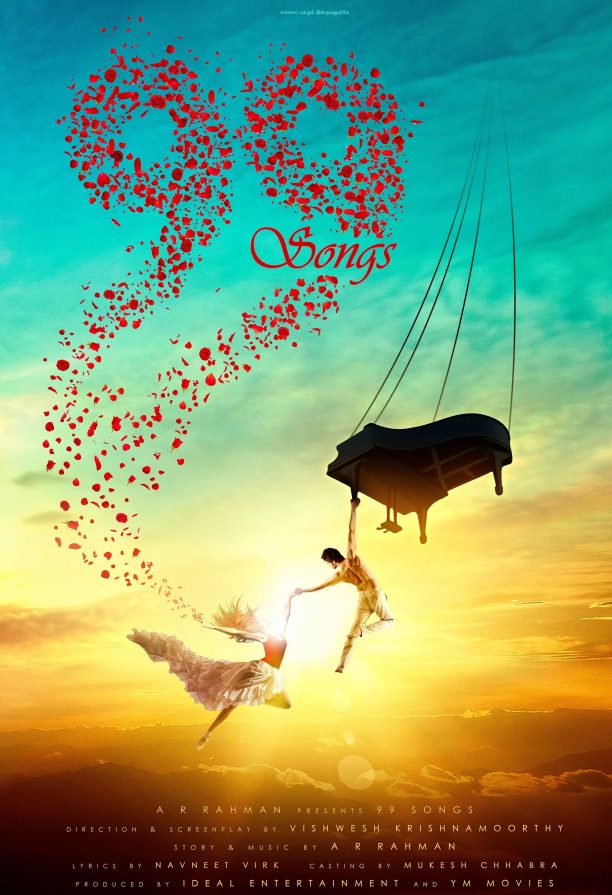 Coming to the music, the maestro has said the movie is purely a musical and that this is the music of Jay's life and how he changes as a composer over the course of the film.
Talking about creating the music the composer said, "I think music is something that comes from within yourself, within your soul and you feel a sense of validation within yourself when things come in."
Interestingly, he revealed that he takes his time and sits with the composition for a while before deciding on it. "I don't judge my compositions immediately, I just take time and I do it after a week or so."
Adding once he is happy with his music, he then thinks, (amazingly) 'it could be a great song if the right director or the right lyricist comes on board. Mostly my instinct has been right but sometimes it all goes wrong.'
In the end, he says, "Mostly there's also a lot of spiritual energy going in. Good intention. So I feel we need a blessing for everything we do creatively for it to become magic."
And MAGIC the 99 Songs soundtrack is. From our rave review, "A.R. Rahman's soundtrack for 99 Songs is truly one of the best set of compositions I have ever heard. He is, of course, known as one of the greatest composers in the world. With this soundtrack, I truly feel he has reached an even higher level of genius as a composer with the momentous songs for 99 Songs. It is music that is sublime, transcendent, majestic, divine, magical and so many more adjectives of praise. I sat there in awe of the talents of the singers, the musicians and Mr. Rahman's incredible art!"
Be sure to read our review of the Hindi soundtrack but the songs are so brilliant we say listen to all three!
Presented by Jio Studios, 99 Songs, releasing on April 16th, is produced by A. R. Rahman's production company YM Movies and co-produced by Ideal Entertainment.