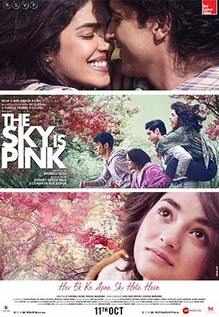 Many people dream of the perfect family… husband and wife in a loving relationship and a couple of kids who they are also in love with. From the outside it might seem that the Chaudhary's from the new film The Sky is Pink might be exactly that. However, it doesn't take long for this family to be brought back to reality due to a lung condition that threatens the life of the daughter and threatens to bring down the whole family around it. But even in the trailer the tag line comes through "Love that stands the test of time", and so the album for this film will have to be both family and love oriented but in itself must last the test of time. Produced by RSVP movies, this task has been given to Pritam Chakraborty who's having a strong year already with Chhichhore and Kalank. It also features lyrics by the legendary Gulzar.
The album is bookended by the feature song Dil Hi Toh Hai and Dil Hi Toh Hai Reprise. Like the best songs, this both hits home and is something different while getting deep inside. The music at its core is a mixture of acoustic and Spanish guitar in front of western drum kit. The guitars also find themselves working around a female gospel chorus, who back Arijit Singh and Antara Mitra in some of their finest flow. It's a showreel of some of western music's finest bits in that truly different Bollywood style. The lyrics are simple, and the singers can be clear so there is no doubt in them… even ending in English in case anything in them was missed.
For the Dil Hi Toh Hai Reprise Sreerama Chandra Mynampati replaces Arijit and while the song loses the acoustic guitar, it maintains everything else so it is probably an ending song to wind up what will have been a happy look at a sad event. An audience near tears will be left thinking about the good times and maybe that's the best way for this story to be thought of. Nevertheless, it is to be noted that especially since there are two versions of the same song, both of which near 5 minutes it's quite repetitive, which may mean it might not survive more than a few early listens.
Nadaaniyan involves Arjun Kanungo and Lisa Mishra in a strong jazz song with initially a standard western rock beat and rhythm. This eventually breaks out into a club beat and a clapping sound is added to an acoustic guitar to provide emphasis to the beginnings of each verse. However, there is a strong whiff of another Pritam song 'Hawayein' from Jab Harry Met Sejal and depending on the visuals plus the story around the song itself that may be on purpose. Overall, it;s just a light, easy-breezy look at life and love, providing a backdrop to what are likely to be some fun visuals.
From the light to the pain, the next song is Zindagi. With lyrics like "Zindagi tune kaisa toss khela hai", Arijit Singh delivers as he always seems to do. Nothing more than drum and acoustic guitar backing him up, Arijit just makes the song his own and Pritam allows this by having the rhythm be almost out of step with Arijit throughout… as if Arijit sang and Pritam just added an appropriate beat afterwards.
With all the sadness neatly wrapped up this album thus finishes with Pink Gulaabi Sky. This is the classic 60's western big band jazz and dance number which could easily fill in this film as either an item number or title song or even ending song. A mixture of woodwind sitting on top of a jazz quartet with Shashwat Singh and Jonita Gandhi over the top and a male chorus to boot, this could be anywhere, at anytime and just raise the spirits of all listening.
2019 has not been a year for major tragedy movies, especially not ones told through the eyes of the person who suffers the tragedy. However, this film is exactly that and thus Pritam is given a chance to do something radically different. The approach chosen seems to have been one of period piece, taking instrumentation and musical styles from the time of the story into account and finding interesting ways to use them. Considering he's come from doing Chhichhore and Kalank, this is not a surprise: one a friendship and tragedy, the other a period drama. Overall, the effect is good and works well; like the film this album portrays a heavy subject in a light way, giving audiences and listeners happiness but not padding down the sadness to remove its effect either. If it wasn't for the unshakable feeling that a lot of it was inspired by other things and that from an overall perspective there's quite a lot of repetition within the album, this would have been the perfect accompaniment for what is likely to be a great story and film.