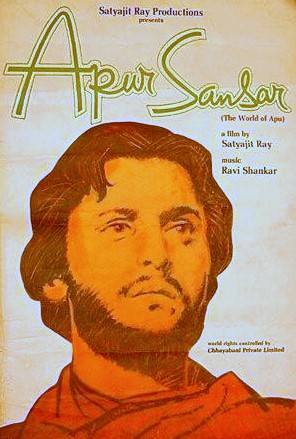 There is a most beautiful moment in Apur Sansar ("The World of Apu") where Apu (Soumitra Chatterjee) stands looking at a sunset.  When the camera focuses on him, however, we can see the moonrise over his shoulder.  It can't help but make me think of that famous and oft-quoted phrase of Japanese filmmaker Akira Kurosawa:
"The quiet but deep observation, understanding and love of the human race, which are characteristic of all his films, have impressed me greatly. … I feel that he is a "giant" of the movie industry. Not to have seen the cinema of Ray means existing in the world without seeing the sun or the moon."
This is especially true of the final film in the Apu Trilogy, Apur Sansar.  In it, Ray gives us an adult Apu – alone in the world after the death of his mother, leaving his studies because he no longer can afford them, searching for other work to sustain him even as he writes a novel.
If The Apu Trilogy is screening to sold-out theatres and having its run extended (and it is), I firmly believe that this is only in part due to the extraodinary restoration work.  I truly believe that people everywhere connect with Ray's films precisely because of that "understanding and love of the human race", an understanding that travels beyond time and place.  Who among us cannot identify with Apu, going for a job, and being told he is overqualified?  Who has not been in love, and who has not been heartbroken or griefstricken at the loss of a loved one?
Yes, Ray's films explore such things as the tensions between rural and urban India, between tradition and modernity.  And how else would Apu end up married to his beloved Aparna if it weren't for a tradition that would see her remain unmarried unless someone stepped up to replace a clearly unsuitable bridegroom?  Ray also gives us the incredibly handsome and talented Soumitra Chatterjee as Apu, and the exquisitely beautiful (and also talented) Sharmila Tagore as Aparna, both essaying their first film roles.  The screen practically crackles with their chemistry whenever they are together, and they would go on to star in two more of Ray's films (including my personal favourite, Devi).  The best moments in Apur Sansar are those that reveal the days following their marriage, in which they go from being total strangers (what Aparna knows about Apu on their wedding night is only what his friend Pulu has told her) to deeply in love.  And indeed, when Aparna dies in childbirth, Apu is so griefstricken that he blames his own son for her death, turning his back on him to wander throughout India, fulfilling only the minimal responsibility for him by sending money to Aparna's parents for his care.
And when it looks like Ray will leave Apu, and us, in this state of being totally bereft, something happens.  Pulu finds Apu, and manages, somehow, to reach something in him.  Apu goes to find his son – Kajal (one of the film's loveliest moments occurs when Apu and Aparna are talking about her returning to her parents' home to give birth.  Apu asks her what she has in her eye; she responds, "Kajal", meaning the kohl that lines her eyelids, but it is also a reference to their future son), who is a wild child, naughty and mischevious, and also curious about his father, in that way children are, curious, wanting to know him, and yet angry at him for the rejection he feels.
Apu's efforts to befriend his son, therefore, are rejected; Apu, we think, is destined to return to Calcutta alone again.  But Ray gives us a glimmer of hope – Kajal follows the departing, dejected Apu; when it becomes clear to Apu that Kajal may accept him in a different role, that of friend and not estranged father, he realizes they have a second chance as they set off together.
The film is currently playing in NYC and Philadelphia, LA, San Diego, Santa Fe, Baltimore, and Houston. Get the full info below!
Official Website – http://www.janusfilms.com/aputrilogy/index.html
Apu Trilogy Restoration Trailer from Criterion Collection on Vimeo.