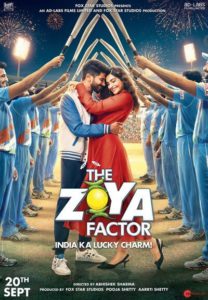 The 2011 Cricket World Cup was a completion of a lot of dreams for a lot of people. The Indian supporters got to see their team lift the trophy on home soil, the players got to lift their 'god' Sachin Tendulkar on their shoulders and in the background was the fictional simmering story of The Zoya Factor. Based on the book by Anuja Chauhan, Sonam Kapoor (advertising agent Zoya Singh Solanki) becomes the love interest of Dulqeer Salman (playing as Indian team captain Nikhil Khoda) and in doing so provides the luck that completes the preparation of a finely-honed team.
Obviously, in a space where there is so much politics, greed and religion, this is bound to cause ructions with all. Thus, this heavy romantic comedy has been given a full album by Shankar, Ehsaan and Loy coming off the back of the success of one beautiful song in Saaho. Shankar-Ehsaan-Loy, Arijit Singh (or any strong male vocalist) and Alyssa Mendonsa have made many a beautiful journey song with a superb flow which creates movement while sitting down.Kaash is another in the line but cleverly repurposed for a slow dancing, hold your love close on the dance floor feel. There is a club beat, there is plenty of synth, there is an easy flow to the song that rides over the top of this base, but like so many other SEL hits, this one speaks to the heart.
Kaash Unplugged is Arijit Singh doing it for his fans… beat turned down, soft synth and piano; an acoustic guitar. The heart melts, the violins light up the emotional centres and wherever someone listens to it, especially the first time, there is Arijit and there is love… that's all that matters in that moment. While its at the end of the album and likely to be at the end of the film as a superb round off to the love story, this one will linger.
Shankar Mahadevan takes to the mic for the second song Lucky Charm along with Raghuvir Yadav. A mandolin takes centre stage for the instruments providing foreground over a rhythm that is sometimes gentle sometime a war tune straight out of the Edinburgh Military Tattoo. While this isn't an item song as such, it is for the lesser characters of the piece, its lyrics discussing the nature of superstitions in day to day life.
With all the serious stuff done, Benny Dayal is asked to sing Pepsi Ki Kasam. Benny's lively jazzy voice provides fantastic life in any song where its appropriate as it is here. This one is a nonsense song with a serious message, all wrapped up in soft synth. No need to listen too carefully as not much is to be expected from this repetitive song, just go with the flow again here: the lyrics a little bit chauvinistic for 2019.
The final song is Maheroo by Yasser Desai. The word is meaningless but onomatopoeic almost in outlining that this song is about a man's love. The singer sits on top of a piano backup, separating him from the synth rhythm with no real beat and a gentle reverb just puts the singer centre stage. This feels like a lot of classic SEL pieces, with even the various algorithms on the streaming services pointing towards Wake Up Sid and other classic SEL albums.
From an emotional standpoint, this album's first and last songs are on point… the first just to hold your love close, the second telling your love from a male perspective how important they are. However, this means 'Maheroo' doesn't really have any use and 'Pepsi Ki Kasam' and 'Lucky Charm' are more for a surrounding story basis rather than pointing back to the love angle. There doesn't seem to be any item songs but at the same point there isn't any songs during the climactic parts post the interval where the love could become a problem. Possibly this album is missing something, but with how good 'Kaash' is, its hard to look past.