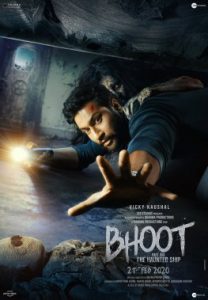 Bhoot Part One The Haunted Ship
Starring Vicky Kaushal, Ashutosh Rana, Meher Vij
Directed by Bhanu Pratap Singh
Karan Johar is into horror now. A lot of people thought Kalank was his first horror film (I didn't,I liked it for what it was, a failed romance). But his initiation into the arena of spook began with Ghost Stories last month. Now in his first full-fledged fear-fest, Karan Johar is fully into the think of things on a haunted ship which, like Karan's Kalank, docks into Mumbai un-navigated.
Instead of drowning the ship in the ocean (maybe tie the monster contraption to a few boulders) the film's naval hero Prithvi played by the up and coming Vicky Kaushal, drowns his dread of the dead in drinks. No wonder he starts seeing evil spirits at home and on the ship. If you spend too much time with memories you become a ghost.
Best friend Riaz (tokenism at its most glaring) clutches Prithvi and sobs, "Tu kitna bhi paagal ho jayega main tumhara saath nahin chodunga." Riaz's wife looks seriously worried. Is her husband seeing things too?
We are certainly not seeing Prithvi is, namely a very dangerous evil spirit stalking the deserted ship. Evil has many designs and it's hard to predict where it will come hit you from.
In the meanwhile Vicky Kaushal foolishly keeps going back to the ship with its monstrously creaky and ferociously freaky interiors. Full marks to the art designer whose eye for detail is decidedly dishy. The cinematography by Pushkar Singh, a synthesis of sepia scares and brightly lit ruins,is also top-notch.Wish the same could be said about the direction which skirts sloppiness. As for the "dangerous" spirit on the ship, she is no more dangerous than your wife watching Game Of Thrones in bed while you snore.
And therein lies the problem. This is a film as harmless as a game of bingo that your mom organized in the backyard, where tempers were frayed. But really, who was afraid? The scares in Bhoot come exactly four times, and each time they are generated with heightened sound and a creature rushing out at us like a snarling goalkeeper at a football game who just realized the whole team from the opposite end is showing him the finger.
That's what Bhoot, etc does to us. It mocks at the horror genre by resorting to the most trite tropes and standard shock tactics of the genre and it mocks our definition of bereavement by converting it into a currency for corny scares. The first-half does have a few touching moments showing Kaushal's Prithvi grieving for his wife and daughter who died in a raft accident. But the second half moves from the raft to a scare-inducing craft on a ship that looks almost as deserted as the theatre where I saw Karan Johar's silly scare attempts.
Part 1 is done. Part 2 anyone? Ram Gopal Varma is forgiven.