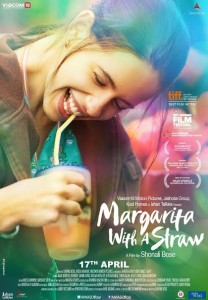 Kalki Koechlin's upcoming film, 'Margarita, With A Straw' released today. And here is how the makers of the film choose to give us a glimpse into the life of Kalki's character in the movie, Laila- by releasing a few pages from Laila's diary.
Laila's diary talks about her day-to-day life, friends and family. The film showcases Laila as she tries to find herself in a world of complex relationships. The diary entry also tells us about her philosophy in life. Being a girl affected with cerebral palsy on a journey of self-discovery, her diary is the perfect way to give us a glimpse of what is to come next.
Here are the extracts from Laila's diary:
Hi Diary,
I turned 19 a few months back. I feel even more adult now, like I can do whatever I want, whenever I want. But let me tell you more about my life first…
Dhruv is my best friend, he's like my person — we gossip together, we laugh together, we hang out together. I even help the duffer check out girls. But I think he likes me…more than as a friend. I couldn't explain to him that he was not what I was looking for.
Talking about being more than just good friends, there's this guy — Nima.. he's so cute, he's literally a rock star! He's from Assam and is the lead singer of my college band. I love music and I guess our taste in music helps us to really connect. I'm the lyricist for the band — I actually researched Assamese phrases so that I could pen a special song that he could sing. It's called Dusokute, which means 'in my eyes'. I think I'll ask him out next week, when I meet him. Other girls ask boys out all the time, I don't have to wait for him to ask me out first. Maybe he's too shy.
I was talking to Aai (mother) the other day about him. She's Maharashtrian and my Papa is Sikh. They had a love marriage and rebelled against my grandparents! So you'd figure she'd be cool about love and all! But she was strangely silent. But God! She's also annoying sometimes. She really doesn't get that I need my privacy sometimes! I'm an adult now and I need my 'me time'…
Why does she have to barge in on me like that? But I also know that I'd be lost without her…She is my strength. She fought with society to make sure my life would be normal. She fought with my college principal to install a handicapped toilet and a lift (which of course breaks down half the time). When she married Papa she was docile (I'm told) and didn't even know how to drive. But since there are no buses for the disabled, she had to learn to drive the van to take me to school and college. Our family has this van instead of a regular car so that it can fit my wheelchair.
Papa is very quiet. He normally goes with the flow. But actually he is the spine of the family. And Monu, my younger brother, he needs a good beating from me. He has been put on this planet to push the limits of my patience. I hate it when he runs away before I can grab him. But, it's ok, Aai loves me more anyway. Ha!
But wait, I forgot to tell you — I was born with cerebral palsy. Please, no pity. Cerebral palsy is a condition wherein I don't have control on my motor skills, SO WHAT? It's my life, I live it my way and I'm going to make the most of it. Life is complicated. Mine is, yours is… I believe that when life hands you lemons you can be bitter and sour or you can make a margarita and raise a toast to life!
Let's all raise a toast this Friday, the 17th of April. Watch my story in a theatre close to you. Meanwhile I will call Nima. This is too exciting.
Margarita, With A Straw, produced by Viacom18 Motion Pictures, Jakhotia Group, Kool Homes and Ishan Talkies, is in theaters now!