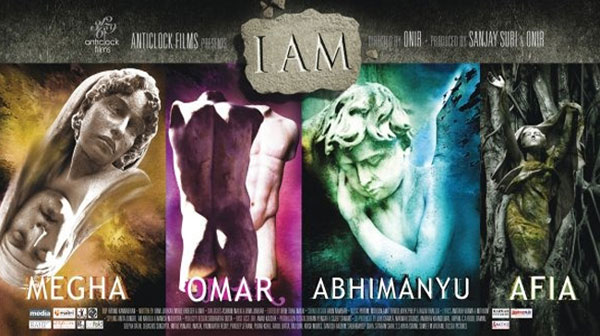 We first chatted with Onir about I AM way back in 2009, the film was still in production with I Am Abhimanyu complete and I Am Omar getting ready to go to the floor and still two more films I Am Meghna and I Am Afia to be made. I AM explores stories not usually seen in Hindi films including sexual abuse, discrimination against homosexuals, artificial insemination and ethnic cleansing in Kashmir. About the film Onir told us, "When it is released in theaters, I want people to see it as cinema with interesting content, telling them stories they have not heard about. I don't want it to be perceived as a public service documentary I am making. It is a film, a film with a certain important content, which makes you also think. It should entertain as a film, but at the same time it makes you think."
In the interview he also explained about the unique crowd source-financing model they were using to fund the film. "Some of the finance is being based on the company but for the other 50% what we are doing is raising it, in a way, from the audience by making them part owners of the film. I feel it is a unique kind of project that allows them to participate in the making of the film – they can own the film. It is not just a film they are supporting; it is a cause they are supporting, which it takes it to a certain level. For me, it is inviting people to join to create this kind of cinema to stand for certain things in life and be part of a movement. A lot of positive energy is coming together to make this possible. I think that anyone who would be involved in the film would get a lot of love and positivity. I feel it is an experiment for me to try and create a different audience for the kind of films I want to do. It is an experiment – let's see where it goes." The experiment worked because the film was partly financed through donations from 400 people from 35 cities around the world. (Read more of this interview here)
The four films in one released in theaters in 2011 to rave reviews. In fact, our reviewer Prateeksha Khot gave the film 3.5 stars and praised the incredible cast as well as the fabulous story telling. You can check out her full review here: I Am. Speaking of the cast the lead roles were portrayed by some of the best in the industry including Sanjay Suri, Rahul Bose, Juhi Chawla, Manisha Koirala, Arjun Mathur and Nandita Sen to name a few.
I Am also toured the world at prestigious film festivals and got outstanding reviews there as well. BollySpice writer Charla Manohar caught up with Onir at the The Cinema of the World Film Festival in Holland and he told her, "The films of I Am are trying to make us a better society. The whole process of making the film was extremely empowering. For me it was trying out something when all the doors were closed. Everywhere I went I was told: no one wants to see your film, we don't want to support you, we don't want to give you the money to make this film and then there are these people, your audience, who want to see it reach its goal."
She asked what would he like to say to all the donors that are part owners in the film? "They have given me a lease of life. They have gifted me a film and I will always treasure this. I hope they are proud of the film." (More here)
Fast forward to this week and not only did the crowd sourcing work and they made an incredibly powerful set of 4 films, and not only did they get rave reviews from audiences and critics the world over, they have just received the highest honor by winning a National Award for Best Hindi film.
Sanjay Suri told us, "Feels absolutely wonderful and it's so very rewarding. Am totally overwhelmed at this moment. It's the most precious Award and means the world to us…. It's for all those who believed in us and made I AM a possibility. Would like to deeply thank the jury. Independent Cinema – Jai ho!!!"
We also caught Onir, who said, "This is a validation for Independent cinema. Probably one the smallest budget films in the worlds largest film industry that was produced and distributed independently bags two national awards. I feel humbled and blessed that so many people trusted in our vision and made I AM a reality and make it the most special moment in my life."
Congratulations to Onir, to Sanjay, to all the donors, the cast, the crew and everyone involved with I AM we are incredibly happy for you!