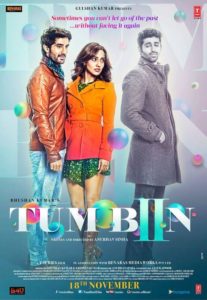 Tum Bin 2
Starring Neha Sharma, Aditya Seal, Aashim Gulati
Written & Directed By Anubhav Sinha
In the torrent of songs that flows freely in this hopelessly romantic love triangle produced by T Series (for those who came in late, T Series are predominantly into music) there is the much-missed Ghazal maestro Jagjit Singh rising from the dead—not unlike the film's heroine's lover who's presumed dead in a skiing accident—to match voices with Rekha Bhardwaj in an excruciatingly nostalgic duet.
If he meant that particular Ghazal Teri fariyaad to be a duet wouldn't he have sung it with his wife Chitra Singh?
Who asked Jagjit Saab's consent for this unscheduled duet? In much the same way that the film's protagonist Taran (Neha Sharma) asks Shekhar (Aditya Seal) at the end of the movie who gave him permission to decide what her heart wants.
We too are not sure if this is what our hearts want. But while the triangular conflict lasts, it feels right. In Tum Bin 2 writer-director Anubhav Sinha explores the vagaries of the heart with such heartbreaking visual radiance that it breaks your heart to see his meticulously mounted ode to Valentinian love fall apart.
Beyond the mid-point the narrative goes completely out of Sinha's control. And you wonder if some of the scenes after interval had been hastily edited for the sake of enforced brevity. Tum Bin 2 does take its time to tell its story. And that isn't such a bad thing. Not always. There are some handsomely crafted scenes woven around a Punjabi family in Edinburgh cooking, laughing, eating and exchanging meaningful glances in the kitchen. These sequences are written with poise warmth and grace. The family portrait is not faked.
The three young actors are a joy to behold, and one of them is definitely star-material. But these sincerely eye-catching youngsters cannot rescue a film that's hellbent on self destruction in spite of having so much going for it. The Scottish locations are picture-postcard beautiful. They serve as idyllic eye-candy for the three principal actors to play out their triangular karma with a fetching earnestness.
Apart from the kitchen setting, director Anubhav Sinha's other favourite haunt is the automobile. The moving BMW gliding noiseless through snowcapped roadways, serves as a tranquil setting for several supposedly illuminating conversations on love and life. The spoken dialogues in the film sound, though unnecessarily burdened with poetic rhetorics, are sharp and ruminative written by a man who knows what heartbreak is.
It as though the characters from Ae Dil Hai Mushkil have decided to hand over their baton to another set of befuddled love birds who camouflage the confusions of their heart with a whole lot of high-falutin balderdash.
But there is much to recommend in Tum Bin 2. The actors are adept. A veteran like Kanwaljeet pins down the film's restless spirit with a pain-lashed performance. His scenes of shared bereavement with Neha Sharma are commendable. They both express the pain of loss with more than a passing interest.
But the film's real surprise is Aditya Seal. Playing the man brought into the grieving ski-widow's life to divert her attention from sleeping with her dead lover's ghost, Seal comes to grips with his character's guilt and other complexities. Even when the narrative loses control, Seal doesn't.
There is also a pause in narrative for a ponderable but not tediously preachy episode on the Pakistani presence in our country. While the film is eye-catching and elegant till mid-point thereafter it grows as messy as the three protagonists' emotions which are scattered all over the place in mounds of confusion.
Tum Bin 2 is not a frightfully measured and even-toned look at the caprices of the heart. It could have gone a much longer way with a less self-indulgent narrative mode. Silences among characters are fine. But here they seem to punctuate their lack of self-confidence. The narrative loses its intended vision of maturity in unnecessarily prolonged confrontations between the heroine and the two men who just love to love her and often end up shining and sniveling like a duo of Devdases nursing a selfpitying broken heart after a night of drinking with Chunnilal.
This one has more than its fair share of flaws. But it isn't unwatchable. The film's high aesthetic qualities make sure of that.