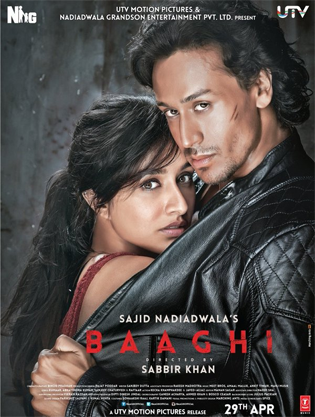 Starring Tiger Shroff, Shraddha Kapoor, Sudheer Babu
Directed by Sabbir Khan
Baaghi is a film in a tearing hurry. It hurls and races through a series of fetchingly staged action sequences hoping that the audience won't notice the woeful want of an authentic emotional design under the whipped up excitement in the plot. It's like watching an episode of Game Of Thrones with the throne thrown into the sea. What you are left with is the Mona Lisa painting with smile that has no context.
What the flick is she grinning about??
You can tell when a film is faking it by its aggressive storytelling with a background score to match. Baaghi piles on the visual velocity and the aural audacity with irreparable impunity. Bruised battered and unvanquished is how the hero Ronnie (so named because he is forever Ronnying away?) emerges in this turbulent tale of two dudes and a giggly gal Siya who spreads sunshine like confetti at a wedding.
Shraddha Kapoor's sunshine girl act is a repeat of her performance in Ek Villain, with oodles of oomph added on, courtesy the backwaters of Kerala where Ms. Kapoor does the water-nymph act decorously. She makes for a prim provocateur.
There is a desperate edge to the narrative, an urgency that flows not so much from the characters as from the intellectually impaired narrative that, for the record, borrows generously from the 2011 Indonesian film The Raid: Redemption where the martial-arts hero Iko Uwais made his way through a skyscraper floor by floor to reach the villain to rescue the heroine.
To his credit, Tiger Shroff makes all the mean horizontal moves over the multi-storeyed building (alas, built on a plotless foundation) look thoroughly convincing. This chip off the old block can dance and fight as confidently as Hrithik Roshan (we're talking about a time when Mr. Roshan was not distracted by unwanted attention). Tiger's dialogue delivery in Hindi has a long way to go. But we are not in this to watch Tiger talk. We just want him to kic ass and shake hips. He does both with contagious gusto.
There are lots of song breaks and romantic exchanges between the couple to remind us this is Romeo & Juliet set in Bruce Lee's kingdom. Luckily the songs are hummable, the choreography is splendidly in-sync with Tiger's gravity-defying moves and the cinematography (Binod Pradhan) gives the young couple ample landscape to spread their lithe personalities into an enticing arc.
Sudheer Babu, a known name in Telugu cinema, is an impressive adversary for the sinewy Tiger. The two are well-matched physically, and their combats are compelling. But there is no emotional heft to the simmering discontent and palpable tension. The narrative plays out like one music video after the next with the protagonists going through the motions professionally, if somewhat dispassionately. Sunil Grover provides the comic relief. But by then you are already laughing at some of the supposedly serious exchanges between the lovers which sound like a parody of passion.
Though not unwatchable Baaghi lays way too much stress on optical thrills. Forget feeling for the lovers, you wait for them to stop singing dancing and fighting long enough to give love a chance.