For Bollywood, its lead jodis have been very crucial since time immemorial. In many instances, perfect casting of characters is known to have salvaged otherwise weak scripts. While the years gone by saw filmmakers playing safe and casting repetitive albeit bankable jodis who had proven their worth, 2012 saw filmmakers being additionally experimental than ever in embracing newer styles and ideas. 'Old is gold' became a theory of the past as filmmakers and casting teams, mixed and matched and gave cinema different, unique pairs, breaking the monotony and adding the much needed freshness to the screen. Here's our countdown of the Top 10 JODIs that dazzled the 70mm in 2012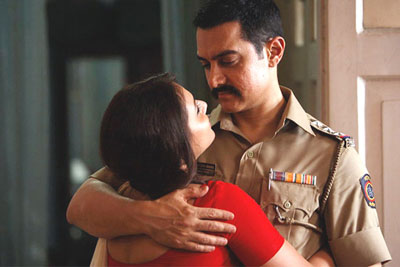 10. Aamir – Rani (Talaash)
It took one film, Ghulam (1998) and the huge rage behind 'Aati Kya Khandala' to make the audience fall in love with this pair. Their offscreen camaraderie translated smoothly onscreen and they were deemed a much-sought after jodi. But despite the popularity, except for a short stint in Mangal Pandey and a song in Mann (where Rani did a special appearance) the couple wasn't cast together. With Talaash, the pair playing husband-wife revived their onscreen pairing and demonstrated effectively why they make such a fine casting win.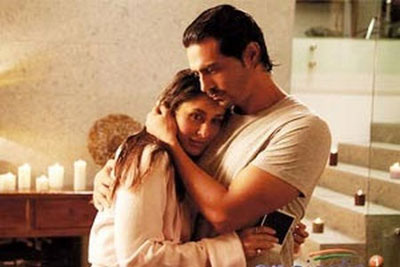 9. Arjun – Kareena (Heroine)
Just like their first film together (We Are Family), Heroine also saw this pair romantically paired but with very limited screen space and scenes together. Nonetheless, when the duo did come together their obvious comfort levels shone through their performances giving the otherwise glossy mess of a film some of its good moments. That each individually is a stunner was the additional cherry on top making this couple easily one of the industry's good-looking onscreen pairings. Only ruse remains, wish they had more script to enact together with.

8. Kareena – Imran (Ek Main Aur Ekk Tu)
In a genre they're familiar and at ease with, a production house (Dharma) that's synonymous with home, the casting of Kareena and Imran in EMAET was subject to much debate owing to the age difference between the two. Fortunately the script showed enough reason and logic and contrary to all reservations; the jodi sparkled onscreen with their casual demeanour and easy-going friendship. The pairing was liked by critics and audiences, causing a jump in collections despite a weak opening. Even as this jodi makes its places in our favourites for the year, they're gearing up to begin shooting for their next film together with Dharma to be helmed by I Hate Luv Stories director Punit Malhotra.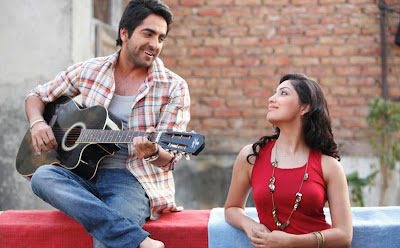 7. Ayushmann – Yami (Vicky Donor)
There was so much going right for this film, whimsical characters, witty writing, a tastefully done comedy which had winner written all over it and in the midst of it stood tall two dazzling debutants, Ayushmann Khurana and Yami Gautam, romancing on the streets of the capital in a manner so credible, they did more than justice to what might have seemed a simple love story on paper. As their characters journey in the movie transitioned from lovers to spouses, the leads with their maturity and great rapport, made the audiences connect and fall instantly in love with them.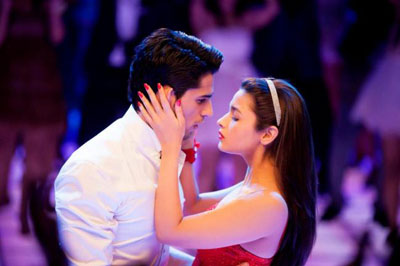 6. Alia – Sidharth Malhotra (Student Of The Year)
After a gap of 15 years and several films revolving around father-son bonds, extra marital affairs, etc., Karan Johar returned to a world he had debuted with and knew best – campus romances. That he was introducing three newcomers made additional headlines and had everyone inquisitive about the film. While the promotions leading to the film, hinted an on-screen pairing of Alia Bhatt with Varun Dhawan, the romantic track between Alia and Sidharth Malhotra's characters was what managed to additionally impress. Under Karan's expertise of handling mush delightfully, Sidharth's brooding personality coupled with Alia's engaging candour, the students won their way to this list.

5. Genelia – Riteish (Tere Naal Love Hogaya)
They debuted together as a leading couple in Tujhe Meri Kasam in 2003. While the movie had an average reception, the pair became a quick favourite resulting in them subsequently signing Masti the following year. Rumours continued to speculate an affair between the two, while the couple continued to deny and keep their relationship under wraps. Their third film as an onscreen couple Tere Naal Love Ho Gaya received positive responses, her infectious personality playing the perfect yin to his quirky yang. A decade of courtship later the couple having eventually tied the knot earlier this year, still maintain the endearing quality. Watching this duo together is a sweet sight for the hopeless romantics.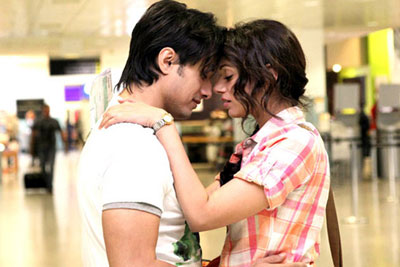 4. Ali – Aditi (London Paris New York)

He played a nonchalant film student. She enacted the role of a miss goody-two shoes politics student. His character was flamboyant, chocolate-good looks, boy next door. Hers was that of an independent feminist. The two personified 'opposites attract' to the T, not only made a visually appealing couple but also put up a sparkling chemistry on display. The two actors with their simplicity and good understanding of each other's strengths and weaknesses added the requisite zing to the thrice upon a love story that saw them romancing in the gorgeous backdrops of London, Paris and New York.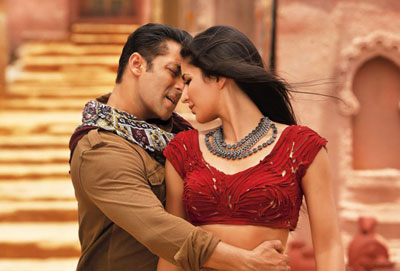 3. Salman – Katrina (Ek Tha Tiger)
Their offscreen love story is every gossip columnists prized topic, but there is no denying that when this pair is cast together as a romantic couple, fans savour every little screen space that the duo share. It's usually believed that a real life couple hardly ever make a successful onscreen pairing, but in the case of this jodi this myth was smashed with a record breaking 100+crore collection with Kabir Khan's Ek Tha Tiger. Although the couple had been paired together several times earlier, this was their first out-and-out love story with a corny tagline to match 'All His Life He Fought For His Country, But This Time He Will Fight For His Love'. As the couple danced, romanced, serenaded & played agents on well-choreographed fight at a time, in some of the most gorgeous locations across the world, audiences ecstatically chanted 'Mashallah Mashallah'.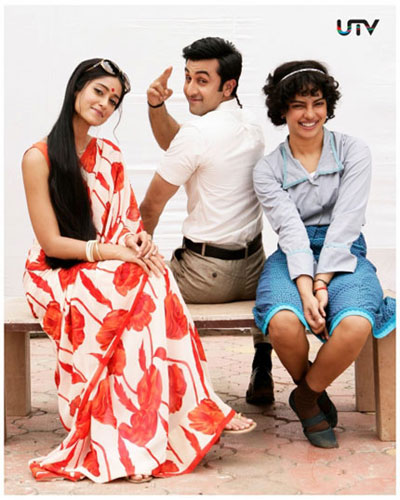 2. Ranbir – Priyanka / Ranbir – Ileana (Barfi!)
It was very easy to understand the collective interest in this jodi from the time the first lot of Barfi! teasers were rolled out. Despite their first film together, Anjaana Anjaani, being an average fare, this pair's chemistry was the only highlight of the film, leading to rumour mongers hinting at a hush hush offscreen affair. It wasn't a surprise then that directors would want to cash in on this popular & bankable casting. Anurag Basu's Barfi! had the pair in unusual characterisations – that of deaf-dumb & autistic, respectively. His irresistible charm and klutziness meshed beautifully with her valiant portrayal of innocence and naivety, reaffirming that these two could rock as a couple in any given role.
Giving tough competition to the Ranbir-Priyanka jodi is none other than the second romantic pairing of the film, Ranbir- Ileana. Anyone who's traced Ileana's south film record would've been astonished to see the transformation into a saree-clad Bengali girl as much as harbour doubts of her making space in a frame against Ranbir Kapoor's bravura performance. But Ileana not only managed to stand her own, she stole praises and hearts with her grace and sincerity. With Kapoor, she strikes a sweet chord as they cycle through Darjeeling's hills and slopes, each using the silences heartbreakingly well and making the romance work with absolute perfection in both instances, first when she's at the receiving end of Barfi's infatuation and secondly when she's rooting for his love.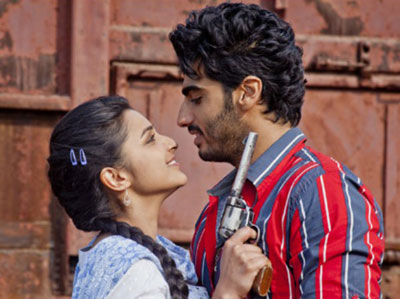 1. Arjun – Parineeti (Ishaqzaade)
The wise might say 'opposites attract', but in case of Arjun Kapoor and Parineeti Chopra, similarities in the duo's characteristics further enhanced this jodi's onscreen appearance as a couple. They played off each other's strengths, matching the other in terms of passion, gullibility, appeal, aggression to such an impressive extent that the resulting dynamics of this modern day Romeo–Juliet is a viewer's delight. Hardly ever has counting down to the numero uno spot in any countdown been a unanimous decision as easy as this one was. Arjun Kapoor and Parineeti Chopra with their enthralling performance and intense chemistry take the top honors in our Favorite Jodi of 2012 list.
Special Mentions: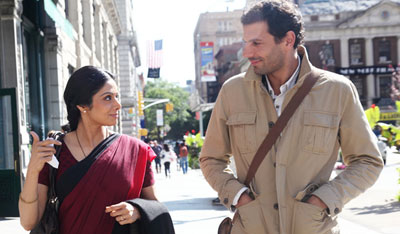 Sridevi – Mehdi Nebbou (English Vinglish)
Theirs is probably the most unusual pair to be listed in this countdown only because they don't fit the conventional norm as is believed of the quintessential Bollywood pair. But the deft assuredness with which Shashi, the delightful heroine of EnglishVinglish, has chance albeit plausible encounters with French chef Laurent who would be pivotal in her story, won us over enough to deserve a very special mention in this post.
Harbouring an unrequited infatuation, secretly basking in the compliments, conversing in Hindi, French and some 'English-Vinglish', this pair with his French allure and her desi subtleness gave the audiences some of this year's wonderful romantic moments.