2012 saw the predominantly good, a couple bad and some occasional ugly bits of cinema. Everyone seemed to get a bit of their share in the sun. Looking back, the year at the theatres for the maximum part of it was positive, providing much indulgence to ardent cinegoers by its ample variety in scripts. Franchise mania continued, additional entrants to the otherwise familiar names in the 100–crore club, regional divide minimalized, smaller films made their own space, and Bollywood put the 'happily-ever-after' context to reality for majority of the industry! While few stuck to the rut, it was heartening to see others stepping out of their comfort zones, and developing newer alliances with an idea to experiment with fresh content. In this feature, we look back at episodes, moments, trends in the year that made up some welcome and some rather startling surprises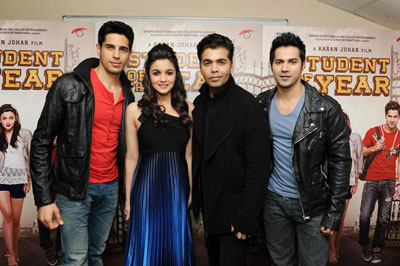 5. Karan and a campus full of students
He began his film career as an Assitant Director on Aditya Chopra's Dilwale Dulhania Le Jayenge, which starred Shah Rukh Khan. When Karan Johar made his directorial debut with Kuch Kuch Hota Hai, they weren't any doubts that it would star SRK in the lead. And ever since, Karan has time and again asserted that he cannot stray away from him comfort zone and all his movies will automatically have SRK in the lead role. In an interview done around 2009 during the making of My Name Is Khan, Karan confessed that though the producer in him was happy launching new directors, he had no interest in treading the path of helming newcomers. Quote: "I don't even want to sound cliched and say when the script comes; I'll work with a newcomer. I don't want to work with newcomers; I have no interest in it. I like to work with stars. With people who made their mistakes and have now evolved". So the announcement of Student Of The Year with three debutants and no SRK came as quite a shock to most with gossip mongers hinting at a rift between one the strongest friendships in the industry. While blabs continue to have a field day speculating this dosti gone kaput, we are glad that rationale overpowered emotions and SRK wasn't cast as a student yet again.
Nonetheless, Karan and his students passed the Friday test with SOTY becoming one of the biggest grossers of the year.
---
4. Singing a swan-song of kiss-miss – Shah Rukh breaks his no-kiss rule.
He's completed close to two decades in the industry. He's the quintessential King of romance and in this era of "instant make-out, instant break-up", while most actors maintain no qualms about kissing on-screen, Shah Rukh Khan abided by a strict rule for himself – 'never kiss onscreen'. So it came as a big surprise to fans, audiences, nay-sayers when SRK broke this rule and engaged in an onscreen lip-lock with none other than foe Salman Khan's rumoured girlfriend Katrina Kaif in Yash Chopra's
Jab Tak Hai Jaan
. While these scenes were a very well-kept secret, networking sites went into frenzy upon the movie's release with fans expressing their surprise and views over the same. When quizzed about it a couple months later at a summit, SRK was quick to clarify "I will be very honest. Adi (Aditya Chopra), Yash ji and Katrina, and I say this with all humility and thankfulness to them that they knew I was awkward, I had issues and I am a very easy actor to work with. They are like my family and they said, 'You don't have to do this' and then they got together and they forced me and then even paid me for it." "So… when heroines say that 'I wore a bikini because the story demanded me to', I did it (the kiss) because the story demanded it. Believe me or don't believe it," said the 47-year-old actor. Well guess some questions are better off left unanswered.
---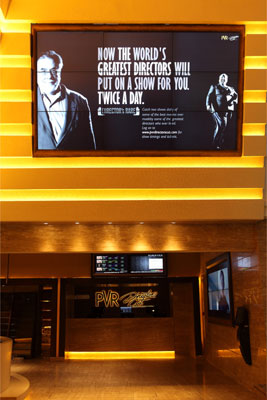 3. Living the 'Indie' life – PVR Directors Rare
Santa came calling very early this year for independent low-budget filmmakers when PVR Cinemas launched 'PVR Director's Rare', a division of the multi-crore multiplex chain with an objective of giving small-budget indie flicks, with otherwise almost nil chance of distribution, a space in the theatres across metros such as Mumbai, Delhi, Bangalore and Kolkata among some others. With close to 20 films that were released under this banner this year, movies such as
GoodNightGoodMorning
, Kshay, Harud, Supermen of Malegaon, Love Wrinkle Free, Hansa were applauded by the critics & appreciated by a group of audience who were looking for a 'different' cinema, a respite from Bollywood's loud, masala, zero plot mainstream films. While the screenings for these films were far and few, with limited runs, with each release they found themselves a growing set of dedicated viewers who were happy to trade in the commercial flicks for this bunch of movies made with originality, intellect and sense.
---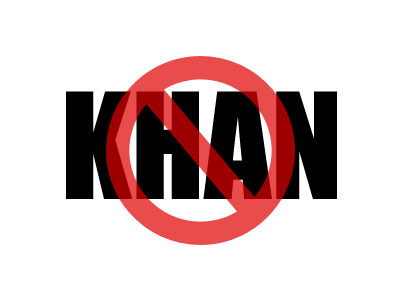 2. Can do it without 'Khan'
The 90s and the decades after saw the Khan's of the industry ruling the roost. Between Shah Rukh, Salman, Aamir and Saif, filmmakers played roulette choosing one over the other in constant succession as it guaranteed adequate advance/opening bookings for their films if not BO hits. 2012 saw a major shift in this trend with many filmmakers opting to sign other bankable stars including debutants by the dozen. With the Khan's being selective about their choice of films limiting to 1-2 releases per year & within their own production houses, this decision of filmmakers to increasingly opt for other names resulted in a win-win situation with the audiences enjoying the novelty and choices in leads cinema threw film after film. While the Khan-brigade continue to hold fort strong where collections are concerned, the fact that this year's best film lists on most sites feature films that do not star a Khan is proof enough that the industry is embracing this new found development. Let's now hope it's here to stay.
---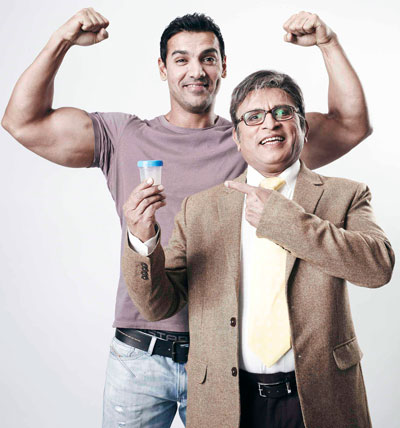 1. Let's talk about sex baby!
In one of the biggest surprises of the year or possibly the decade), with
Vicky Donor
 Bollywood gave Hindi cinema its first "sex-comedy" minus the cringe-worthy tummy squirms and toilet humor as has been associated with such films. That seemed almost impossible what with the likes of
Kya Super Kool Hain Hum
,
Masti
,
Mumbai Matinee
, the genre not moving beyond the kitschy stuff, appealing to, well, a certain section of the audience.
Vicky Donor
on the other hand was appreciated by almost every age-group for its proficiency in handling sensitivity with the right dash of entertainment without being too preachy. For a topic as giggle inducing as 'sperm donation', plus the core team including director, producer and leading actors being debutants, the subject seemed risky from the black word on script, one that would attract raised eyebrows and spurns if not tastefully done. To be honest I had my reservations for this film when the first sets of promos were introduced and I mentioned as much in my review months later. But with Juhi Chaturvedi's pragmatic writing & Shoojit Sircar's deft direction, the film, without poking deep into biology lessons or trampling moral grounds, achieved what its predecessors could not – wholesome entertainment with mass acceptance. Who would've thought?
Here's to looking to Bollywood in 2013 and we hope even more surprises in store!